By now, we all know about the unstoppable power of influencer marketing, with brands netting a sweet $5.20 for every $1 spent. Brands are constantly seeking new ways to get more out of their influencer marketing campaigns - and the right tool can make all the difference.
With so many options available in the market, choosing the perfect tool for your brand can be a daunting task. That's why we've created this guide to help you navigate the process of selecting an influencer marketing tool that meets your specific needs. 
In this post, we'll cover key factors to consider when choosing an influencer marketing tool, as well as review some of the top tools in the market.
Whether you're new to influencer marketing or looking to level up your strategy, this guide will help you find the perfect tool to take your campaigns to the next level.

Why do you need an influencer marketing tool?
Your influencer marketing tool will have a direct impact on the success of your campaigns. It can help you find the best influencers to collaborate with, track how influencers and followers are engaging with your brand, and analyze performance.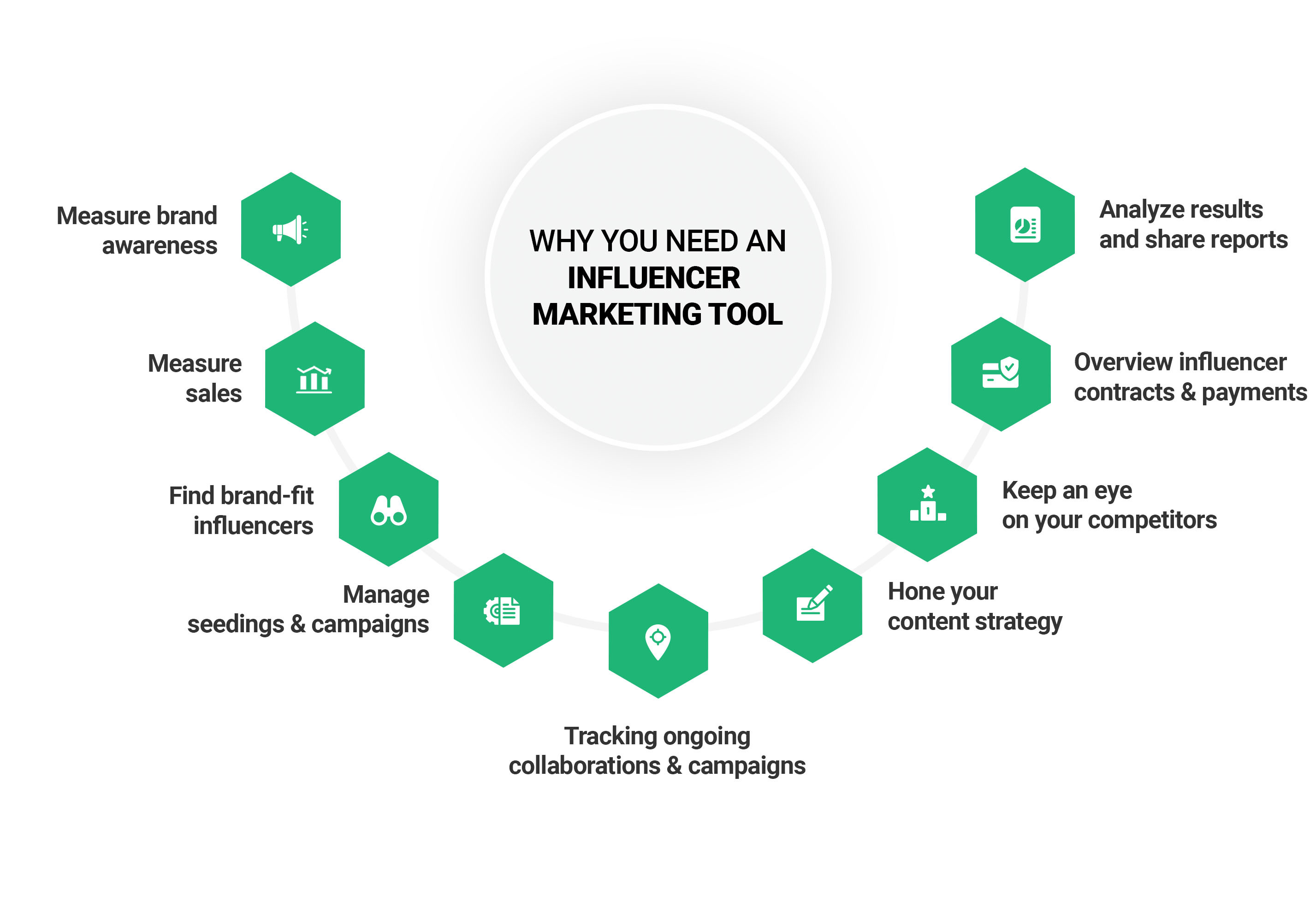 An influencer marketing tool will help you to:
1. Measure KPIs like brand awareness & sales

An influencer marketing tool will show you the most important metrics that you can use to determine how well your influencer marketing strategy is performing. Using an influencer marketing tool to create and share reports is much faster and more reliable than using spreadsheets and screenshots!

2. Find brand-fit influencers
At the discovery stage, more and more brands these days rely on influencer marketing tools. Storyclash makes it possible to discover influencers based on their content, not on vanity metrics. This will give you the best chance of finding influencers who truly share your brand values and will represent your brand authentically on social media.

3. Track ongoing collaborations & campaigns
An influencer agreed to mention your brand in their story, but you didn't have time to check Instagram yesterday? No problem. Influencer marketing tools like Storyclash make it possible to monitor Instagram stories even after 24 hours have passed.

4. Hone your content strategy
Are you aware of all the newest content trends in your industry? An influencer marketing tool can help you identify which topics and formats are performing well in your niche, and figure out what kind of content resonates with your audience.

5. Keep an eye on your competitors
What if you could see how audiences are reacting to your competitor's content on social media compared to yours? Well, with the right tool, you can. Many influencer marketing tools offer competitor analysis, which helps you keep track of your industry rivals and spot opportunities to overtake them.

6. Manage influencer relationships
Depending on the number of influencers you work with, managing your relations can be quite a hassle. Some tools come with a built-in influencer CRM solution for managing your influencers' details, so you'll never lose their contact info or forget their birthday again.

How to choose an influencer marketing tool
So, now you know what an influencer marketing tool can do and why you need one, let's dive into the decision-making process.

Define your goals
First, define your key objectives and priorities. What are you hoping to achieve? For instance, your goals might be:
Find authentic influencers with a loyal following who truly fit your brand
Drive awareness, traffic and sales with targeted influencer marketing campaigns
Track your performance across all social media channels

Answer these questions
Once you are clear on your goals, it's time to consider your selection criteria. The questions below can help you get started.
Are you a small business / startup or an established brand with many, large marketing teams?
Do you operate across DTC, B2C, B2B or a mix of these?
How many influencers do you collaborate with?
How many people in your company will be using the tool?
How many campaigns do you run per month/quarter?
What channels are important to you?
How important is influencer marketing to your overall brand and marketing strategy?
What is your budget?

Consider these 3 important things
1. Budget
You might want a Rolls-Royce but still need to go for a trusty Skoda if that's what your budget allows. Think realistically about what you need, and what you can afford.

2. Scope and complexity
Your choice of tool will depend a lot on how many campaigns you run per month/quarter and how many influencers you collaborate with. A startup that is just dipping its toe into the world of influencer marketing will have very different needs to an established brand running hundreds of campaigns worldwide with a range of different brand ambassadors.

3. Platforms
67% of brands prefer Instagram for influencer marketing, but TikTok is also gaining in popularity. Facebook is still a valuable channel for certain audiences. So, where do you typically run campaigns? Ensure the tool you choose is fully integrated with the channels that are most important to you.
After taking down your notes on the previous chapters of goals, different criteria, and more you can jump into the selection process. We have provided you with 3 different categories to make it easier to find the most suitable solution for your business.

Best influencer marketing tools for startups and small businesses
If you're a small business, you are most likely looking for a cost-effective or even freemium solution. Many influencer marketing tools base their pricing on the number of users, so if you are a small marketing team with just one user, you may be able to net a great deal for your small business or startup brand.
Our recommendations: Storyclash, InfluData, Hypr

Best influencer marketing tools for DTC brands
If you're a DTC brand, you most likely have a laser focus on Instagram and TikTok. You need an agile tool to keep up with the volume and velocity of your projects, and probably have at least two users, maybe more.
Our recommendations:  Storyclash, Hypr Lefty

Best influencer marketing tools for big consumer brands
If you're a big consumer brand, you are likely to have a complex cross-platform social media strategy, along with a big team and agency partners to power it. For you, guidance and service are critical, since any tool is going to need to integrate seamlessly with your existing tech stack.
Our recommendations: Storyclash, CreatorIQ, AspireIQ

Deep-dive into the best influencer marketing tools
There are many great influencer marketing tools in the market. Here are six of the main ones:

Storyclash
InfluData
Hypr
CreatorIQ
AspireIQ
Lefty

Storyclash
Storyclash is the AI-powered influencer marketing tool that enables brands, agencies, and publishers to discover their ideal influencers. It supports all major platforms including Facebook, Instagram, IG Stories, YouTube, Twitter, and TikTok. It  is one of the few tools on the market that enables you to track brand mentions in Instagram Stories after 24 hours have passed, and it has among the best TikTok monitoring capabilities in the industry.  Where Storyclash really shines, though, is helping you find the perfect influencers for your brand based on the content they create. 

Infludata
Infludata is a search engine for Instagram and TikTok influencers and content creators, providing detailed audience analysis and even an authenticity score. Its main features are influencer discovery and outreach, and it targets everyone from individuals to social media agencies. The professional package costs €359/month, while pricing for the unlimited enterprise package is available on request.

Hypr
HYPR is a 360° influencer marketing platform based in New York, offering campaign automation and rich data for Fortune 500 brands and advertising/PR agencies. The platform supports Instagram, Facebook, Twitter, YouTube, and Pinterest, and includes features such as influencer outreach, attribution, and fraud detection. HYPR offers three packages with add-on features available for an additional cost. The platform's cool features include audience health analyzer and content safety analyzer, which assess follower engagement and brand safety. Prices for HYPR's packages are available upon request.


CreatorIQ
CreatorIQ is an influencer marketing tool for managing and optimizing creator-driven campaigns for large brands like Unilever. The platform supports Facebook and Instagram and includes influencer discovery, campaign management, and reporting features. CreatorIQ offers a search function for over 15 million content creators, and its enriched creator data includes interest and brand affinities using Google AI image recognition.

AspireIQ
AspireIQ, based in San Francisco, describes themselves as a community intelligence marketing company. They serve large consumer brands such as Samsung, HelloFresh, and Dyson and offer influencer discovery, community building, campaign tracking, and brand health monitoring. AspireIQ supports Instagram and other popular platforms, and it has a recommendation engine that suggests similar influencers to those you've worked with. Pricing is available upon request for their three packages: "create," "elevate," and "together."

Lefty
Lefty is a French influencer marketing platform that caters to high-end fashion brands such as Sephora, Louis Vuitton, Tommy Hilfiger, and H&M. The platform provides influencer discovery, management, and analytics and is available for use on Instagram and YouTube. Lefty's standard pricing is €590 per month for one user account and campaign, while their premium package costs €3490.
For more information, check out our complete list of the best influencer marketing platforms.

5 tips for finding the perfect influencer marketing tool
At Storyclash, we know a thing or two about what makes a good influencer marketing tool. Here are our top tips for finding the right one for your brand.

1. Make sure the tool is easy to use
There's no point investing in a fancy tool that no one understands, or you need help from technical folks to do simple things. Is your team able to create their own reports with the KPIs that they need? Are they able to find influencers that fit their brand and campaign objectives?
Have a play around with the tool yourself before committing to anything and get feedback from a range of people who will be using the tool.

2. Compare features carefully
Every influencer marketing tool sounds cool when you read the description on their website. But what are they really offering?
You might not need every feature, but you don't want to invest in a tool only to realize that some key use cases, such as influencer discovery or reporting, are missing.
Check out our handy list to compare features like influencer discovery, influencer tracking, reporting, management and insights across more than 40 influencer marketing tools.
3. Take reputation into account
There are lots of influencer marketing tools out there, but some are more reputable than others. Talk to people in your industry and check online to see what others are saying.
It's a big decision, so take your time to do your research, align internally on your priorities and check in with industry colleagues about their experiences with different providers.

4. Get to know the team behind the tool
It's a good idea to get to know the humans behind the technology, since they are the ones who will be supporting you throughout the implementation process and beyond. Do they share your values? Are they responsive to your questions? Can they provide customer success stories and resources to help you succeed?

5. Take a free trial or demo
If you've whittled your choice down to a few tools, now is the time to book a demo and ask questions. How does the technology work? Where do they find their data? To see Storyclash in action and see how we enable businesses to find brand-fit influencers based on their content, sign up for a free demo here.