Trying to find the right influencers for your brand can seem like trying to find a needle in a haystack. With 37.8 million global influencers across Instagram, TikTok, and YouTube, it's no wonder influencer marketers say finding influencers is their biggest challenge.
While the number of influencers continues to increase, there are more ways than ever to find influencers. And as technology advances, the ways of finding influencers are changing, too.
The Influencer Marketing Hub's 2023's Benchmark Report revealed that 63% of influencer marketers are planning to use artificial intelligence (AI) or machine learning (ML) in 2023 to discover influencers or create effective campaigns.
Luckily, finding fabulous influencers who are a perfect brand fit is what we do every day at Storyclash! Read on as we share the best ways to find creators for your campaigns.

Preparing to find influencers: Determine your target audience
Influencer marketing is extremely powerful. However, to hit your marketing and sales goals, you need brand-fit influencers who promote your product in an authentic way and resonate with your target audience. So, before you kick off your search, you need to be crystal clear on who your audience is. Then, you can think about who they are likely to be influenced by.
Consider carefully who buys your products. What traits and demographics do they have in common? Going through your company's CRM data and looking at your followers on social media will give you a good idea of who to focus on.
You don't need to know everything. But you should have an understanding of basic traits your target audience shares, such as:
Location
Age
Interests (e.g. skincare, traveling)
Values (e.g. sustainability)

Once you're ready and know what to look for, let's dive into the best ways of searching for influencers.

The 10 Best Ways to Find Influencers
There are many ways to search for and find influencers, including

Storyclash AI Influencer search
Storyclash Influencer Discovery
Social media research
Competitor analysis
Your network
Agency
Lookalikes
Personalized recommendations
Google
Industry events

Let's take a look at these methods in detail.
1. Storyclash AI Influencer Search
Storyclash AI search is one of the best ways to find influencers for free. Here's how you do it:
First, navigate to storyclash.ai. You'll find a free influencer search engine that uses AI technology to find influencers based on their content.
Next, type in keywords to describe the kind of influencer or content you are interested in. For example, if you're a skincare brand looking for relatable, authentic influencers that share educational content, you could search for "skincare routine."
If you have a particular style or image in mind for the influencer you'd like to work with, you can describe it and the tool will work its magic to find a suitable influencer. For instance, if you need an influencer with curly red hair for your next campaign, just type in "curly red hair."

2. Storyclash Influencer Discovery
Storyclash makes it easy to search for influencers based on their content and audience data, as well as your unique criteria, like language, location, interests, and audience size. Here's how to do it.
Sign into Storyclash and open the "Discover Creators" tab. Click the Instagram, TikTok or YouTube icon depending on the platform you are focusing on, or search for Instagram influencers by default.
Type what you are looking for into the search bar. For instance, you can enter "skincare" to find users who have talked about skincare or shared images and videos of skincare products.
To refine your search further, you can filter based on criteria like follower size, country, language, industry, gender, engagement, and more.
4. You'll find a list of creators ordered by relevance:
5. You can also click "Postings" to view different creators' content:
6. Click on any influencer you are interested in to view their profile.There, you'll see at a glance key performance metrics like follower count, follower growth and engagement rate. You can also check out all their content (including stories), and their other collabs.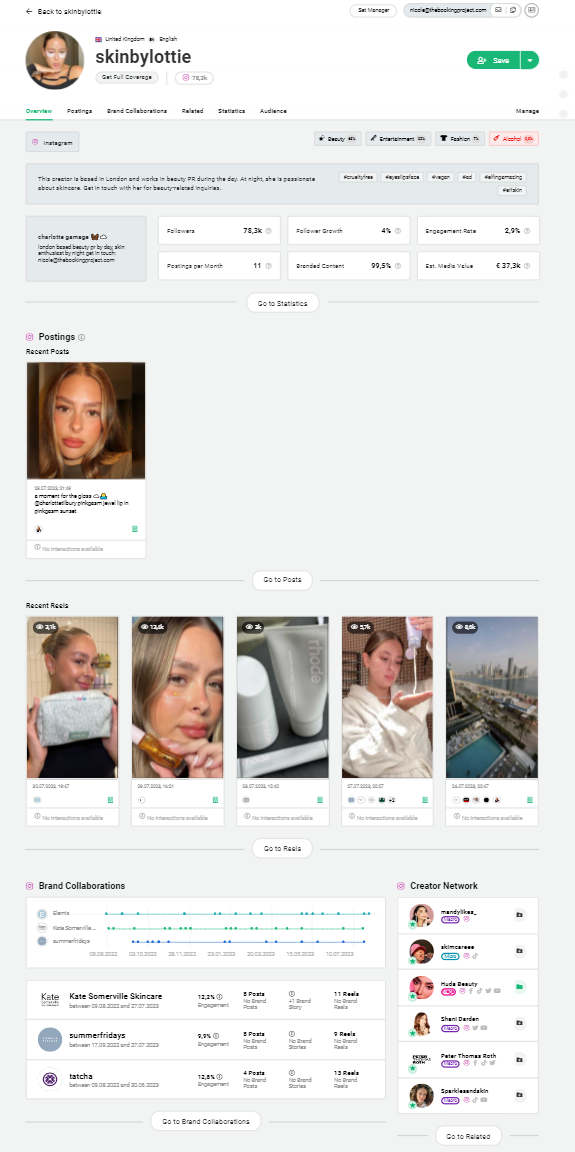 7. Click "Save" to add the influencer to your shortlist, or click the email icon to contact them straight away.

3. Social media research
If you don't have access to an influencer search engine like Storyclash, you can go directly to Instagram, YouTube or TikTok and search there.
You can open Instagram and type in words or hashtags related to your product or brand, like 'fashion', 'beauty' or 'fitness', and browse through the posts & profiles of available influencers. Like this, when you search for "skincare tutorial."
Then, browse through the results. Check basic KPIs like followers and engagement so you can estimate how big their account is and how loyal their followers are. Then, go on to look in more detail at their other content.
You can add the influencers you like to a collection to make it easier to shortlist influencers you're interested in. Just click the dots at the top and select "Save."
The issue with this approach is that there are so many influencers on Instagram, it's hard to manually sort through the ones that truly fit your brand. It's easier to use a tool, so you can filter directly according to account size and location, for example, rather than doing all the legwork yourself.
Another big downside is that the search is limited to the hashtags an influencer has used. So, if you're looking for a red-haired influencer, and she hasn't used the hashtag #redhair to describe her posts, you'll miss her.
That said, searching for influencers directly on social media can work and while it's not the most sophisticated method, we've all got to start somewhere!

4. Competitor analysis
Do you know what your competitors are up to? Competitor analysis is a hugely important—and underrated—part of influencer discovery. Try using the Storyclash influencer search tool for free to find out which influencers competitors or other brands in your space are working with.
This will enable you to jump on the train of their success and get inspired by their content, saving you precious time.
Here's a simple and free way to do it.
Open the Free Instagram influencer Search Tool from Storyclash.
Type in the name of your competitor, or any brand you are interested in, like "The Body Shop" and click "Search."
You'll see a list of influencers who mentioned the brand within the last 30 days:
4. Advanced competitor analysis
If you have full access to Storyclash, there's an even better way to do competitor research. It goes like this:
Open Storyclash and click "Brands" from the menu on the left. This will open the "Explore Brands" tab.
Enter the name of your competitor, or any other brand you're interested in learning more about and click "Open."
You'll find key metrics to give you insights into their performance, including how many influencers they work with, how many influencer posts have been published, the reach, and engagement rate.
If you scroll down, you can see their top-performing posts, stories and reels:
Click on the "Creators" tab to find a collaboration timeline. This gives you an overview of which influencers they have worked with, and when. Click "Show more" to see the complete list.
Click on any of the influencers that you are interested in to learn more. You'll see key metrics such as follower count, posts per month and engagement rate. Click "Save" to add them to your shortlist, or click the email icon to contact them straight away.

5. Ask your network for recommendations
Reach out to colleagues, industry peers, and other professionals in your network and ask which influencers they have worked with or come across. Personal recommendations can be very valuable, and a warm introduction can smooth over the influencer outreach process, too.

6. Use an agency
You might want to consider partnering with an influencer marketing agency. They will handle the process of sourcing influencers, so you don't have to worry about it.
Agencies typically have connections to influencers and know how to handle things like influencer outreach, deciding how much to pay influencers, and as well as ongoing influencer relationship management. This might not be the cheapest option, and you give up some of the creative control. But it's a handy way to save time and effort.

7. Find influencer lookalikes
Are you already running successful campaigns with influencers? What if you could find influencers similar to your top-performers? Well, with the Lookalikes feature from Storyclash, you can.
Storyclash enables you to find creators who are statistically similar to another creator, in terms of location, industry, content, reach, and audience. Here's how to do it:
To get started, open the "Discover Creators" tab in Storyclash. Click the search bar, then select "Find Lookalikes."
2. Next, type the name of the creator you are interested in, such as "Kendall Jenner." You could choose a popular influencer, someone your competitor works with, or one of your current top-performing influencers. Then, click the green arrow to start your search.
3. You'll find a list of influencers that are similar. You can see at a glance the number of followers, engagement rate, branded content %, and other key stats.
4. To take a closer look at a lookalike influencer's content and performance, click the downward-facing arrow.

8. Get personalized recommendations
Personalized recommendations are probably the easiest way to find influencers. You don't even need to search! Just open the "Discover Creators" tab in Storyclash.
Storyclash gives you personalized recommendations based on the categories you have selected (like beauty, fashion, food, health and more), language and country.

9. Google
This one is pretty obvious, but you can use Google to search for influencers.
Try searching for "top [industry] influencers" to find lists of creators in your niche, such as travel, beauty or fashion. You'll find suggestions from Google and lists on popular blogs and websites:
This can be a good way to find super well-known, macro influencers. But it's not necessarily the best way to find smaller, nano or micro influencers with a loyal following.

10. Attend Industry Events
Network at conferences, trade shows, and workshops to connect with influencers who attend or speak at such events.

Reach out to influencers you're interested in
So you've found an influencer you want to work with? Great! Now it's time for influencer outreach.
The best way is to send them an email introducing your brand and letting them know you would be interested in a collaboration.
Keep it friendly and personal and be sure to let them know why you would like to work with them specifically. Popular influencers get several offers every single day, so it's important to stand out.
Be sure to add something personal to the message, like a previous post or a topic they are passionate about, so your inquiry stands out.
To speed up the process, download and customize our influencer outreach email templates.
Here's an example of a simple way that you can reach out: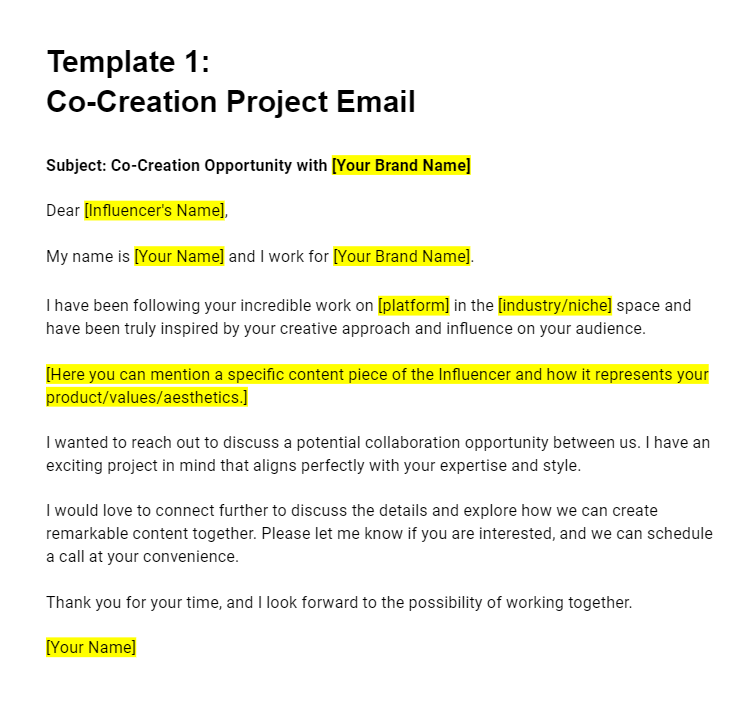 Tips for finding influencers
Look for brand fit over vanity metrics
While demographics and data are valuable, they only scratch the surface. Brand fit is more important. You should focus on finding influencers whose content and values aligns with yours. We call this content-based influencer discovery.
To identify influencers who produce top-tier content, share your brand ethos, and resonate with your desired audience, content-based discovery is essential.
Evaluate influencers' content carefully
An influencer might have a large following, but it's important to gauge how well their content aligns with your brand's values and message. Scrutinize their posts, captions, and interactions to verify authenticity and alignment.
80% of brand mentions on Instagram happen on stories. On average an influencer posts 11 stories per day! So don't forget to check previous stories that your influencer has posted. Storyclash offers a specific functionality for saving Instagram stories after they expire, since Instagram stories disappear from the platform after 24 hours.
Choose diverse influencers
Prioritize diversity and inclusivity when selecting influencers. Representing a range of backgrounds and perspectives can broaden your brand's reach and appeal.
Offer a long-term collaboration
Many popular influencers work exclusively with brands offering a long-term collaboration. This is actually better for brands as well, since an influencer's followers are more likely to purchase from you if they have been exposed to your brand more than once.

How to find influencers with AI
As brands find themselves trying to do more with less resources, AI technology represents a handy way to save time and make the influencer discovery process more efficient.
Storyclash harnesses OpenAI's machine learning model to find brand-fit creators. With this technology, we can analyze, index, and search billions of images from our database in seconds. You can read more about how Storyclash uses AI to transform influencer discovery, or try our free AI search tool.

Finding influencers - FAQs
How can I find influencers for free?
You can use the Storyclash influencer search tool for free to find Instagram influencers who are already talking about your brand, or other brands in your industry. You can also use the free Storyclash AI search tool to find influencers by describing their content.

Where can I find social media influencers?
The cheapest way to find influencers is to natively browse social media or the web. The easiest, more effective way is by using an influencer search tool. With Storyclash, you can search through various influencer profiles based on the content they create and the brands they work with. This will enable you to find influencers who create quality content and can tell your product or brand's story!

How do I find an influencer for my product?
The best way to find influencers for your product is to define your target audience and then explore which influencers and content are popular with them. Use Storyclash to search for relevant keywords and find related content created by influencers. You can also figure out which influencers your competitors or brands you admire are working with.

How can I find small influencers?
If your product or services are very niche, an influencer with a small yet loyal fanbase is a good choice. Storyclash has an in-built influencer database to find influencers in your space.

Ready to find amazing influencers for your brand?
Finding the right influencers can make or break your influencer marketing. Now, you should have a good understanding of how to find influencers who suit your brand.
Storyclash is the leading software for influencer marketing that makes influencer discovery, tracking and reporting easy. If you'd like to see Storyclash in action, feel free to get in touch.
Happy influencer hunting!