Did you know that finding influencers is one of the biggest challenges facing marketers today? 78% of marketers think finding influencers is difficult or very difficult. 34% of marketers even say finding influencers is their biggest challenge, ahead of measuring ROI and meeting campaign deadlines. Yikes!
Luckily, finding fabulous influencers who "get" your brand is what we do every day at Storyclash! Read on as we share our trade secrets and the pitfalls to avoid, like influencer fraud.
---
If you want to learn more about the other aspects of influencer marketing, namely:
Strategy
Monitoring
Management
Reporting

we recommend reading our Influencer Marketing Pocket Guide.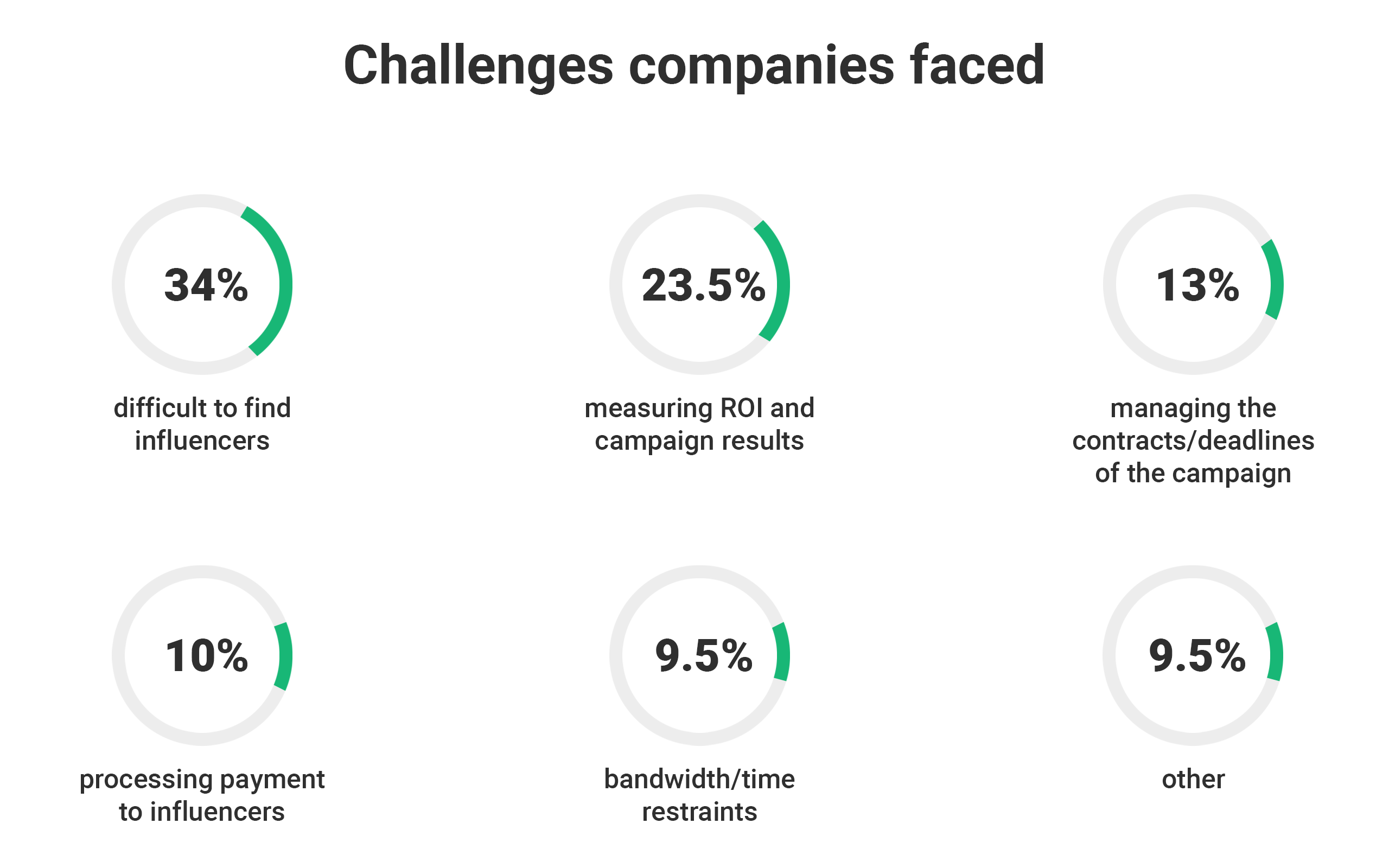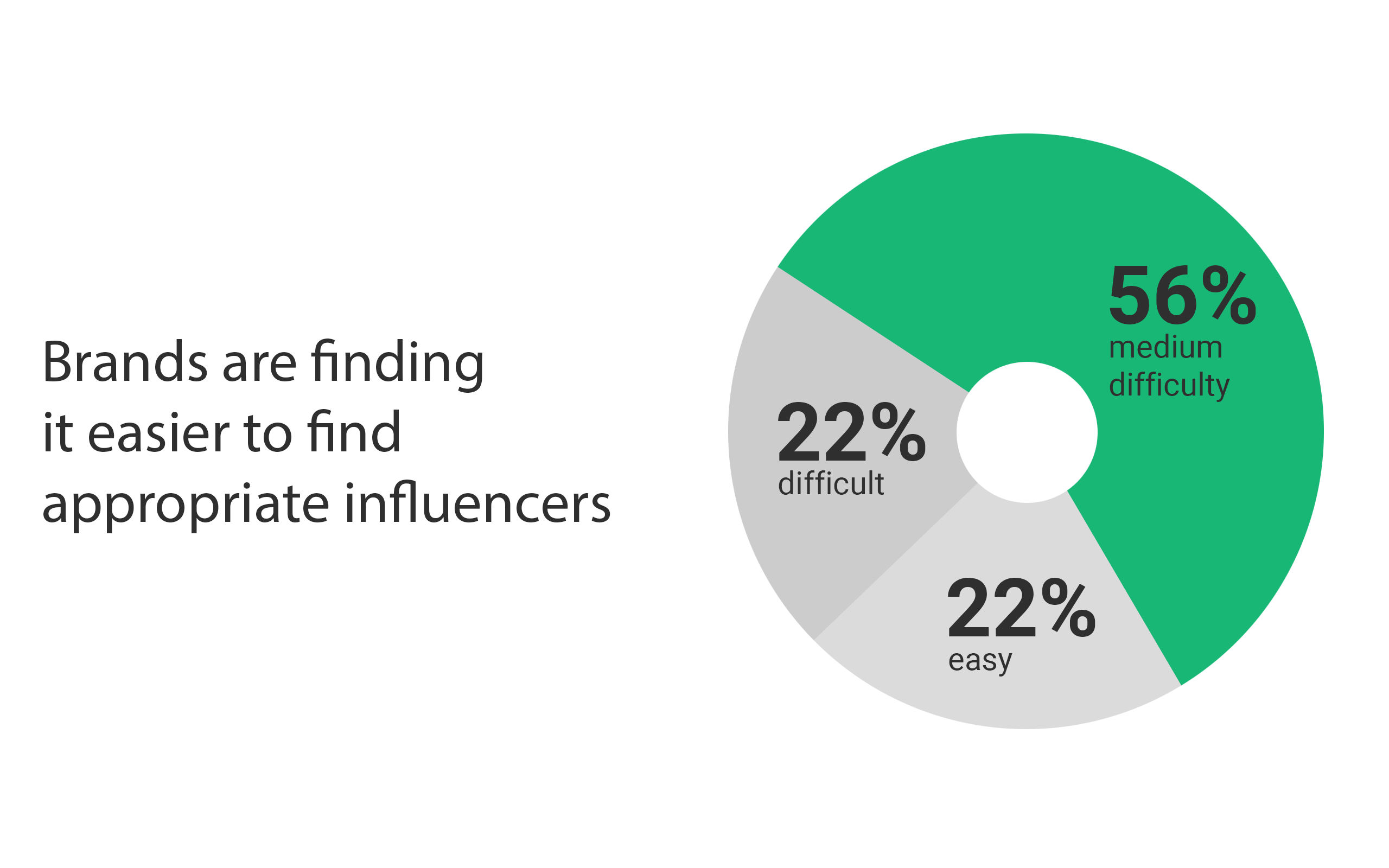 A step-by-step strategy for finding influencers
Influencer marketing is extremely powerful. However, you need the right strategy to find influencers who will really help you hit your marketing and sales goals. So, let's dive into our proven 5-step strategy for finding the perfect influencers for your brand.
Determine your target audience
Search for relevant influencers
Analyze the audience and content
Reach out to influencers you're interested in
Foster a long-term collaboration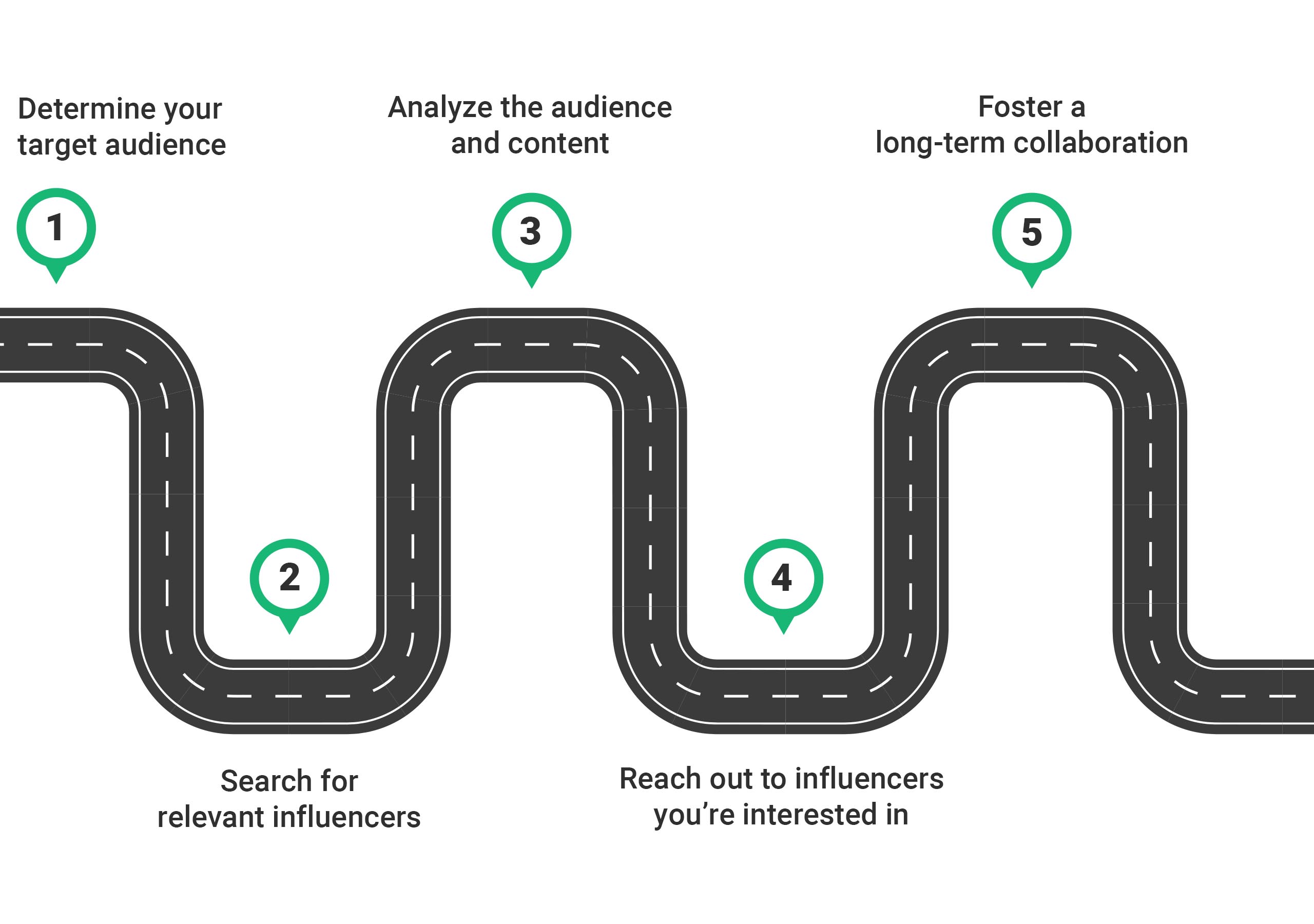 Let's take a look at each of these steps in detail.

1. Determine your target audience
Who are you trying to influence? Any marketing campaign starts with your target audience. If you are in the DTC Industry and trying to reach the younger, female population, your choice of social media platform and the influencers you work with will be different from those companies trying to sell their products B2B.
Think carefully about who buys your products. What traits and demographics do they have in common? Going through your company's CRM data and looking at your followers on social media will give you a good idea of who to focus on.
2. Search for relevant influencers
Once you are clear on the location, age, gender and interests of your target audience, it's time to figure out who is influential in this space.
There are multiple ways you can take to get to find your desired influencers, for example:
Search natively on your platforms e. g. Instagram Search or YouTube Search by using account names or hashtags.
Use Google to find lists of promising influencers you can work with. There are for sure some popular names in your industry already out there. Search for influencers who post about your topic and scan through some blog articles, rankings and case studies.
A tool specialized on influencer discovery takes you straight to your desired goal. Check out our compehensive list of influencer marketing platforms here and evaluate your options.




If you have tried the first two options of influencer discovery and you haven't found the perfect fit, try your luck with an influencer marketing platform. Most of them have the option of looking up influencers by searching for different keywords. Simply type in words or hashtags related to your product or brand, like 'fashion', 'beauty' or 'fitness', and browse through the posts & profiles of available influencers.
Start by checking basic KPIs like followers and engagement so you can estimate how big their account is and how loyal their followers are. Then, go on to look in more detail at their content.
Do you know what your competitors are up to? Competitor analysis is a hugely important - and underrated - part of influencer discovery. Try using the Storyclash influencer search tool for free to gain insight into which influencers your competitors or other brands in your space are working with and the kind of content they are creating together.
This will enable you to jump on the train of their success - and figure out who to avoid - saving you precious time.
3. Prioritize content-based discovery
Content-based discovery is the best way to find influencers who are truly a good fit for your brand. Demographics and data, while important, aren't enough to find influencers who create high-quality content, share your brand values and resonate with your target audience.
Use a tool like Storyclash to find influencers who are creating engaging content on topics that matter to your target audience. Look past vanity metrics.
80% of brand mentions on Instagram happen on stories. On average an influencer posts 11 stories per day! So don't forget to check previous stories that your influencer has posted. Storyclash offers a specific functionality for saving Instagram stories after they expire, since Instagram stories disappear from the platform after 24 hours.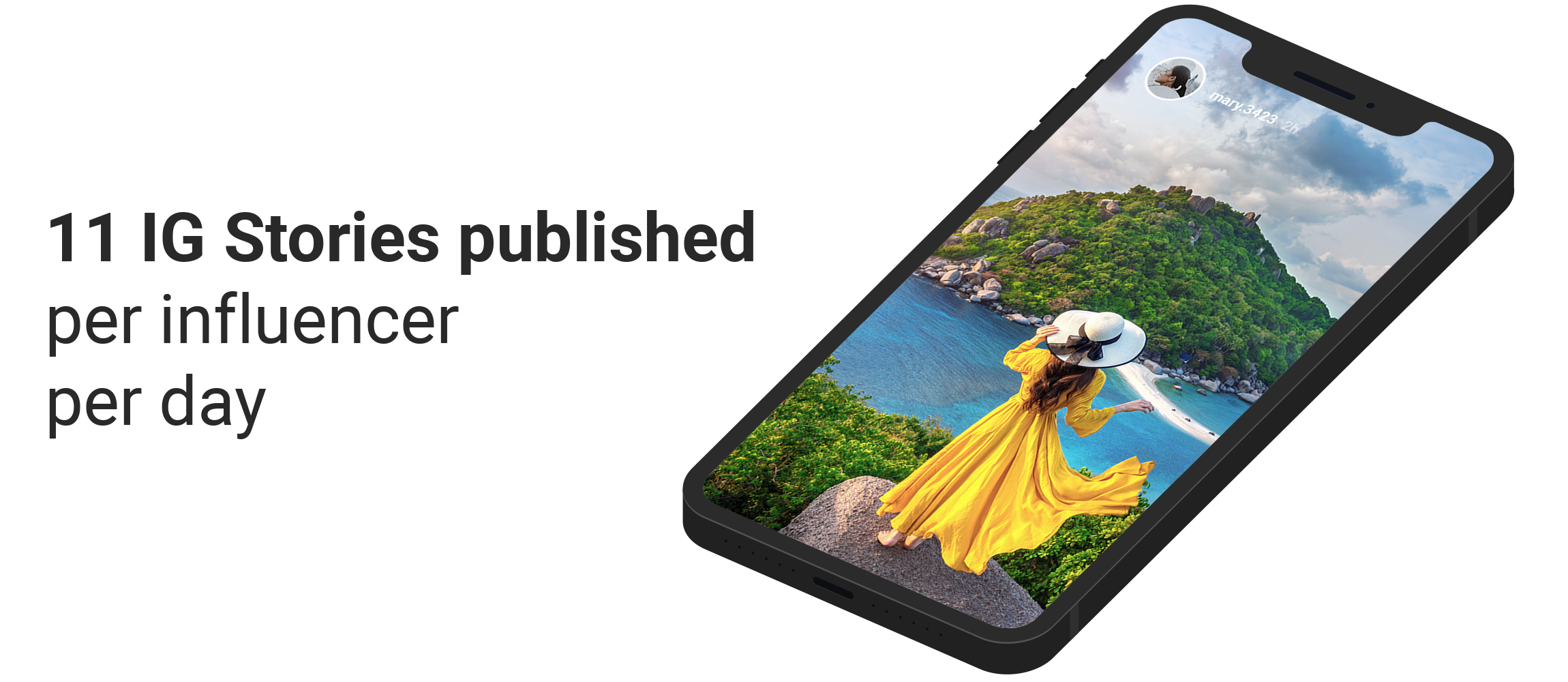 Check out our solutions for finding influencers on Tiktok and finding influencers on YouTube. The Storyclash database makes it easy to see at a glance how active an influencer is, how engaged their followers are and what their content is about.
For example, if you search for influencers who live a sustainable lifestyle to promote your vegan, environmentally friendly product, type in 'sustainability' into the keyword search bar and browse through thousands of influencer posts.
By screening the posts and the content of the influencer first you get an immediate feel of the work and style of the person. This way you can evaluate much faster if a cooperation would make sense for your brand.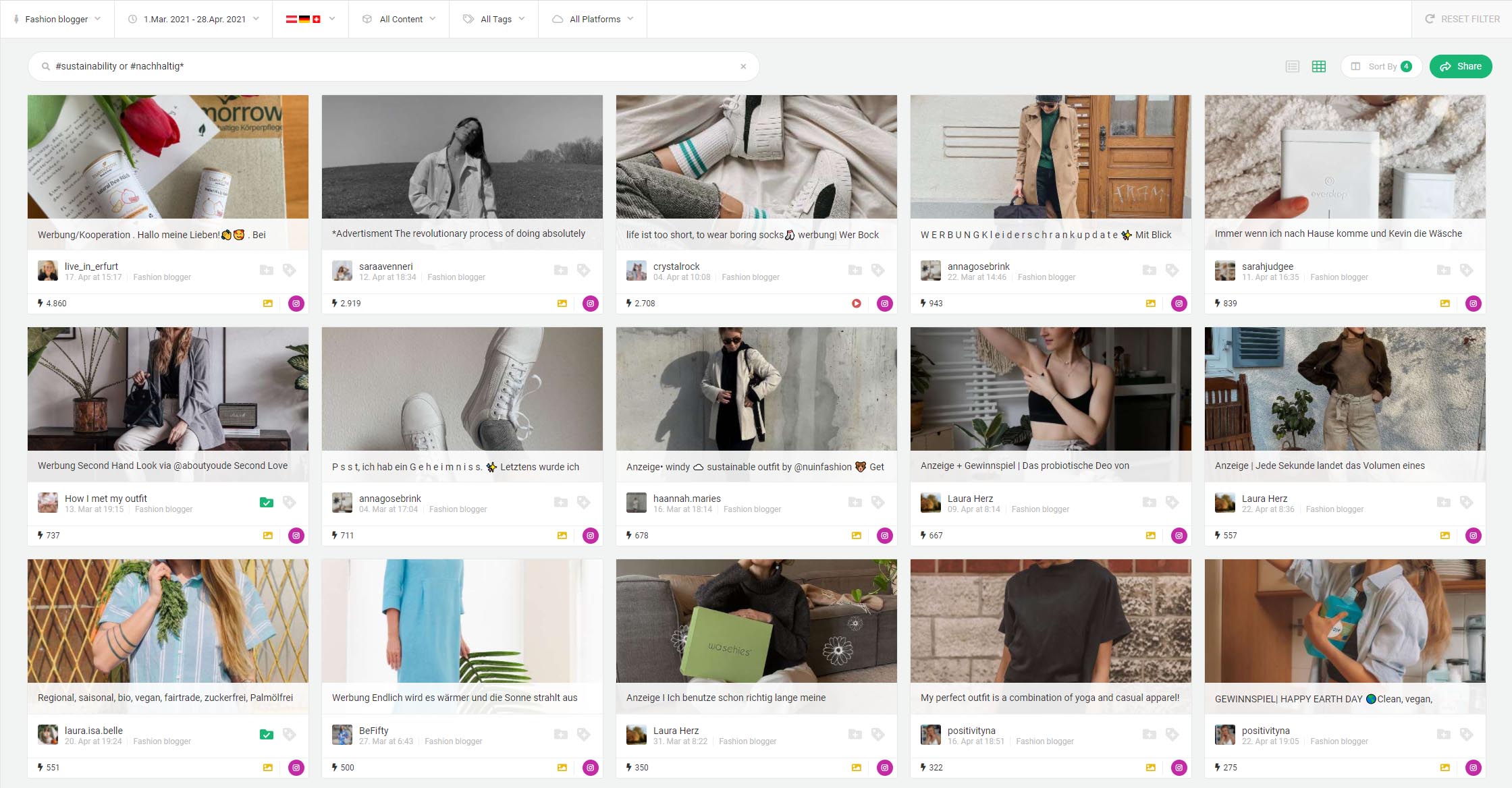 4. Reach out to influencers you're interested in
So you've found an influencer you want to work with? Great! It's time to get in touch. Popular influencers get several offers every single day, so it's important to stand out.
The best way is to send them an email introducing your brand and letting them know you would be interested in a collaboration. Keep it friendly and personal and be sure to let them know why you would like to work with them specifically.
---
Although down below we give you two ready-to-send options to contact influencers, please make sure to tailor the messages and make them feel special! A personalized mail will grab their attention, a mass mail does not.
So definitely add something personal to the message, mention a previous post or a topic they passionately talk about so your inquiry stands out.
---
Influencer Marketing Hub has put together a few outreach templates if you prefer to skip directly to email, like this one which relies upon a "free sample" approach: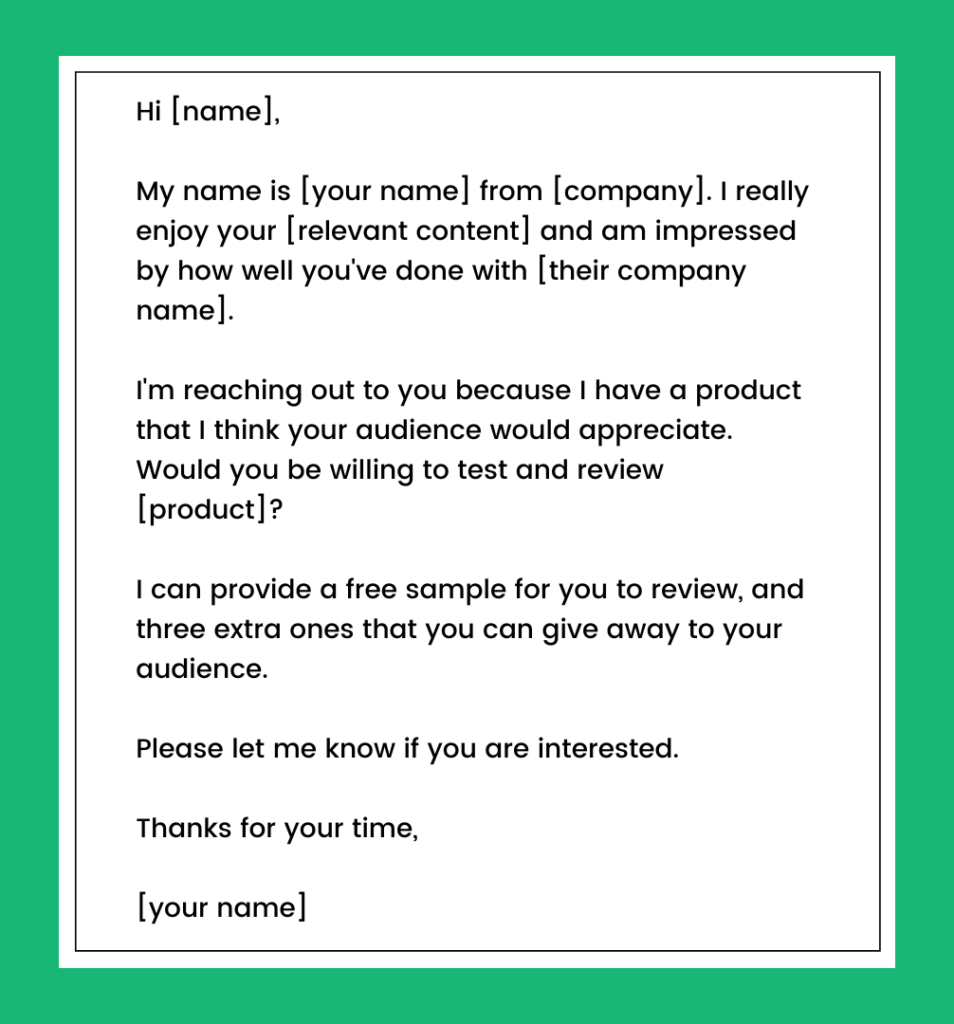 Here's an example of a simple way that you can reach out, courtesy of ThriveHive (this one is meant for a fashion retail collaboration in particular):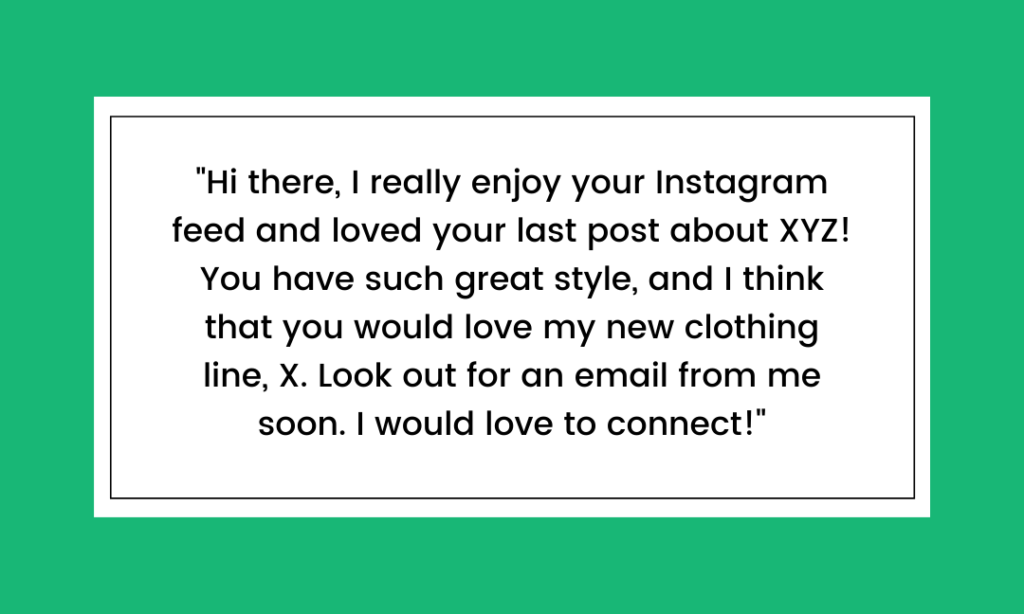 5. Foster a long-term collaboration
It's essential to stay on good terms with the influencers you work with. Many popular influencers work exclusively with brands offering a long-term collaboration, which is actually better for brands as well.
Why? Firstly, if an influencer promotes your brand regularly, it creates a consistent user experience and seems more credible.
It is better for driving sales, since an influencer's followers are more likely to purchase from you if they have been exposed to your brand more than once.

Finding influencers – do's and don'ts to keep your brand safe
Influencer marketing is expected to be worth $13.8 billion in 2021, which means influencers can earn big bucks. If they inflate the numbers to make their audience seem bigger, such as by purchasing followers or participating in so-called engagement pods, they can make even more.
Unfortunately – yet unsurprisingly - influencer marketing has become a target for fraud.
Here are some key do's and don'ts to bear in mind when finding influencers.


Do …
Compare audience size and engagement
Ensure the influencer and their followers are in line with your target audience
Verify the account history. Did the influencer build a following over years, or was there a sudden spike overnight (which might have been paid for)?
Analyze the content thoroughly and pay attention to the content quality. Stock photos can be a red flag.
Find out which influencers your competitors are working with.
Lastly, don't forget to check out our influencer marketing platforms list to find the perfect tools for your brand and set your campaigns up for success!


Don't …
Get carried away by a big follower account. How engaged is the audience?
Skip over the influencer's content. Are their posts in line with your brand values?
Forget about engagement. What kind of comments are they getting? Repetitive, spammy comments might be bots and/or paid for.

Finding influencers - FAQs
How can I find influencers for free?
You can use the Storyclash influencer search tool for free to find Instagram influencers who are already talking about your brand, or other brands in your industry.

Where can I find social media influencers
The cheapest way to find influencers is to natively browse social media or the web. The easiest, more effective way is by using a social media database. With Storyclash, you can search through various influencer profiles based on the content they create and the brands they work with. This will enable you to find influencers who create quality content and can tell your product or brand's story!

How do I find an influencer for my product?
The best way to find influencers for your product is to define your target audience and then explore which influencers and content are popular with them. Use Storyclash to search for relevant keywords and find related content created by influencers. You can also figure out which influencers your competitors or brands you admire are working with.

How can I find a small influencer?
If your product or services are very niche, an influencer with a small yet loyal fanbase is a good choice. Storyclash has an in-built influencer database to find influencers in your space.

Ready to get started?
Finding the right influencers can make or break your influencer marketing. Now, you should have a good understanding of how to find influencers who suit your brand while avoiding common pitfalls. Happy influencer hunting – and feel free to check out Storyclash, the leading software for influencer marketing that makes influencer discovery, tracking and reporting easy.