Brands and agencies today are increasingly turning to influencer marketing tools and platforms to help them manage their campaigns and collaborations. Grin, one of the best influencer marketing platforms, recently faced a setback as Meta revoked its Instagram integration, leaving many brands struggling to find Instagram creators. If you're one of those brands, or you just want to understand what happened, you've come to the right place.
In this blog post, we'll take a look at some of the best Grin alternatives available on the market, their features, and how they can help you find the right influencers for your brand.

What happened to Grin?
Grin describes itself as the "all-in-one influencer marketing platform designed to help you scale. It helps you expand your influencer relationships, your sales, and your brand—without expanding your workload." The platform works with brands like MVMT, CUTS, and Everlane.
At the end of September 2022, Grin's customers were notified that changes were coming due to key changes in Meta's service and API guidelines.
Grin's access to the Instagram API had been revoked, leaving brands unable to use Grin's Instagram search feature to find influencers. They couldn't analyze influencer campaigns and content anymore, either, as only creators who had given Grin explicit permission to use their data were visible in the Grin platform.
Grin's popular "Influential Customers" feature, which had enabled eCommerce brands to find their best customers (in terms of LTV, AOV, and followers), and use them as brand advocates, was history. The reason? Grin was no longer allowed to use the 3rd party data from Shopify in conjunction with Meta's platform data.
Shortly after, Grin removed Tiktok and Youtube creator search from its platform. Since February 2023, brands can therefore no longer use Grin's creator search. But all is not lost! There are many more great influencer marketing platforms out there. Let's take a look at some of the best ones.

Best Grin alternatives
There are many awesome influencer marketing tools in the market. Here are seven of the most popular ones:
CreatorIQ
Hypeauditor
Klear
Traackr
Upfluence
Kolsquare

Summary: Storyclash is the influencer marketing platform that uses unique AI-powered technology to find the perfect influencers, measure the impact of campaigns and manage all influencer data in one place. By matching brands with perfectly fitting creators from a pool of > 100 million, our customers are able to scale their influencer marketing on one central platform and generate an ROI up to 1000%.
Customers: From large established brands like Adidas, Samsung, and John Lewis, as well as upcoming DTC brands like Wild, KoRo or Athletic Greens, and agencies.
Best features: AI-powered Influencer search based on content is the real highlight. On top of that, Storyclash offers competitor insights and benchmarking, cross-platform campaign reporting for paid and earned collaborations, shareable dashboards with performance data and content including downloadable IG Stories, and the built-in Storyclash Influencer CRM that makes managing influencer relationships effortless.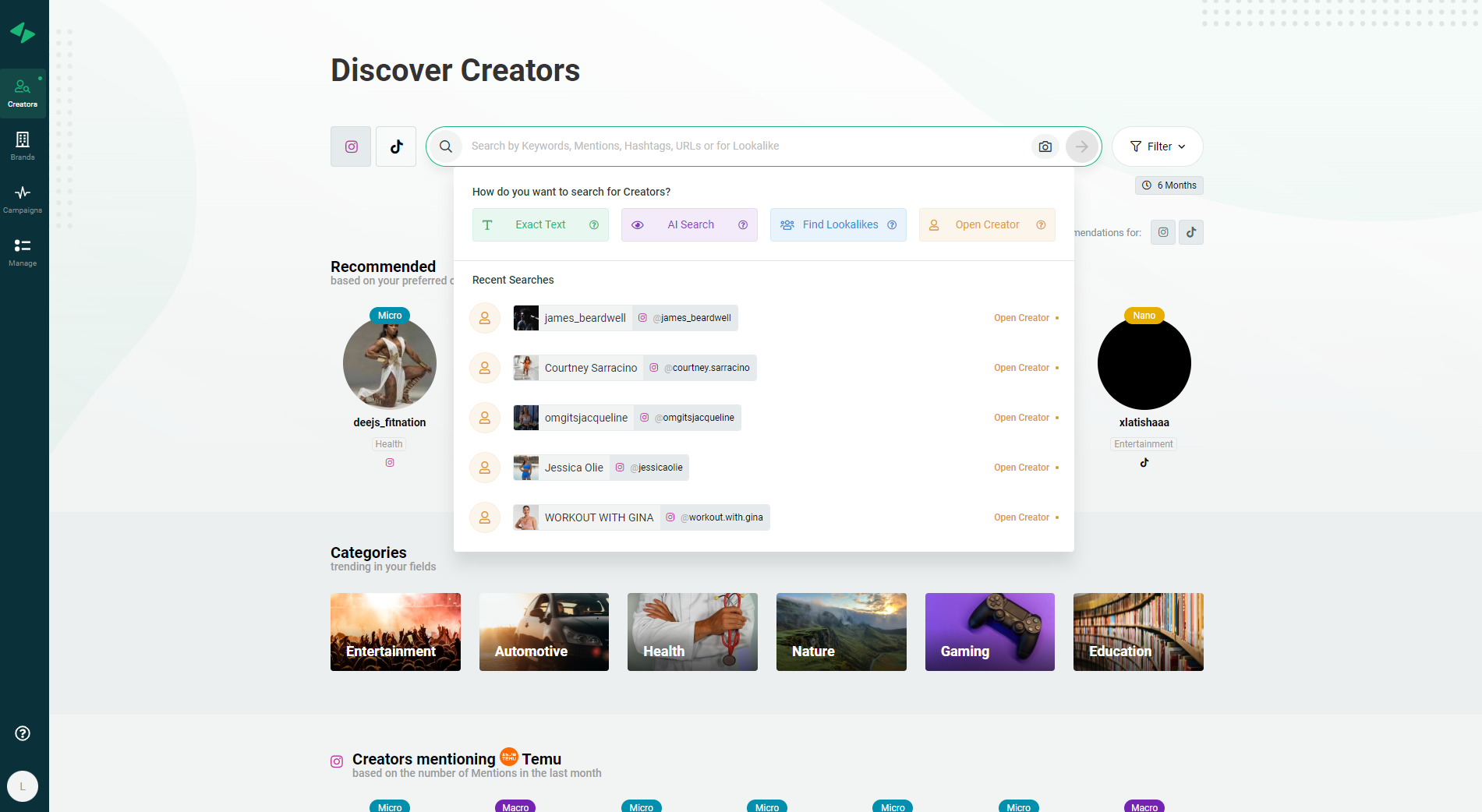 Deep-Dive Storyclash vs Grin

Discovery: With Storyclash, you can use many different search options to find any creator on any platform, including Instagram. AI search makes it possible to find influencers that fit the style and image you're looking for with a few simple keywords.
You can use the free AI search tool to find influencers based on their content. Just type in the keywords describing what you're looking for, and let the AI do its magic. This is a demo version of the technology available on the paid platform, which is obviously much more comprehensive.
Content-based discovery enables you to find influencers creating content relevant to your brand, and the Lookalike feature helps you find creators similar to your current best performers. Grin, on the other hand, no longer offers Creator Search. Instead, Grin offers Curated Lists, which are short, hand-selected lists of suggestions from the Grin team.
Analysis: You can track and analyze your organic, paid and influencer content and campaigns with Storyclash. You can even check the performance of competitor brands or influencers you don't yet have a relationship with. With Grin, your creator needs to explicitly opt in for you to be able to track their performance.
Pricing: According to Capterra, Grin's prices start at $2,125 per month. Storyclash offers flexible pricing, starting at €599 per month.
What Storyclash does better: AI-powered influencer discovery across all platforms, fairer pricing and detailed tracking, even on Instagram stories.
What Grin does better: Creator payments and eCommerce integrations like Shopify and WooCommerce

Overall better choice: Storyclash.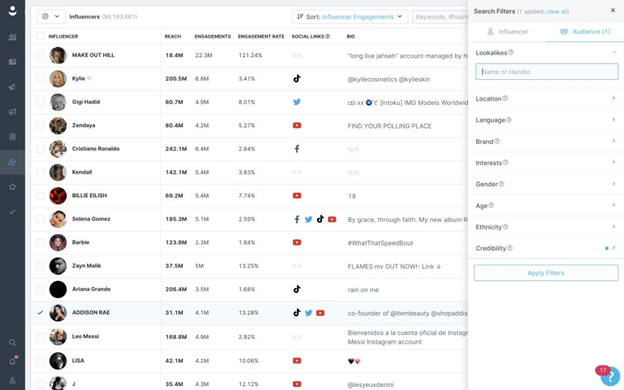 2. CreatorIQ

Summary: CreatorIQ describes itself as the engine powering impactful creator marketing for the world's most innovative and iconic brands.
Customers: Established brands like Disney, Estée Lauder, and H&M.

Best features: CreatorIQ offers influencer discovery, campaign management and reporting.You can search through over 15 million content creators and even use Google AI image recognition for enriched creator data including interest and brand affinities. CreatorIQ's AI-powered discovery tool includes less visible parts of content, like the image itself, mentions, location, and even emojis. Its influencer vetting feature verifies the authenticity and assigns each influencer an "Integrity Quotient" to rate their audience quality.
Pricing: Upon request.
CreatorIQ vs. Grin: CreatorIQ lets you email customers natively to encourage them to be influencers for your brand, which could be a handy replacement for Grin's "Influential Customers" feature. CreatorIQ offers more advanced creator search options, including machine learning-backed creator comparison and recommendation engine. While the CreatorIQ plugin does enable brands to work with sales data, there is no native Shopify plugin. Grin is more specialized in eCommerce and offers more options for eCommerce brands, like Shopify data.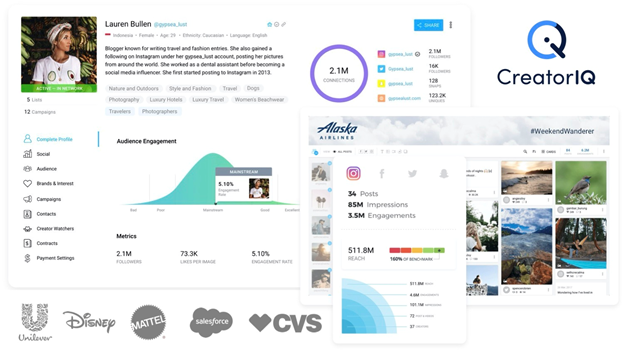 3. HypeAuditor

Summary: HypeAuditor is an all-in-one solution to run your influencer marketing and manage the full lifecycle of your campaigns.

Customers: Medium to large brands, including Dior and Unilever.

Best features: HypeAuditor allows you to search over 36 million influencer accounts using more than 35 metrics. The Explore markets function enables you to benchmark competitors and get market insights. You can create and manage collabs, analyze potential influencer accounts, including fake follower checks, and report on your campaigns. HypeAuditor also has interesting audience analysis features like Audience Reachability, which shows influencer followers who follow less than 1500 accounts.

Pricing: Upon request
Hypeauditor vs. Grin: HypeAuditor's Shopify integration makes it a viable option for eCommerce brands. However, it doesn't offer influencer payments and integration for product seeding.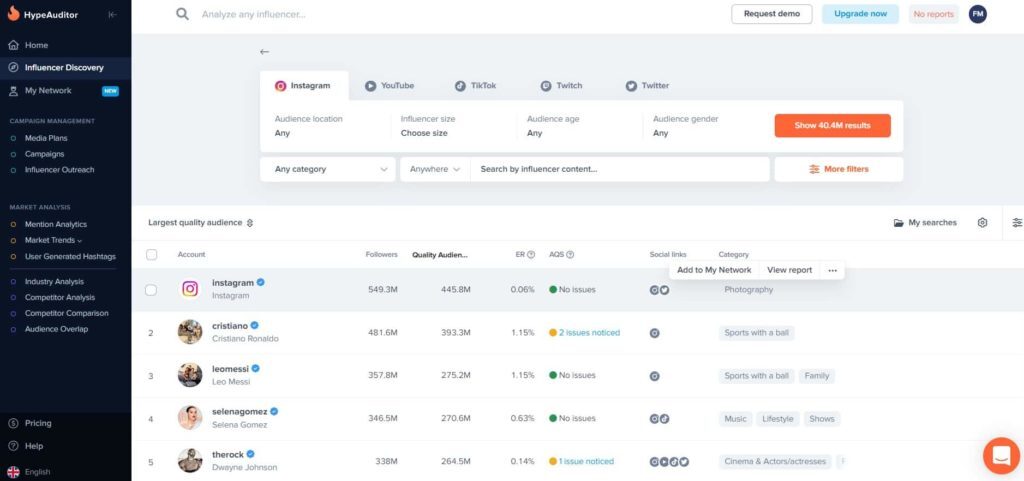 4. Klear

Summary: Klear is a simple to use and intuitive influencer marketing platform.

Customers: Smaller brands that just need basic search and campaign management, as well as established brands like Microsoft, Adidas and Estee Lauder.

Best features: Advanced search and filtering options. The Customer Advocacy program could be a good option for those missing Grin's "Influential Customers" feature that enables brands to leverage their current customers as influencers. The monitoring tool enables brands to track mentions and hashtags, and uses AI to improve discovery results.

Pricing: Upon request.

Klear vs. Grin: Klear lacks integration for e-commerce platforms, but influencer search and discovery are better than Grin.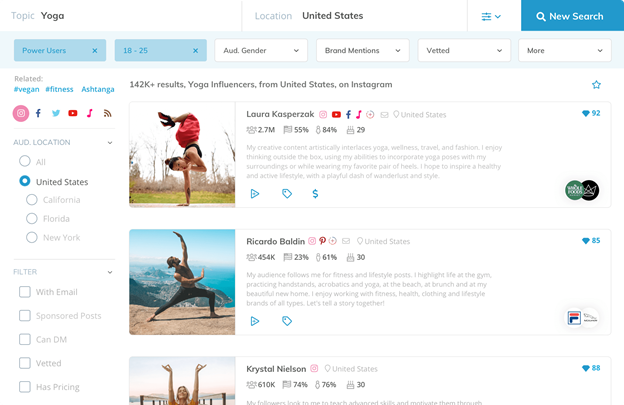 5. Traackr

Summary: Traackr is an all-in-one influencer marketing platform. As the name suggests, Traackr offers advanced data and analytics capabilities.

Customers: Many beauty brands, including Loreal, as well as other industries.

Best features: Influencer search and discovery, campaign management, relationship management and analytics. The Vitality Score based on audience quality and the Influencer Market Benchmark allows you to compare your online social presence to the competition.

Pricing: Prices are based on annual or multi-year subscriptions, available on request.

Traackr vs. Grin: Traackr's new Shopify integration aims to simplify seeding campaigns, making Traackr an interesting option for eCommerce brands who may have previously relied on Grin. However, some critics say that Traackr is more complicated to use than other platforms and that you will need to invest more time in learning how to use it.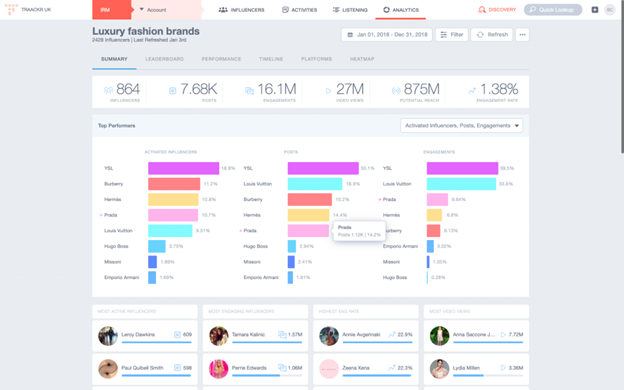 6. Upfluence

Summary: Upfluence describes itself as "more than just an influencer marketing platform". As an all-in-one solution, it covers influencer marketing, affiliate programs, creator management, and user generated content.
Customers: Many eCommerce brands, as well as some larger names like Marriott and Amazon.

Best features: Upfluence plugs directly into your CMS, marketing and eCommerce platforms to help brands find their best brand ambassadors - current customers. Upfluence's influencer search functionality enables you to find thousands of vetted creators in seconds based on content, audience, and performance. The platform makes it easy to vet creators by engagement rates, audience size, demographics and more.

Pricing: Three packages named growth, scale and enterprise, based on the number of seats available. Exact pricing is not public.

Upfluence vs. Grin: Automated product seeding and native creator payment options are similar to Grin. Upfluence's Shopify and WooCommerce integrations make the platform a solid option for eCommerce brands who need improved discovery options.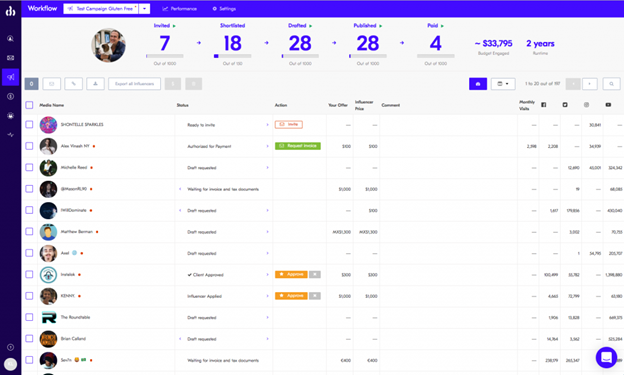 7. Kolsquare

Summary: Kolsquare strongly believes in the power of KOLs (Key Opinion Leaders), hence the name. The platform makes it possible to manage and track campaigns, measure performance, share reports, and search for influencers from a catalog of 3M creators.

Customers: Brands including Sephora, Westwing and Decathlon.

Best features: The audience credibility index makes it easy to weed out fake influencers, and their advanced search engine enables you to filter by influencer and audience. You can build your own influencer address book by adding labels, favorite profiles and annotations to group all the information in one place.

Pricing: Kolsquare has two pricing options: Discovery, priced at €9,000 for one user per year, and Campaign, available for €18,000 for one user per year. They also have a free tool that influencers can use to measure their own performance.

Kolsquare vs. Grin: Kolsquare enables you to connect your Shopify store to track the revenue and number of orders generated by your creators, making it a good choice for eCommerce brands looking for a Grin alternative. That said, other platforms offer more advanced influencer discovery options.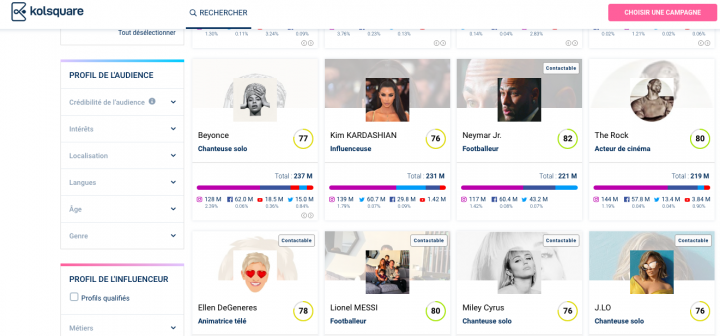 Interested in learning more about Storyclash?
Book a demo to see Storyclash in action. Our experts will be happy to advise you and show you how easy it is to find influencers with our industry-leading AI technology.