A successful influencer marketing strategy will help you build brand authority, grow awareness, boost traffic and acquire new customers. Most brands are aware of the power influencers hold, with 90% of marketers believing influencer marketing to be an effective strategy. However, to get the best results from your efforts, you need the right influencer marketing strategy.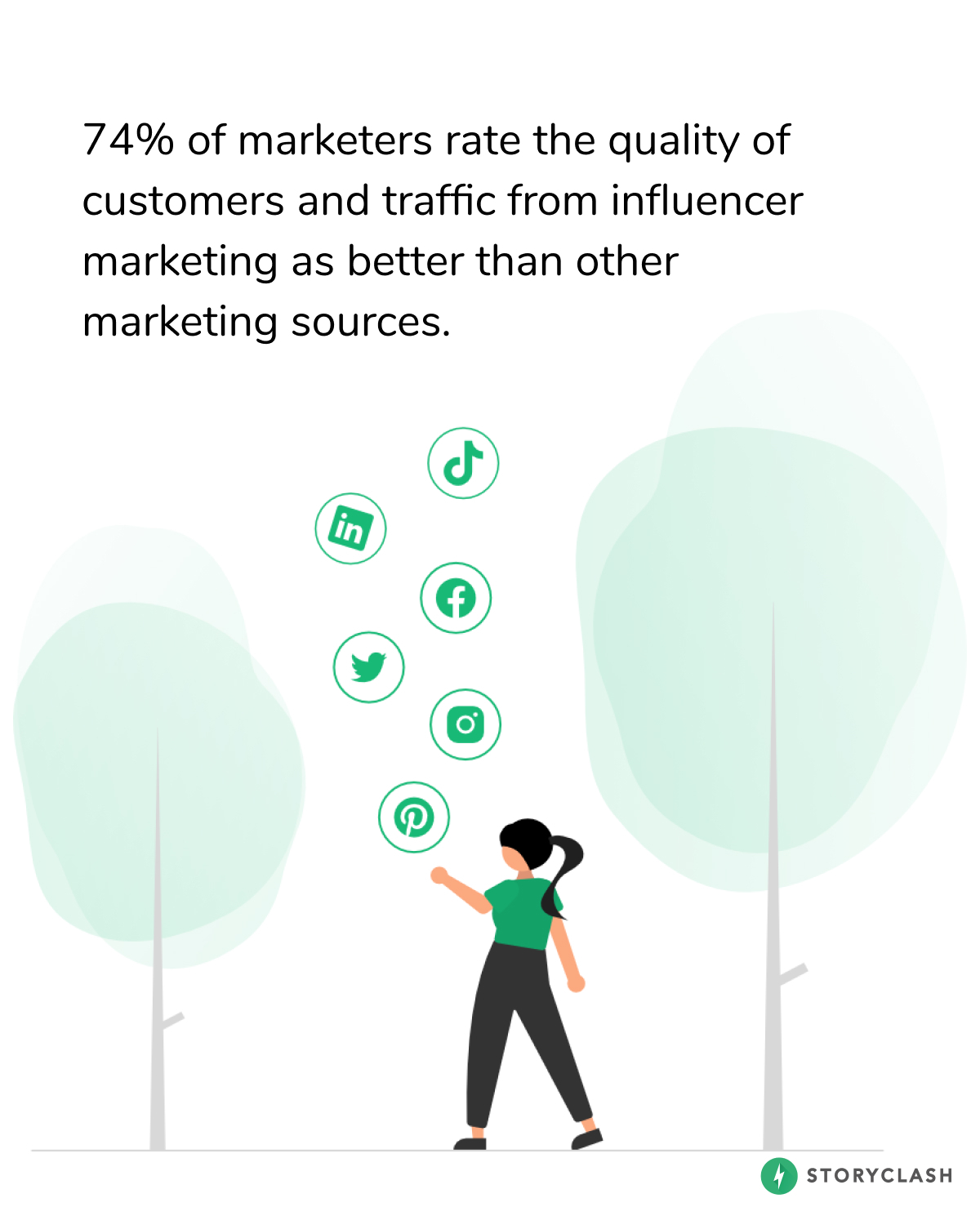 There are many benefits of influencer marketing, but it can be tricky to set up, launch, and manage everything, even if you have run campaigns before. There are numerous hurdles along the way, from finding influencers who share your brand values, to figuring out the costs, and sorting out the legal paperwork. These challenges can delay your campaign or prevent you from getting the results you had hoped.
We created this guide to help you create a killer influencer marketing strategy for your brand. Read on to learn how to create a powerful influencer marketing strategy step-by-step, from start to finish.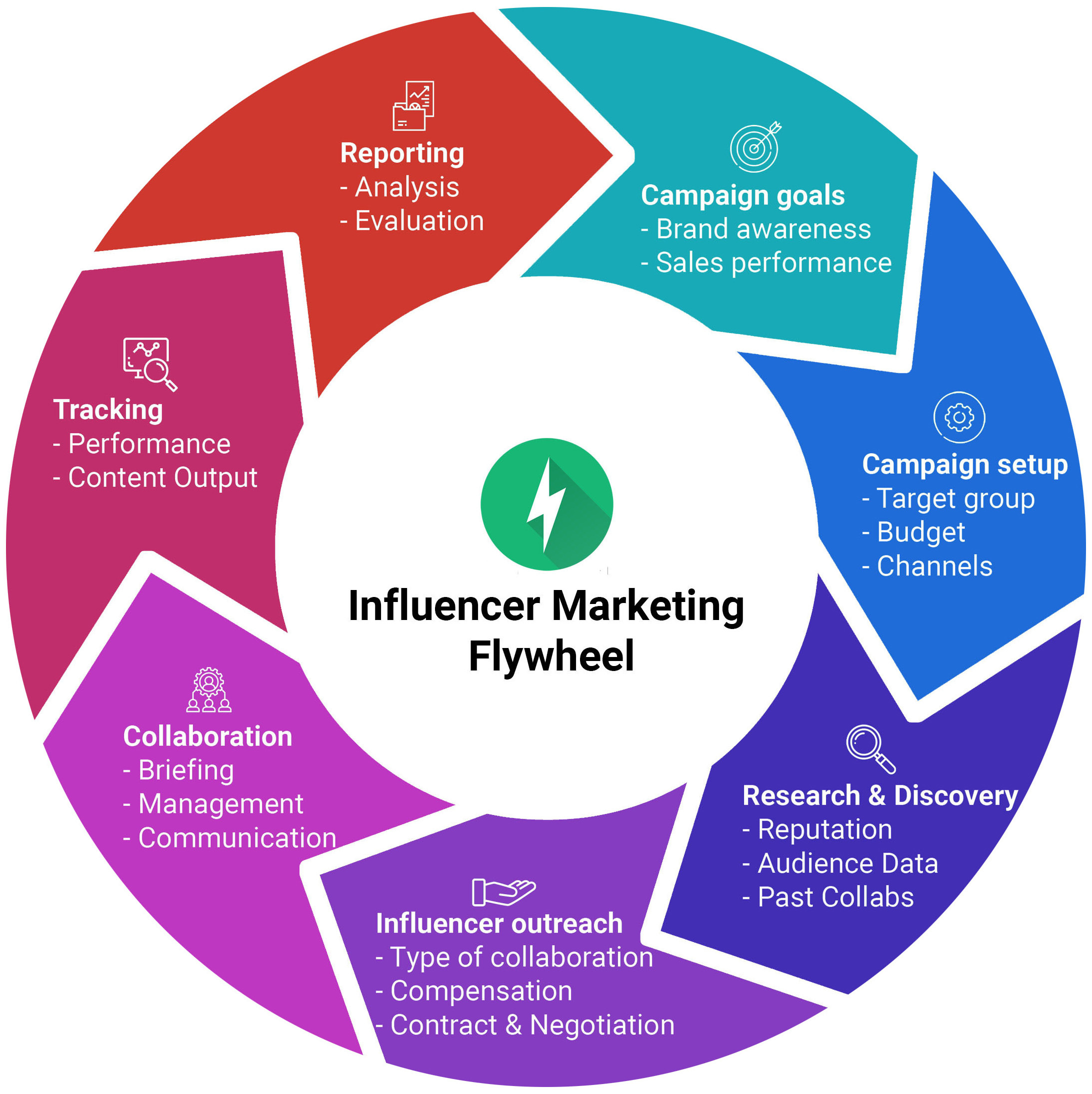 How to create an Influencer Marketing Strategy
At Storyclash, we work with many top B2C and DTC brands, so we know what sets a winning strategy apart. Follow this step-by-step process to get the best results for your brand.

1. Set your campaign goals
Every strategy starts with setting the right goals or rather – objectives and key results (OKRs) - as many marketers use this system of measuring success. The campaign goals you focus on will depend on your wider business goals:
Do you need to drive sales and conversions for one of your key product segments?
Or are you focused on goals like reaching a certain percentage of engagement or reach?

Decide from the start what you are hoping to achieve, as this will help keep you focused throughout the process and also measure results later. Possible campaign goals include:
Brand awareness
Sales performance
Engagement
Reach



2. Plan out the overall setup

Who are you trying to reach when with what budget and where?

The answers to that question are crucial to the success of your campaign.
You don't want to spend time and money trying to engage with a certain demographic, only to realize that actually, your product is better suited to a different customer cohort. It is worth spending time analyzing your current customers, talking to your sales team and digging into your analytics tools to pinpoint the right targeting criteria.
Furthermore you will need to figure out when to run your campaign and how much you want to invest in it. If you are planning an event or product launch with a set date, this will be clear. Otherwise, you might need to do some more brainstorming.
Typically, you will want the campaign to run long enough to have an impact, but not so long that it stops making an impact and wastes money.
Your campaign budget will usually depend on your overall marketing budget size and other business priorities. If you're not sure what your budget should be or would like to double-check, take a look at our comprehensive guide to find out how much influencer marketing costs.
Now you know which audience you are trying to reach and how much budget you have to make that happen, the next step is to choose the best social media platforms for your campaign.
Instagram is a firm favorite for influencer marketing. However, brands can and should leverage other social media platforms as well. TikTok continues to gain in popularity, and many brands now include TikTok in their influencer marketing channel mix as well.
83% of the 97% Instagram advocates also think that Instagram Stories is the best format for influencer marketing.
Lastly, your choice of channel will depend largely on your target audience and their demographics such as age, location and gender. Selecting the right channel or channels is key to the success of your campaign, so choose wisely.

3. Discover authentic influencers who drive value to your brand
Ready to find influencers for your brand? The discovery part of the process is make-or-break for your entire influencer marketing campaign.
The best influencers can tap into engaged audiences that they have carefully nurtured, possibly over several years. Thanks to the high level of trust their followers place in them, they are ideally positioned to introduce your brand to potential new customers. It's not so easy, though, as 34% of brands say finding influencers is their biggest challenge.
When choosing influencers, you will want to consider several aspects, including:
Brand fit
Authenticity
Audience data
Past brand collaborations

Does their reputation align with your expectations? Do you share the same values? Be sure to check out which other brands they are also working with, as it won't seem very credible if they are promoting your competitors or brands whose values conflict with yours.
At the discovery stage, top brands are increasingly relying on influencer marketing platforms to identify and investigate the influencers they collaborate with.

4. Negotiate your terms when reaching out to influencers
While influencer marketing can be very exciting and glamorous, it does come with some boring-yet-necessary paperwork. You will need to negotiate the terms and conditions with any influencer you cooperate with, and get that in writing.
Will the collaboration be on a paid basis, and if so, how much? What are you expecting in return? Are there any other important conditions, such as exclusivity? It is best to include all of this in an official contract and get it approved by your legal team or legal advisor.
How much does an influencer cost? According to a study from hypeauditor 70.7% of Micro-influencers (1K-10K) reported that they receive less than $100 per post on average, while 46.10% of Mega-influencers (Over 1M) make up to $1,000 - $2,000 per post.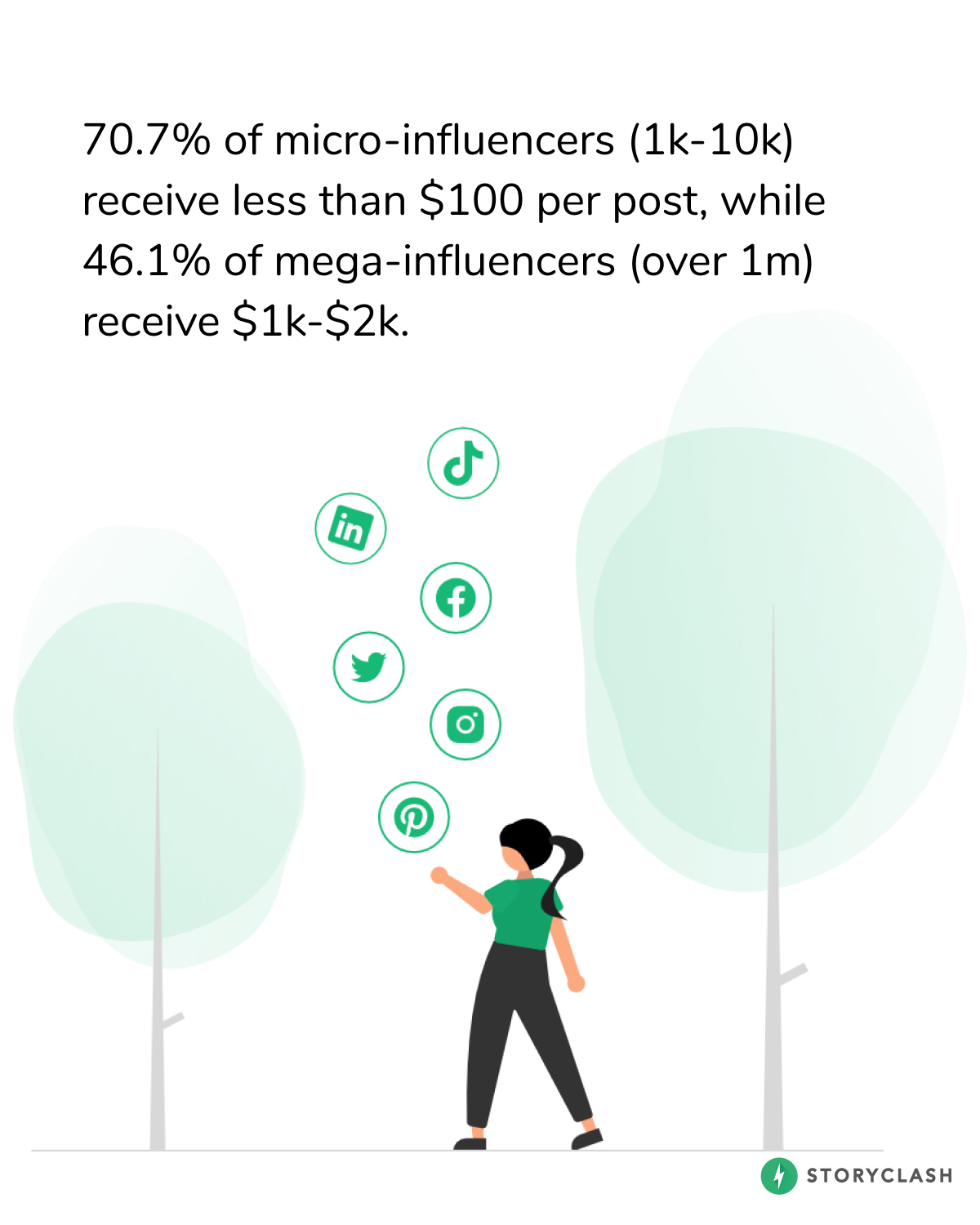 5. Discuss collaboration details
So, you know who you're collaborating with, on what channels, and what your goals are. At this point, your role as the brand is to brief the influencer on the desired outcomes of the campaign, as well as your brand values and brand identity.
They know their audience best and understand what kind of content resonates with them, so it is usually best to give the influencer free rein to get their creative juices flowing. If the brand is overly prescriptive and micro-managing the creative process, the results often turn out bland and inauthentic.
Once you have briefed the influencer, they should come back to you with some creative concepts for approval. Once the content is finalized from their side, and you have approved it, the campaign can finally go live. Yay!
Don't forget to keep up the communication flow with your influencers in order to ensure good management and the best outcome.

6. Track your campaign
So, you have made it this far and your campaign is live. Congratulations! Now you will want to keep a close eye on your campaign while it is running.
After your careful preparation, it is important not to drop the ball at this stage. Conversations on social media can develop quickly, so you will need to keep a close eye on the campaign development and how users are reacting to the content.
Make sure to monitor important numbers like:

Don't forget to track the content output of your influencers as well. Have they uploaded the agreed upon content pieces?
Influencer marketing software like Storyclash makes it easy to track posts & stories in one view, so you can track what influencers are saying about your brand, how their audiences are responding – and if competitors have reacted to your campaign.


7. Report, analyze & evaluate
The final part of the process is to measure the results and collect the learnings. Did you achieve your campaign goals? Create reports of the collaborations with all key performance metrics and try to spot any patterns so you will know next time what kind of content and which influencers to focus on.
Influencer Marketing Strategy Checklist
Ready to start planning, managing and evaluating your influencer marketing campaigns like a pro? Look no further than our free Influencer Marketing Strategy Checklist!
Our comprehensive checklist covers all the essential elements of influencer marketing, including:
Strategy creation
Influencer discovery
Managing your partnership network
Campaign monitoring & reporting
This free checklist will help you organize your influencer campaigns, so you can check off all the important tasks from start to finish.

Ready to learn more?
Keen to learn more about influencer marketing? Check out our top tips on finding the right influencers for your brand or take a look at our list of the top influencer marketing platforms.
You might spot us on top of that list. 😊