For influencer partnerships to be successful, it's crucial to provide influencers with clear guidelines and expectations. This is where a detailed, easy-to-understand influencer brief can make all the difference.
In this article, you will learn what an influencer brief is, why it's important, and how you can create your own influencer marketing briefing.
Stuck for time? Don't feel like writing? Storyclash has got you covered! Just download and use our free influencer brief template.

What is an influencer brief?
An influencer brief, or briefing, is a document that outlines the details and expectations of an influencer marketing campaign.
An influencer brief serves as a guide for creators, providing them with a clear understanding of your brand, campaign objectives, content requirements, and other key information.
Think of it as a roadmap that helps influencers navigate the collaboration and deliver campaign content that aligns with your brand's values and goals.

Why do you need an influencer marketing brief?
There are many benefits to having a clear influencer marketing brief in place. Here are a few of the main ones:
Especially if it's the first time working with a particular influencer, they need to know about your brand so they can create suitable content for you. Briefings tell them who you are, what you do, your values, your unique selling point, and other details that will help them create great content.
An influencer brief ensures that both you and the influencer are on the same page when it comes to campaign objectives, content requirements, and deadlines. By setting clear goals and expectations from the start, you minimize the risk of misunderstandings and ensure that the influencer delivers the desired results.
An influencer brief helps maintain a consistent brand voice and messaging across different influencer collaborations. By providing influencers with specific guidelines, you can ensure that your brand is portrayed consistently across various content pieces and platforms.
Crafting a comprehensive influencer brief saves time and effort in the long run. Instead of going back and forth with influencers, clarifying details and requirements, you can provide all the necessary information upfront, allowing influencers to focus on creating high-quality content.
Especially if you are a large brand working with several different creators, a standard document will save you time and energy in the long run.
An influencer brief helps ensure your influencer activities are aligned with your overall marketing strategy. By providing influencers with insights into your target audience, desired outcomes, and key messages, you are more likely to get better results.

Influencer brief example
Here you can find a real-life example of a simple yet effective influencer brief from our client, cosmetics brand Babor.
For ongoing collaborations with creators who already know the brand, the influencer marketing team at Babor prefers short, concise briefings. Like this:
Clearly, sometimes, less is more. Here is the stunning result:

How to to write an effective influencer campaign brief in 3 steps
There is an art to writing a good brief. Too vague, and the influencer won't understand your brand's goals and USP. Too detailed, and you run the risk of micro-managing them (and no one likes that).
An effective influencer marketing brief consists of 3 main components:
Company overview
Campaign overview
Campaign Deliverables

Let's dive into each of these sections in more detail. Remember, if you don't want to create your own brief from scratch, you can simply use our influencer brief example.

1. Company overview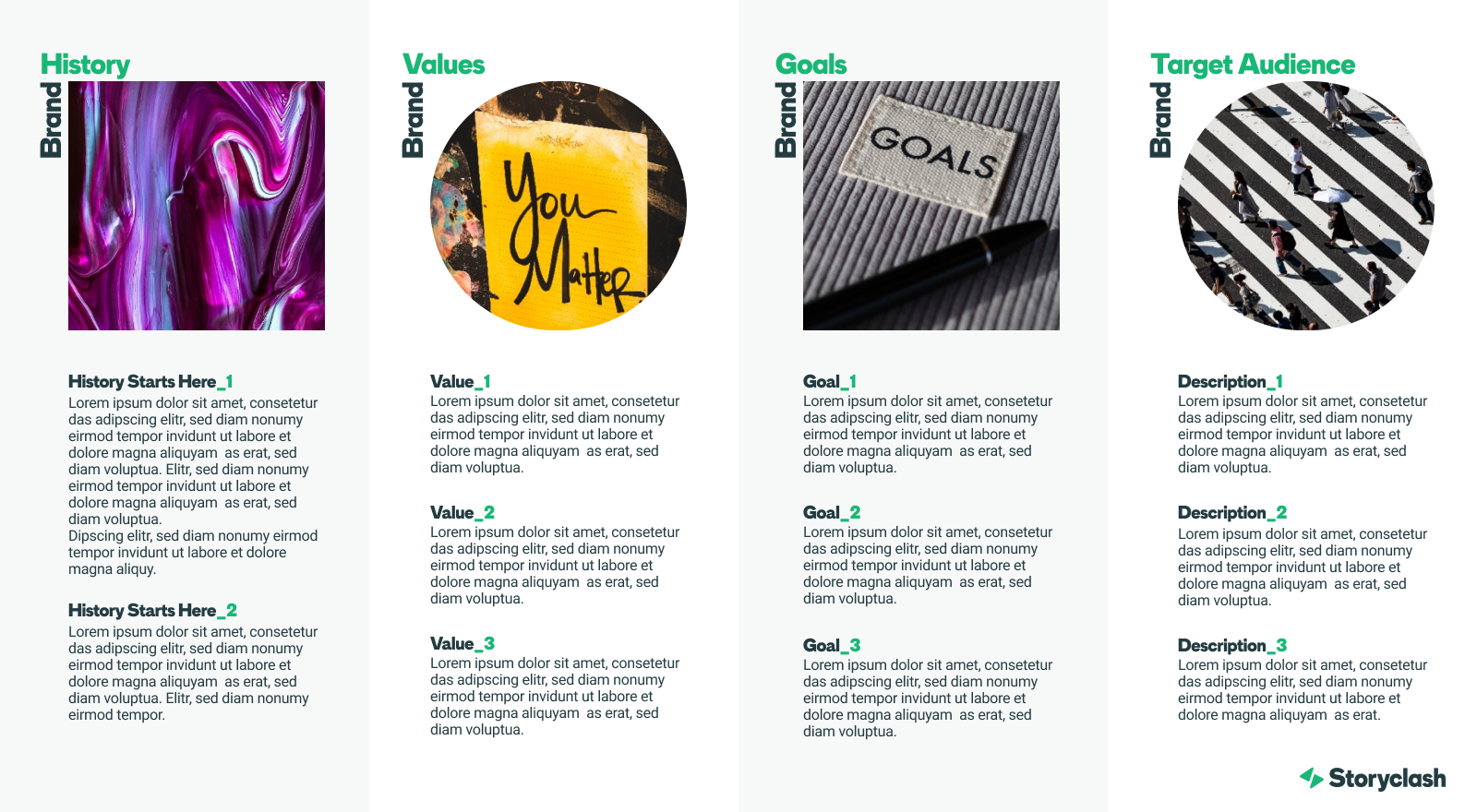 Start off with a brief introduction to your company. Provide influencers with information about:
Your brand's history
Values
Mission
Target audience

This helps influencers understand the essence of your brand and tailor their content to resonate with your audience.
Talk about your value proposition and what makes your brand unique. It's also wise to link to your press kit and provide your logo and other brand files.
You could also provide examples of previous campaigns so that influencers can see what your brand is like and how your products have been promoted in the past.

2. Campaign overview
In this section, clearly outline the campaign.  Here are some key elements to include:
Campaign objectives & purpose
What are you trying to achieve?  Are you looking to increase brand awareness, improve brand perception, or drive product sales? Outline your campaign's key objectives and desired outcomes. This helps influencers understand what they should focus on when creating content.
Highlight the key messages you want the influencers to show in their content. These messages should align with your brand's values and campaign objectives.
You don't have to stipulate exactly word-for-word what the influencer should say, because they should know best what will resonate with their target audience. Nonetheless, it's a good idea to provide some guidance on the key points and the wording.
Clearly state the expected timeline for the campaign, including important dates such as content creation, review, and publication. Set realistic deadlines that allow influencers ample time to create high-quality content.
Indicate which channels you want the influencer to utilize for the campaign. This could include platforms like Instagram, TikTok, other social media channels, blogs, or a combination of these. Be clear about where you want the content to be shared.
Clearly communicate the desired action you want the influencer's audience to take. Do you want them to sign up for an event, make a purchase, or visit your store? Provide specific instructions so the influencer can guide their audience accordingly. 
Describe the target audience for the campaign. Of course the influencer knows their audience well, but it's still helpful for them to understand who you're trying to target.
Provide relevant demographic information, psychographic details, and any other insights that can help influencers tailor their content to resonate with your intended audience.
If you're providing any additional budget for activities like traveling or going out, mention it. Be transparent about any financial arrangements and set clear expectations regarding reimbursable expenses.
How will you analyze the results of the campaign? Be sure to provide tracking URLs or a discount code so you can track the campaign results and create relevant reports.

3. Campaign deliverables
Campaign deliverables are the content that the influencer is going to create for you. Bear in mind that it's important to strike a balance between the influencer's creative freedom, and the needs of your brand.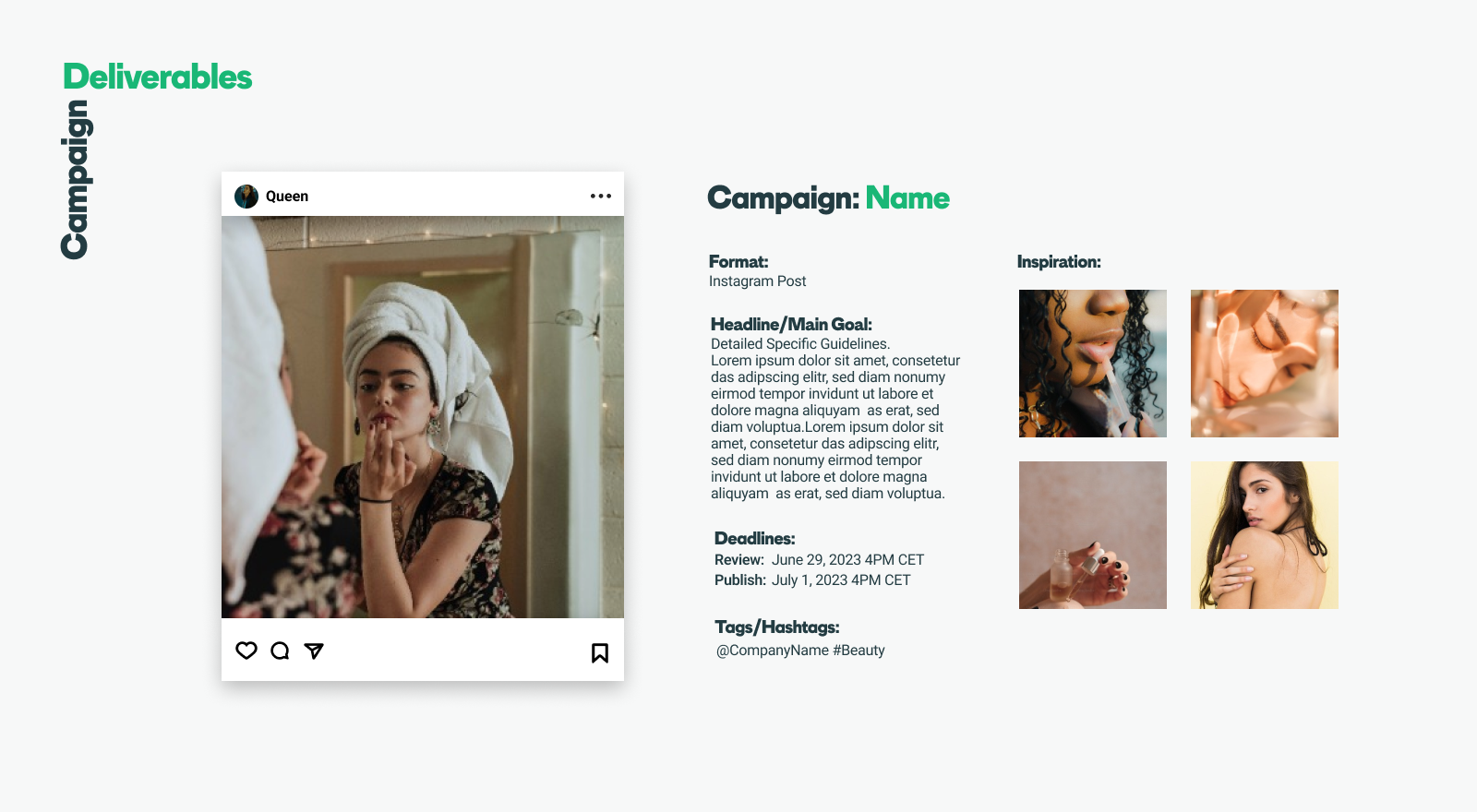 In the campaign deliverable section, you should include things like:
Format and channel. Like an Instagram story, blog post, unboxing video on YouTube.
Deadlines. What are the key dates for creation, review, and publishing?
Messaging and wording you want to use
Mood board. You can provide examples of visuals that you like.
Content review and collaboration guidelines. Explain how and when you will review the influencer's content before it goes live.

4. Influencer campaign do's and don'ts
This section is optional, but can be helpful. Highlighting specific do's and don'ts makes it easy for influencers to see at a glance what you're looking for. Here are some examples of things you can include:
Do's
Include the campaign messages in the post captions
Submit your content for review before the deadline
Use the latest version of the logo and ensure usage is in line with brand guidelines
Include the #ad/#sponsored hashtag to show it's ad
Don'ts
Don't mention sensitive or adult topics
Don't use profanity
Don't refer to our competitors

Use our free influencer brief template
We've put together a free influencer brief template that you can use to create your own awesome influencer marketing campaigns.
No need to stress or spend hours trying to figure it all out on your own. Simply head over here, snag the template, and customize it to fit your brand's needs.