We proudly introduce TikTok as our newest platform in Storyclash. Make use of the world's fastest growing and most downloaded social network by getting in-depth insights into the content and its influencers through Storyclash.
Our new feature allows you to track and monitor TikTok accounts from influencers and brands as well as your own account.
What is TikTok and why do I need to monitor it
The social media platform TikTok (formerly musical.ly) allows only videos to be uploaded to one's profile which makes it unique as other social networks accept different types of content formats.
TikTok has an algorithm-based feed that determines which content is shown, based on factors like your current location, watch time, repeat watching, commenting, liking, and sharing. Through Machine Learning Technology, TikTok can provide their users personalized video recommendations which makes it both very unique and addicting.
Comparison TikTok vs. Instagram vs. Facebook
A short overview of TikTok's special features in comparison to established social media platforms like Instagram or Facebook should give you the information you need on it's peculiarity.
| | | | |
| --- | --- | --- | --- |
| | TikTok | Instagram | Facebook |
| Users worldwide | 800 Mio. | 1 Bn. | 2,45 Bn. |
| User demographic | 41 % of TikTok users are between 16 and 24 years old | More than 50 % of Instagram users are 34 years or younger | Most users are between 25 and 34 years old |
| Supportedcontent types | videos, life-videos | pictures, videos, live-videos, reels, IG-TV, stories | pictures, videos, live-videos, stories, links, status updates |
| Display of content | personalized video recommendations | news feed of content of your liked accounts | news feed of content of your friends or liked sites |
| Focus | video sharing | photo sharing | information sharing |
(sources: https://de.statista.com/statistik/daten/studie/181086/umfrage/die-weltweit-groessten-social-networks-nach-anzahl-der-user/; https://www.statista.com/statistics/248769/age-distribution-of-worldwide-instagram-users/; https://www.statista.com/statistics/376128/facebook-global-user-age-distribution/; https://www.lifsperu.org/10-tiktok-statistics-that-you-should-know-in-2020-infographic/?doing_wp_cron=1600691789.4315519332885742187500)
Three ways to use Storyclash on TikTok
To get on top of your TikTok marketing efforts we recommend three use cases to get started and get the most out of your TikTok presence.

Use case 1: Monitor & report on Influencer campaigns
The Storyclash feature for TikTok helps you to track the Influencers you are working with to create fast, data-driven reports with all the relevant information you need.
You can find KPIs like interactions, video views, likes, shares, comments, followers, following and # of posts and evaluate the success of your Influencer campaigns.
Find all mentions of your brand in the video descriptions of your influencers and assess their content immediately.
Open the 'Trending Posts' module inside your Storyclash account
Choose 'Influencer' as your category of choice
Choose 'TikTok' as your platform of choice
Add any other filter like time range, country or content type
Use the keyword search for typing in any brand and hit enter

Influencer mentions of the brand Nastygal in September 2020
You will see a list of posts which contain the keyword 'nastygal' in the video description and can sort the search results by different metrics like interactions or followers.
The 'Flash Reporting' module makes it possible to create simple, but dynamic reports on your TikTok or social media campaigns in general.
Besides metrics like media value, mentions, interactions and estimated reach you can also see the trending posts, stories and tiktok videos of certain campaigns.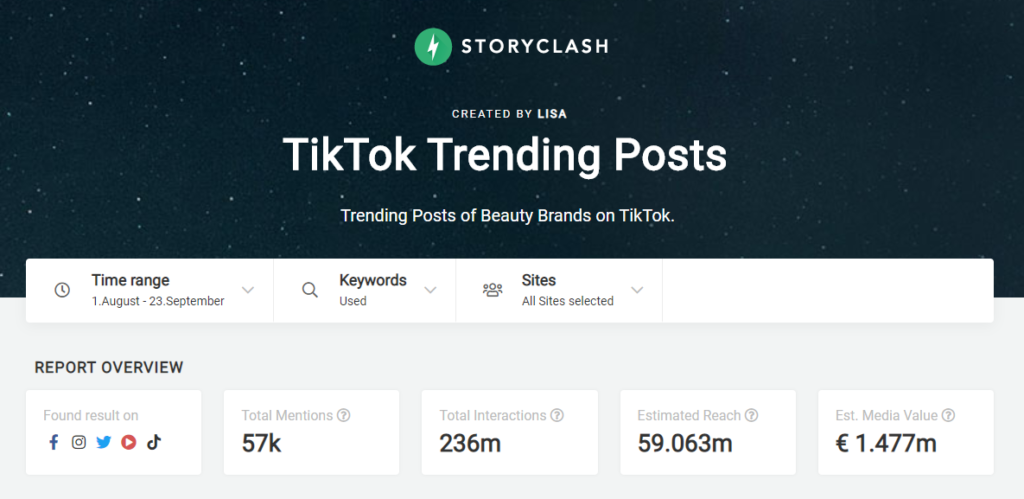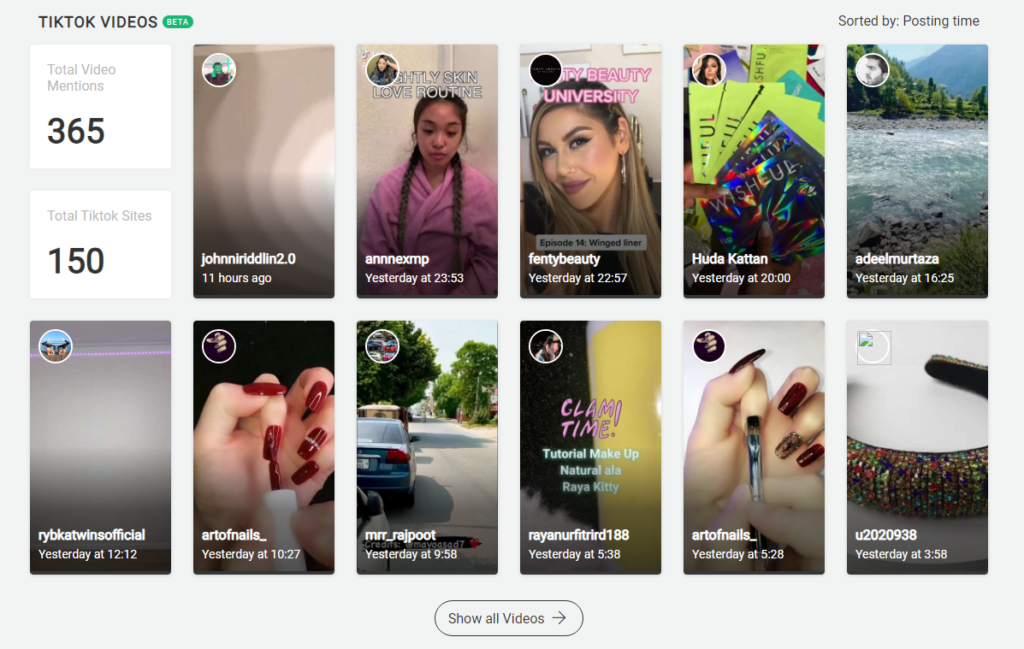 Flash Report on posts with the hashtag #beauty on TikTok
Find out what influencers were the most successful and make profit from that knowledge by optimizing your next campaign. Create flash reports for each campaign and compare the outcome.

Use case 2: Benchmarking - compare you competitor's strategy to yours
Gain insights into your competitors' communication and marketing strategy on TikTok and see what influencers are posting about them. You can also analyze which influencers your competitors work with on TikTok through our various filter options.
Check out the 'Top Sites' module for a view into the best performing brands on TikTok. Through selecting different filters or using the search bar you can have even preciser results and details.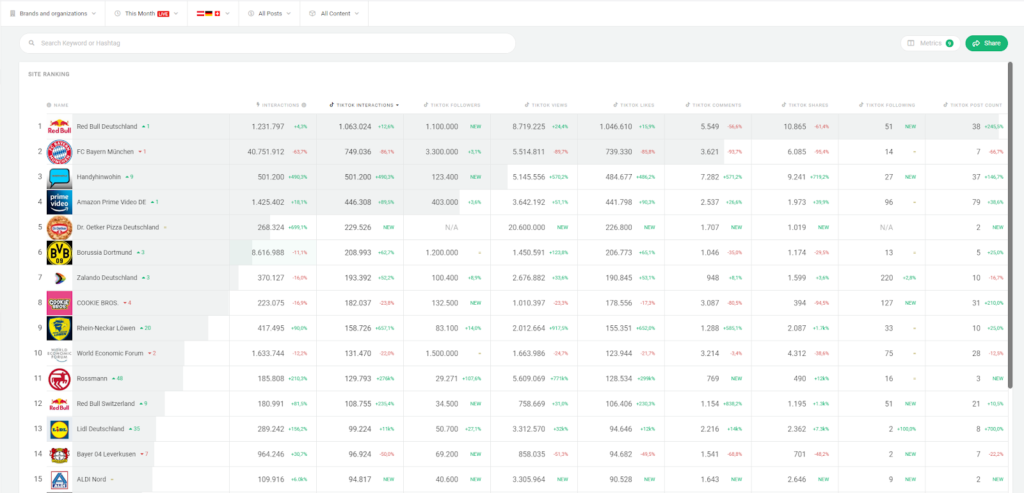 Top Brands from DACH on TikTok in September 2020
By clicking on the entries you can see more details on the distribution of the data and further insights: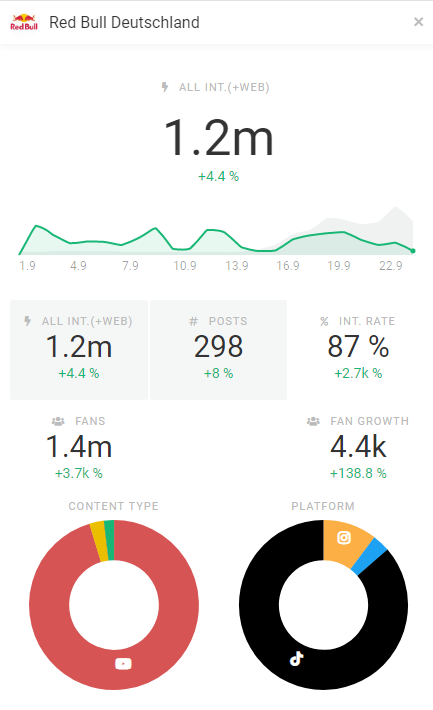 You can even select one single brand or organization, influencer or media site in the filter bar on top to have all the TikTok data of your selected filters, as you can see below with the example of the brand 'Purelei'.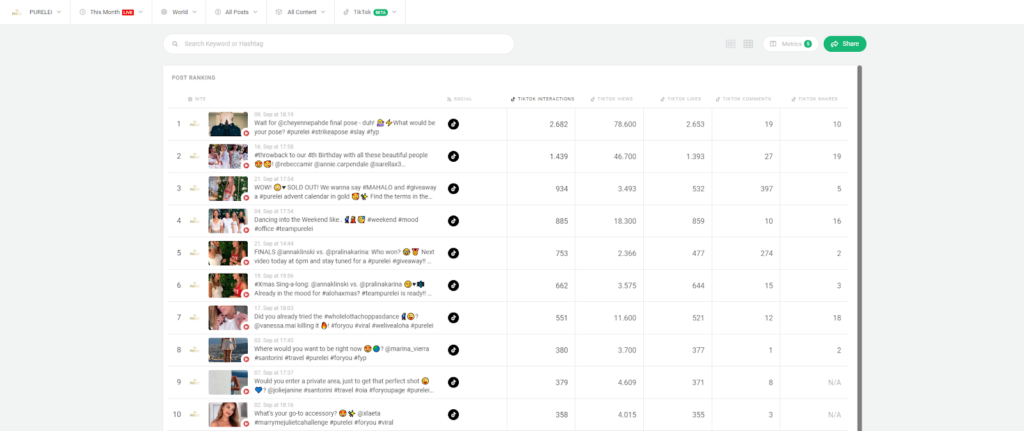 Purelei's TikTok Posts + Performance from September 2020

Use case 3: Influencer, content & trend discovery: see which Influencers or posts are trending
Do you feel uninspired or are you looking for current trends in order to land a viral post? Just look at the live-data of TikTok videos in the 'Trending Posts' module and order by 'interactions' or 'video views'.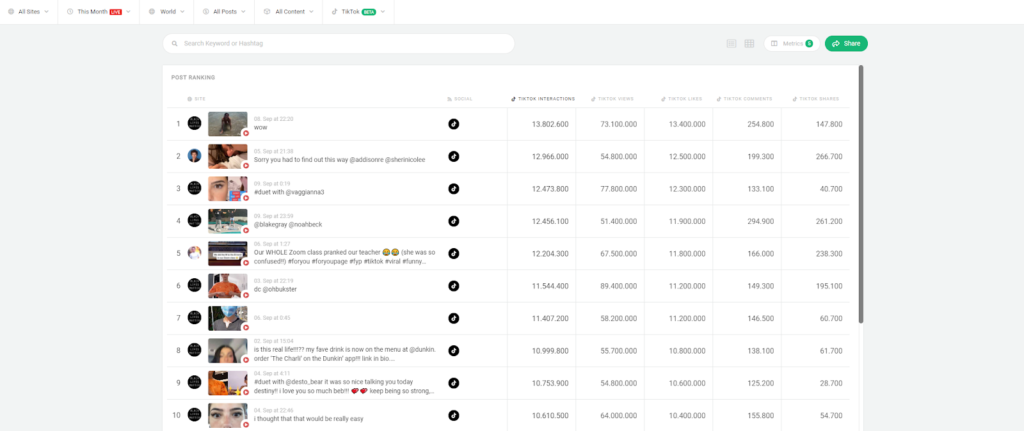 Best performing TikTok posts worldwide
If you want to see the best performing posts in just your country, select your option of choice in the country filter setting.