The Body Shop is one of the brands almost all of us know when it comes to skincare and a company that truly puts their money where their mouth is regarding sustainability and a circular economy approach to business.
It can easily be said that when you are looking for a truly sustainable and an anti-animal testing product, The Body Shop is one of the safest bets out there.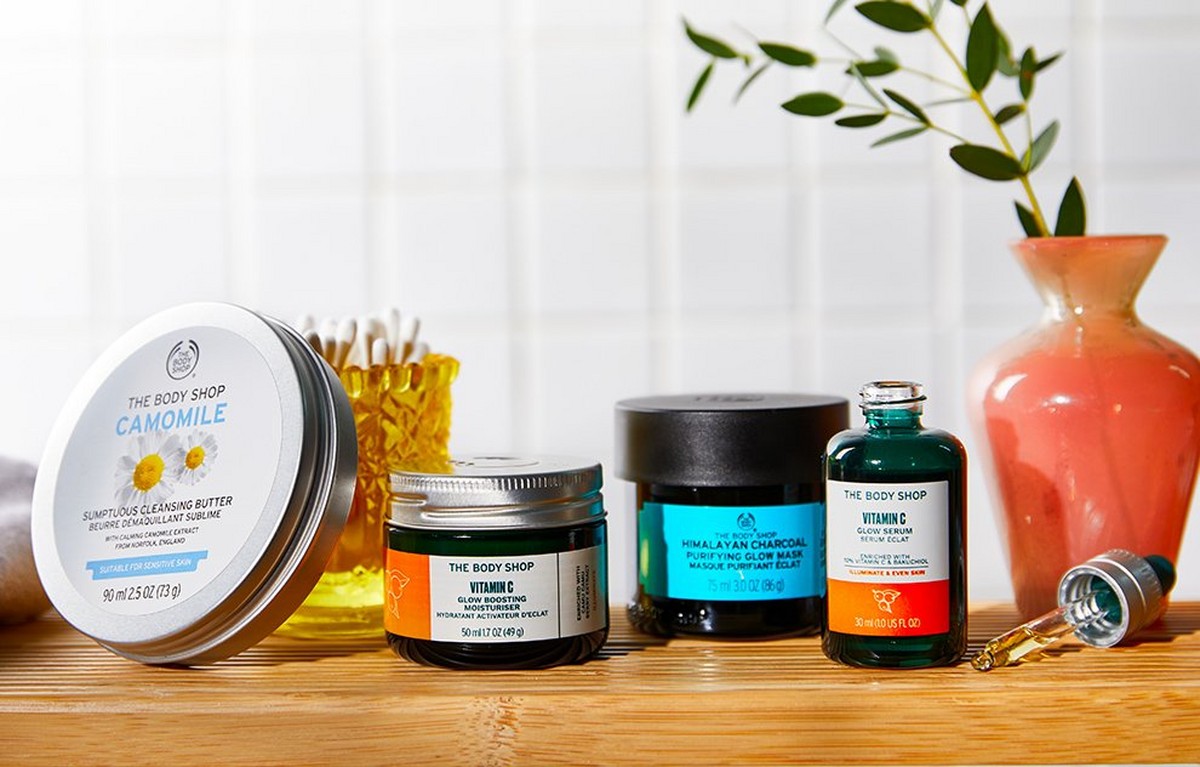 Through the use of our Storyclash platform, we wanted to dive deeper into not only who The Body Shop is as a brand, but to also take a magnifying glass to their influencer strategy.
With this analysis we were looking to see how they are using their influencer community to expand their brand visibility, but also how they are spreading awareness towards their sustainable initiatives that have been there since their inception.
We have taken our latest webinar episode of Influencer Marketing De-Constructed and broken down the main facts for you in this blog posting, but if you wanted to watch the full episode to get all the insights and information, you can watch it here on-demand.
Additionally, you can get the webinar slides here:
---
---

The Body Shop - Owned Media Analysis
While The Body Shop has a presence across Instagram, Facebook, Tiktok, Twitter and Youtube, the primary focus of their postings are coming from Instagram, Facebook and Tiktok. Across the three platforms, they have a following/fans of just under 13 million people, with 2.3m coming from IG, 10.3m from FB, and only about 40k from TikTok.
The platform that they are clearly the most active on overall is Instagram, where they have had 7.100 postings since September 2012, and around 200 videos on TikTok since April 2021.
Now having a look at the numbers from their owned media accounts over the last 12 months, we find that the engagement rate on IG is only around 0.1%, with Tiktok having a little higher engagement, with the rate being around 0.5%.
Now considering that their IG account has 2.3m followers alone, the ER (Engagement Rate) could make sense, but for the sake of being thorough it is important to understand what kind of content is being posted on their IG profile as well.
There is one post (the post in the middle of the previous image) tagging someone using their products. However, overall the page seems like an extension of the ads that they run on Meta's ad library, which could explain the lower amount of interactions from followers.
Now we can have a look at their overall engagement and KPIs of their owned media, powered by Storyclash:
So looking at this data, we can see all of the KPIs associated with their posts from their owned media accounts. The reason that Facebook is not discussed was because from their Facebook pages, the postings are almost exactly the same if not the same as their advertisements that they use, and they also have no engagement, so IG and Tiktok are the main focuses here.
The main focus is on Instagram with some focus on Tiktok, and the majority of the reach coming from Instagram and Facebook due to their follower sizes on those platforms.

Meta Ad Library - What format is The Body Shop using?
When having a look at the ad library that The Body Shop uses across Meta platforms, we see that they are running their ads across Facebook, Instagram, and Messenger. The format of these ads is very heavily focused on studio photoshoots with products rather than a focus on models maybe using the various products for example. So with the format being about 75/25 image to video, there tends to be many of their advertisements focused on brighter lighting, if there are models in the ads then they are smiling, to give this bright, happy feel with their products.
Some of the advertisements do have sales going on within them, as we can see in one of the images below here, and for the most part The Body Shop follows the standard playbook approach with the look and feel of their ads. We see the 'Shop Now' CTA in their ads, and these run across the globe in a multitude of languages, and we see these ads lining up with global sales or product launches.
You can see some examples of their ads below:

The Body Shop's Influencer Marketing Strategy - Deep Dive
Moving away now from their owned media channels, let us take a look at the core foundations of The Body Shop's influencer marketing strategy using the Storyclash platform. With this data we have been able to find where these collaborations are focused, as well as their approach and pillars which make up their influencer presence on social media.

Influencer Marketing Strategy Foundations
When it comes to the influencer marketing strategy that The Body Shop has to market their products, there are three key elements that were very present. These are the affiliates that they work with, influencer community events, and "green" campaigns that they have conducted over the years that garnered a lot of attention.

Affiliates/Ambassadors
Looking at their affiliate/ambassador program, in general their strategy is the standard playbook that we see a lot of brands implementing when we see these affiliate programs. You are able to sign up for their affiliate club in one of two ways, the first is through their actual website where you can read a lot of information regarding the benefits, and the other is through the affiliate partner that they work with, AWIN. The typical commission structure that was seen was that affiliates will receive anywhere from 8-10% commission from followers using their codes and links.
In addition to the easy accessibility to sign up for the program, The Body Shop is known to be very vocal in how strict they are with whom they work with. They are a brand that prides itself on their sustainability initiatives, they expect the same to be coming from their affiliates. So throughout the verification process, they are very particular about who they work with, and that the influencer also fits the image of the brand.
Looking at the content itself, we found in the Storyclash platform that there was no clear cut briefings that were done with influencers, and that they give the freedom to post in the style that they see fit, which can be seen as a way for the influencers to maintain their authenticity and personality that they portray on their socials. One point to mention though, is that there were large clusters of postings that were found that were revolving around new sales that were coming up, or new product launches. This would indicate that The Body Shop does work with their influencers to ensure that when a new sale or product is coming up, that their affiliates are posting in tandem with this, therefore increasing visibility and awareness towards the brand.
Below are some examples of what the affiliate postings for The Body Shop look like through our research in our platform:

Community Events (IGC Generators)
The Body Shop also has a plethora of community events that they host where they frequently invite affiliates and influencers who they work with, in order to show new product releases, talk about new initiatives that The Body Shop is undertaking, and also a way to build relationships in the community and strengthen the image of the brand.
These community events have led to a lot of influencer generated content (IGC) relating to these events, which of course further brings awareness to the brand, and to their affiliate program. These events were found all over the world, with postings being found at North American, European, and African The Body Shop stores. They give a lot of goodies for those who are invited, and this is known to be a really great way to give back to your loyal fanbase, while also marketing yourself as well.
With community events you can have many different formats, which The Body Shop executes quite well. For example, they have events focused on new products, and testing said products, while other events were more so a community dinner where they give out lots of The Body Shop goodies, and host a dinner or lunch event for the community to come and be a part of. All of these different styles can be found and seen through the IGC that was generated, whether it be on Instagram or TikTok, and some thumbnails of postings can be seen below.

Green Campaigns
The last main pillar of the influencer marketing strategy of The Body Shops comes in the form of their green campaigns that they have done in the past that really brought a lot of brand awareness, while also bringing lots of visibility to certain topics that needed to be brought into the spotlight. These campaigns have helped The Body Shop being recognized as an industry leader in certain areas.
The main campaign that really caught on was the #foreveragainstanimaltesting campaign. This campaign was done with 13 different top influencers and celebrities, including Maisie Williams, Kelly Osbourne, Adrian Grenier, among others. This was posted on their Instagram and other social media pages, and was encouraging followers to sign the petition to raise awareness towards the testing of beauty and cosmetic products on animals.
The campaign was definitely successful, garnering over 1.3 million likes on IG, with a very high 4% engagement rate, tons of content was then generated from the hashtag. Moreover, The Body Shop's IG account gained 50,000 new followers, which for how short the official campaign was is quite substantial. The hashtag is still popular to date with many supporters still using it in their postings.
From this campaign, over 8 million people signed the petition to ban animal testing, leading to The Body Shop even presenting this to the UN, which was met with very positive reactions and feedback. Since then there has been a much stronger initiative for countries to pass legislation banning animal testing, and countries have been following this and passing such laws to better protect animals and stop a long standing negative stereotype regarding the beauty industry. Here are some images of those who had posted for the campaign in collaboration with The Body Shop.

What do we now know about The Body Shop's influencer strategy?
They have three main pillars of their influencer marketing strategy:
Affiliate/Ambassador Program
Community Events
Green Campaigns

These three combined have allowed for The Body Shop to maintain a strong presence on social media. That along with the fact that they are very active on their owned media pages is also beneficial. Through the use of a variety of color schemes, paired with the fact that they are also advertising their affiliates on their brand page, which is a great way to recycle content, The Body Shop has garnered a large following on IG, with a much smaller but growing one on TikTok.
The Body Shop is one of the, if not the, industry leader when it comes to creating large scale campaigns that are for good causes, such as petitions against animal testing for beauty products. This has been a pillar of The Body Shop since their inception, and is something that they always lead with today, and they've stuck with their foundations. This is something that every brand should be looking at and trying to do the same themselves when starting a brand and the image that comes with it.
Looking specifically at the data found in the Storyclash platform though, we see that there are a very small number of creators who are working and posting with The Body Shop in the long-term. The reason why this is interesting is because typically with brands that have affiliate programs, we are usually seeing a much higher long-term collaborations timeline with creators than we see when analyzing The Body Shop.

What is still missing from their influencer marketing mix?
1. Affiliates not becoming long-term collaborators
One of the biggest question marks regarding their influencer marketing mix is why creators who join their affiliate network are not converting into long-term, loyal influencers for the brand. With a strong affiliate program and community, this is incredibly important in developing long-term relationships with strong brand advocates, while also bringing more awareness to the brand, and in the end, stronger revenue streams.

2. Better utilize their influencer TikTok success to increase awareness of the brand page.
Looking now at TikTok, which The Body Shop is still growing in, the data definitely shows that they have had some successful collaborations with influencers on the platform. How can they get these viewers of the influencers posts, and get the potential customers onto the owned media account from The Body Shop? This is a difficult question to answer, but if they can unlock this and get more followers and eyes on their postings, this could be a great foundation and opportunity for The Body Shop to bring in new loyal customers and influencers to collaborate with.

3. More consistent green campaign initiatives, and working with larger scale creators
The last main thing that could be missing is them working on campaigns on a more consistent basis regarding green topics or charities. This is a good way for them to stick to their roots, and make sure everyone knows they are the name everyone thinks of when they think of a green brand. Moreover, they could use this opportunity to work with celebrities and mega creators again like they did in the past, in what was arguably their most successful campaign to date.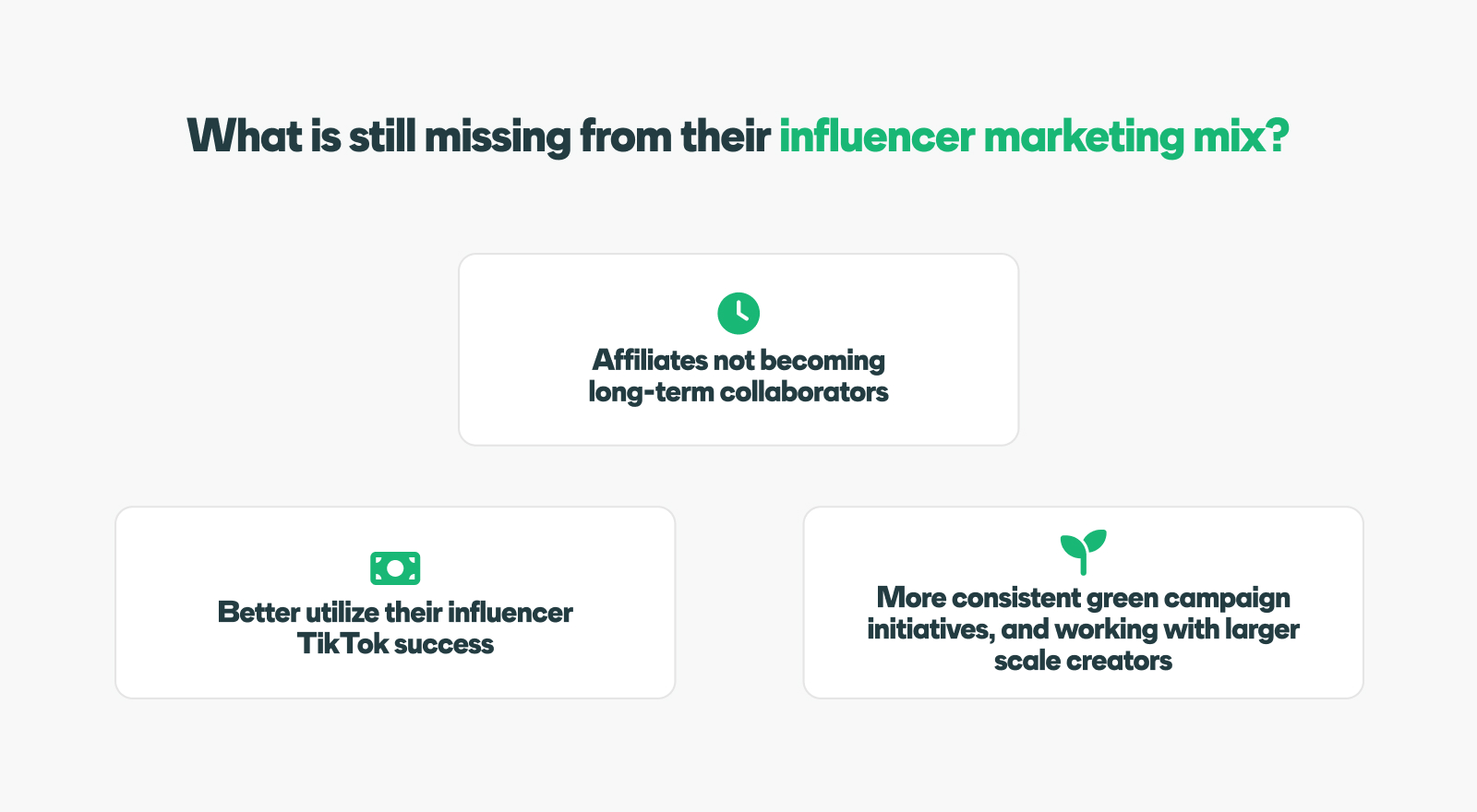 What can we learn from The Body Shop?
1. Organizations can be huge drivers for change in any industry
One thing we can definitely see through the work of The Body Shop is that organizations can be incredibly powerful tools and drivers of change in the marketplace. Through their campaigns, they received millions of signatures for petitions to pass legislation banning animal testing for beauty products, and even presented it to the UN which is an incredible feat.

2. The power of influencer communities for your brand
Secondly, the importance of creating a community that grows with the brand. We see this everywhere now and The Body Shop is a good example of this through their community events and affiliate program. This is becoming more and more popular as the years go by, and it will continue this way into the future. With the use of influencers being on the rise, we can definitely see that the creation of a community leads not only to more revenue, but also creating a community that has been brought together by something they have in common, the love and loyalty to the brand, and they'll be more than excited to post all about you in the future.

3. Choose your focus, make it your biggest strength
Lastly, finding a focus of the brand and using it as one of your biggest marketing strengths is vital in the expansion of a consumer brand, and it is something that The Body Shop has built itself on since their inception in the 1970s. This can be something that will definitely be the biggest driver of revenue growth for a smaller brand, and should be something that many brands put as one of their biggest priorities in their vision.
---

We have more brand analyses for you to check out!
Want to learn more about other top brands and their influencer marketing strategies?
Watch the full on-demand webinar on Charlotte Tilbury to find out what they could do to be even more successful with influencer marketing!
Also check out our blog post on Charlotte Tilbury if you prefer reading instead of watching.

About Storyclash - the brand behind the insights
Storyclash is the AI-powered Influencer Marketing Platform that helps your team drive sales and brand awareness. Discover authentic creators, measure the impact of your campaigns and manage all your data in one place.
Fast-growing DTCs like Bears With Benefits, Junglück or Kapten & Son, as well as large, established companies like Vodafone, Lululemon or Kaufland use Storyclash to get more out of their influencer marketing.