Charlotte Tilbury is a beauty brand that needs no introduction. Founded by the renowned celebrity makeup artist, Charlotte Tilbury, the brand has quickly become a global phenomenon. Known for their luxury cosmetics products and iconic social media presence, Charlotte Tilbury is one of the most successful beauty brands today.
At Storyclash, we decided to explore Charlotte Tilbury's influencer marketing strategy in more detail. While we are not directly affiliated with Charlotte Tilbury, we were able to use our platform to gather data and insights about the brand's social media tactics and how they leverage the power of influencers to drive sales and build brand loyalty.
In this blog post, we'll dive into Charlotte Tilbury's influencer marketing strategy and share some of the key takeaways from our webinar. Whether you're a beauty industry professional, a social media marketer, or simply a fan of the brand, we're confident that you'll find the insights valuable. So keep reading to learn more, or tune into the on-demand webinar to access the complete analysis.


Charlotte Tilbury on social media: the journey to success
Let's take a closer look at everything you ever wanted to know about Charlotte Tilbury's social media marketing strategy, including the platforms and formats the brand uses, and the creators they work with. This is broken down into two parts, their owned media accounts and their influencer content.

Charlotte Tilbury's owned social media strategy
It all started back in 2012, when Charlotte Tilbury began posting YouTube makeup tutorials on her channel named Charlotte Tilbury Beauty.
Today, the Charlotte Tilbury brand is super active on social media, with over 8m+ followers across Instagram, TikTok, YouTube, and Facebook, and 11k posts and reels. They created 3k Instagram posts in the last 12 months alone!

Which platforms does Charlotte Tilbury use?
Charlotte Tilbury is present on all major social media platforms, but they are most active on Instagram, with over 3.1k posts in 2022. That's also where they receive the most engagement, with 9.1m interactions on Instagram, followed by 6.1m interactions in TikTok.
Interestingly, their engagement rate is highest on TikTok, at 2.5%. At Storyclash, we see a lot of brands' social media data and can tell you that that's pretty normal. TikTok videos are super engaging and generate a lot of attention!

Which formats does Charlotte Tilbury prefer for their social accounts?
The Charlotte Tilbury brand is very video-centric when it comes to advertising. This comes in the form of videos for paid ads on Instagram or Facebook, but also TikTok videos and Instagram reels on their respective socials.
From the data found in their Meta Library, it came out to about 90% video and only 10% pictures. This is further reflected on their digital store, where you also have plenty of videos showcasing the products and their application on models.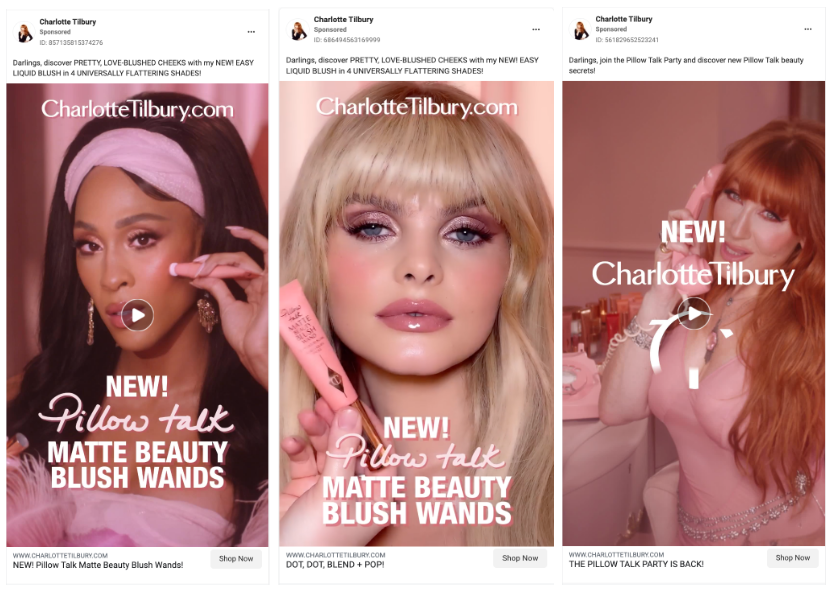 How successful is Charlotte Tilbury's social media strategy?
Clearly, their efforts have paid off. Charlotte Tilbury is the number one cosmetics brand on Instagram mentioned by UK creators. With 9,1k mentions in the UK and 50k globally last year, they are comfortably ahead of competitors NARS Cosmetics and MAC.
So, what's the secret to their success? Charlotte Tilbury uses their online presence to offer a brand experience like no other, with videos, tutorials, masterclasses, events, and more! And then, of course, they use celebrities and influencers to amplify their brand strategy.

Deep Dive into Charlotte Tilbury's Influencer Marketing Strategy
Using data from the Storyclash platform, we were able to analyze everything you ever wanted to know about Charlotte Tilbury's influencer marketing strategy, including the creators they work with.

Who does Charlotte Tilbury work with?
Let's dive into Charlotte Tilbury's biggest brand ambassadors, and the three types of influencers the brand cooperates with.
Sofia Schwarzkopf Tilbury: a unique advocacy perspective
Sofia Schwarzkopf Tilbury, with 330k followers, is Charlotte Tilbury's niece and the most active advocate of the Charlotte Tilbury brand, with around 600 mentions in the last 12 months.
Although many Charlotte Tilbury influencers focus on posts, Sofia's content is primarily composed of stories, accounting for 95% of her content. The engagement rate for her branded posts is 2.7%, while the engagement rate for all posts is 1.7%. Sofia shares many videos in which she demonstrates her makeup hacks using Charlotte Tilbury products, and fans love it!
Bella Hadid: the new face of the Charlotte Tilbury brand
Bella Hadid and Charlotte Tilbury have been working together for a while - and in March 2023, Charlotte Tilbury made the supermodel the official face of the brand.
Of course, that's not all. In fact, the creators Charlotte Tilbury works with can be split into three distinct groups.

The types of influencers Charlotte Tilbury works with

1. Celebrity ambassadors
Celebrity endorsements are at the heart of Charlotte Tilbury's marketing strategy. Their award-winning product line, Pillow Talk, is powered by Charlotte's "muses", and includes big names in the modeling and entertainment industry, including Kate Moss, Blake Lively, Drew Barrymore, and Twiggy.
Whether it be for their product marketing or on the nights of the biggest events, Charlotte and her team nurture partnerships with celebrities in their network, and the brand regularly shows exclusive behind-the-scenes content from major star-studded events.
The brand's "Hollywood Playbook" uses the red carpet to promote their luxury products and ensures that shoutouts and collaborations are well-placed. In addition to product placement and promotion, this also gives Charlotte Tilbury the unique opportunity to use these events to showcase and advertise their newest product lines that have not been released yet, and allows for them to have very high levels of demand before they officially launch in their digital store.
All in all, the red carpet events and collaborations with celebrities to get Charlotte Tilbury's products in the spotlight, literally, is a strategic one that gives them an incredible advantage over the competition.

2. Affiliate program creators
Charlotte Tilbury offers an affiliate program for influencers called the Magic Beauty Stars.
Creators can sign up and receive commissions every time someone purchases from Charlotte Tilbury's website using their code. The maximum discount for followers is 15%, and affiliates themselves can receive a discount of 15-30%. Creators/artists who join the program gain access to VIP products and more. In 99% of all promotional stories, the affiliate link was included, and there is no "regular" collaboration with just the code. The program format includes Instagram stories and potentially other non-social or offline activities as well.

3. Classic influencers
Charlotte Tilbury's influencer marketing strategy also includes classic non-commission based collaborations. Unsurprisingly, video content is a key element. Influencers publish tutorials and get-ready-with-me style content on various platforms, including reels and TikToks. These highly engaging videos not only showcase the product but also demonstrate how to apply it and how it looks and include a discount code in the description.

Instagram influencers
Here are the main influencers that have posted about Charlotte Tilbury on Instagram in the past 12 months, ordered by follower size:
Storyclash's collaboration timeline shows exactly how frequently they collaborate, and how often they post.

TikTok influencers
Here are the top ten influencers that have posted about Charlotte Tilbury on TikTok in the past 12 months, ordered by follower size:
Storyclash's collaboration timeline shows exactly how frequently they collaborate, and how often they post.

What can your brand learn from Charlotte Tilbury?
Let's take a look at why Charlotte Tilbury is so popular, and how your brand can tap into their success.


Focus on long-term partnerships
Charlotte Tilbury focuses on building long-term relationships with influencers, rather than just short-term collaborations. By nurturing these relationships and working closely with influencers, Charlotte Tilbury has been able to establish trust and credibility among their target audience, which has led to increased brand awareness and sales.


Double down on video
The Charlotte Tilbury brand is a powerful example of how to leverage video, with 1 billion views in the past 12 months.
The brand frequently creates tutorials, "Get Ready With Me" videos, and product demonstrations, which are shared on various platforms including Instagram, YouTube, and TikTok.
Video enables the Charlotte Tilbury brand to foster a more personal connection with its audience, almost making them feel like they are receiving one-on-one advice from a makeup artist. The videos not only showcase the products, but also provide valuable tips and techniques for applying makeup.
Other brands can learn from this approach by creating engaging and educational video content that not only showcases their products, but also provides value to their audience.


Build a community
Charlotte Tilbury creates a sense of community among its customers and fans, providing them with valuable educational and experiential opportunities that go beyond just selling products.
The brand offers Masterclasses both in-person and online, where customers can sign up to see the Tilbury Makeup Team recreate iconic looks. The in-person events often include brunches and dinners, attendees receive Charlotte Tilbury goodies, and local nano and micro influencers are present. Customers can also join virtually, and they can access the entire masterclass archive online.
While not every brand can be present at red carpet events, putting on micro events and masterclasses is something that essentially anyone can do. Focusing on community could be a great opportunity for your brand to drive awareness and foster brand loyalty.


Monetize your brand ambassadors
The Charlotte Tilbury brand has a highly successful affiliate program that allows them to monetize their brand ambassadors.
The program enables content creators who are a fan of the brand to earn a commission on sales generated through their unique affiliate link. This enables Charlotte Tilbury to expand its reach and increase its sales.
Other brands can learn from this approach to influencer discovery and establish their own affiliate program to leverage the power of influencer marketing. Using a tool like Storyclash can help brands to track mentions and identify who is talking about their brand online. By partnering with these influencers and offering them a commission on sales, brands can tap into their audience and drive more revenue.

Want to learn more about Charlotte Tilbury?
Watch the full on-demand webinar to find out what Charlotte Tilbury could do to be even more successful with influencer marketing!

About Storyclash - the brand behind the insights
Storyclash is the AI-powered Influencer Marketing Platform that helps your team drive sales and brand awareness. Discover authentic creators, measure the impact of your campaigns and manage all your data in one place. Fast-growing DTCs like Bears With Benefits, Junglück or Kapten & Son, as well as large, established companies like Vodafone, Lululemon or Kaufland use Storyclash to get more out of their influencer marketing.