River Island is a massive name in the fashion industry with a history spanning over eight decades. They started out as a fruit seller in the 1940s, and transformed over the years to textiles, then to womens clothing, and now clothing for the whole family.
River Island is still owned privately by the family, and is still one of the household names when it comes to high street English fashion.
Through the use of our Storyclash platform, we wanted to take an in depth look at the influencer marketing strategy of River Island, and how they've used this strategy as a way to grow their brand awareness on a global scale.
While River Island is not one of the pioneers when it comes to influencer marketing, they are a brand that has had many transformational moments, and has shown great adaptability over the decades to quickly and effectively integrating trends into their company strategy.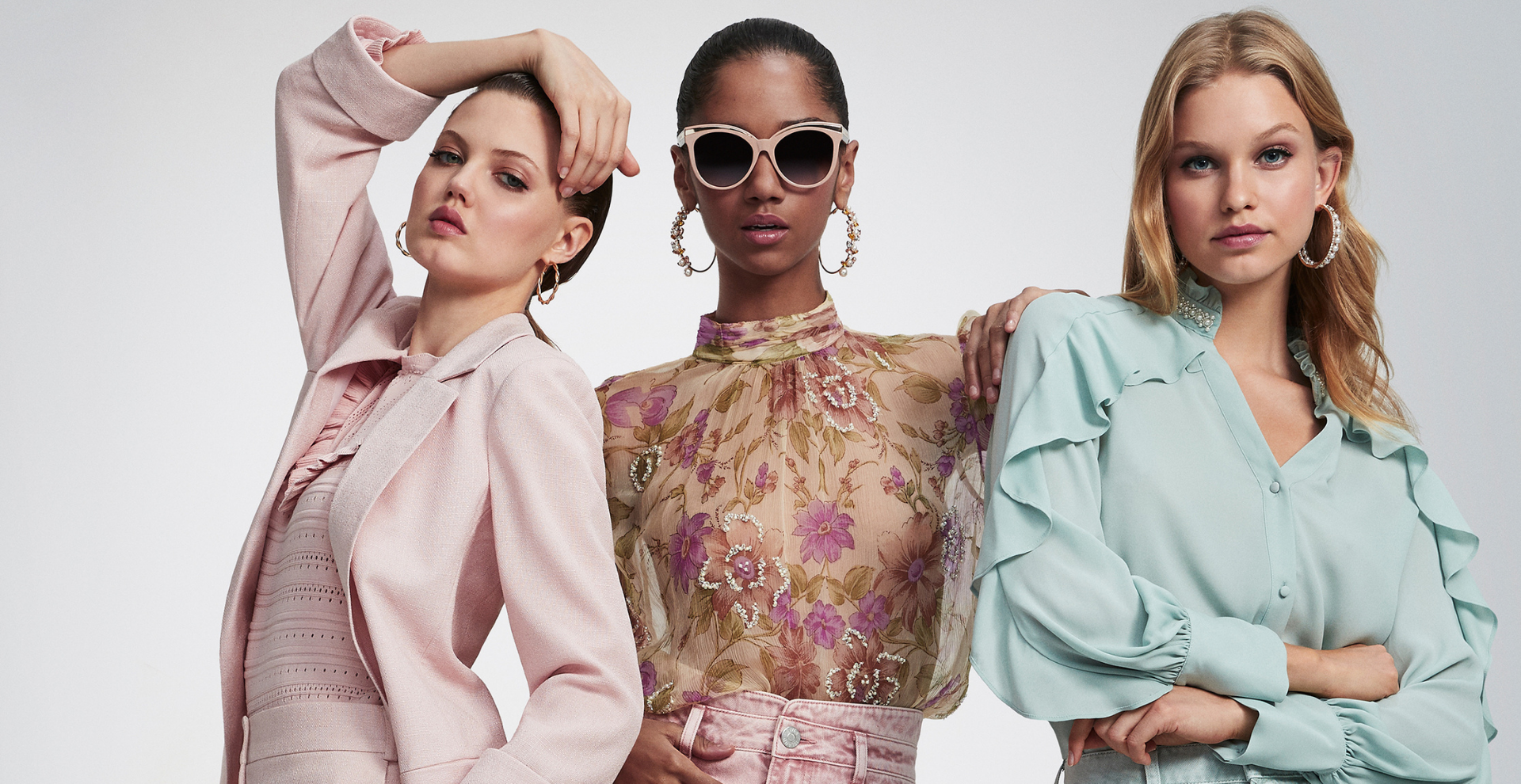 We have taken our latest webinar episode of Influencer Marketing De-Constructed and broken down the main facts for you in this blog posting, but if you wanted to watch the full episode to get all the insights and information, you can watch it here on-demand.
Additionally, you can get the webinar slides here:
---
---



River Island - Owned Media Analysis
River Island has a social media presence across Instagram, TikTok, YouTube, Facebook and Twitter. They have over 12k postings on IG since 2012 when they made their brand account, and in the last 12 months they've grown much more active on TT, with over 300 new videos.
With regards to the content they are focusing on, it is clear that River Island has a lot of UGC/IGC on their brand pages, broadcasting their affiliates and brand ambassadors across their pages. This is a great way for their brand marketing team to recycle content that is being created by their most loyal customers and fans.
Across their social media accounts, in addition to their UGC/IGC, they make sure to inform all their followers about upcoming events, sales, restocks, and product launches so you are always up to date with what is new and going on at River Island.
Now we will have a quick look at the KPIs associated with their brand accounts:
They have some decent video viewership across IG and TT, amounting to 26 million views from those two platforms alone.
Now with regards to engagement rate (ER), there is definitely very low engagement, so having a way to get viewers to interact more with their content could be a possible improvement for the future.

Meta Ad Library - What format is River Island using?
River Island is running the majority of their sponsored content on Facebook and Instagram. While they have many different styles running, about ~90 types, only 2 of them are in video form, so a lot of their content is very basic with models, studios, and product showings in their sponsored content
The images themselves are very similar to that we see of other brands, and also at times have sales that are going on, with your basic CTAs that will send you directly to the website.
While there is no UTM tracking in the links themselves, this is actually okay since they are able to get this data directly from the Meta Ad Library interface.
Below are a few images of some of their sponsored content, so you can get an idea of what style River Island prefers to use for ads:

River Island's Influencer Marketing Strategy - Deep Dive
Now looking at their influencer marketing content that River Island is using, there are three main pillars of their strategy that we were able to look at in depth with the use of the Storyclash platform.
There are their
Affiliate program
Celebrity collaborations as well as their
Intuitive campaigns to bring awareness to social issues.

Affiliate Program/Paid Collaborations
River Island started with their affiliate program in 2013, shortly after creating their IG brand account. You can find the information regarding the program and sign up directly on the website, and then their affiliate team will review your application and approve or deny it.
They are using Rakuten Advertising as their affiliate program partner for the US/UK, and then they are using Awin as their primary partner for all other countries. With these partnerships you can see that the default commission for affiliate sales is 5% for the influencer, and can be up to 10% when there are special deals, campaigns or events that affiliates can post about.
While their partners can be of service for the creators that are in the program, River Island also has a designated affiliate team that is always available to support and answer any open questions that may come up.
The format that is used for their program is primarily through the use of Instagram stories with affiliate links tagged within. While some links are going directly to the River Island website, there are also links that go to websites like LTK and Stylink.
Looking at the links themselves, while we typically will see some sort of discount code linked to the creator, for River Island there were very little to no discount codes, simply a link for people to use to buy the products to support the creator. The only discount codes that were seen were ones where there was a sale going on, and the affiliates were marketing for them.
With regards to the tracking of the program, there was not much UTM tracking, and some tracking was embedded in the influencer posts themselves. Typically this would mean that the collaboration was an upfront payment as well, depending on the influencer.
A few examples of what the affiliate content looks like that we found in Storyclash can be seen below:

Celebrity Collaborations
One of the major ways that River Island has been making headlines has been through their large-scale celebrity collaborations that they have embarked on over the last decade.
The two main celebrity collaborations that River Island has done has been with superstar singer-songwriter and fashion icon Rihanna, as well as with the famous model and social media figure Sofia Richie.

Rihanna
River Island worked with Rihanna in 2012 and 2013 on an exclusive design collaboration that would be launched exclusively in River Island locations. This collection was designed personally by Rihanna and her team, and was a reflection of the clothes that she could see herself wearing on a day to day basis.
She even modeled the clothes herself throughout the marketing campaign to bring awareness to the collection when Rihanna was a household name across the world for her music.
This collection turned out to be a massive success, with people waiting outside River Island stores in droves, as well as quickly selling out on the online stores as well.
In addition to awareness for the collection itself, the campaign also brought River Island to the United States, and brought along with it a massive digital footprint amongst American consumers, and was a key part of River Island's strategy to expand across the Atlantic.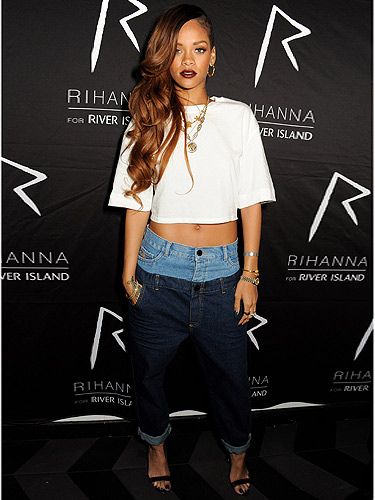 Sofia Richie
Sofia, daughter of Lionel Richie, known fashionista and social media influencer, had River Island seek out to her for another exclusive collection, which launched in June, 2022.
The collection was designed in close collaboration with Sofia and the River Island design team, and each piece was approved by Sofia herself as the type of clothing she would love to wear on a daily basis, similar to that of the Rihanna collection.
The collection garnered a lot of hype and attention from media outlets, with nearly every major news outlet in the UK covering it, as well as many throughout Europe and the United States.
While the select locations were limited to the UK, the positive media coverage also brought tons of people to the River Island website, most likely causing the online store to sell out of the collection extremely quickly.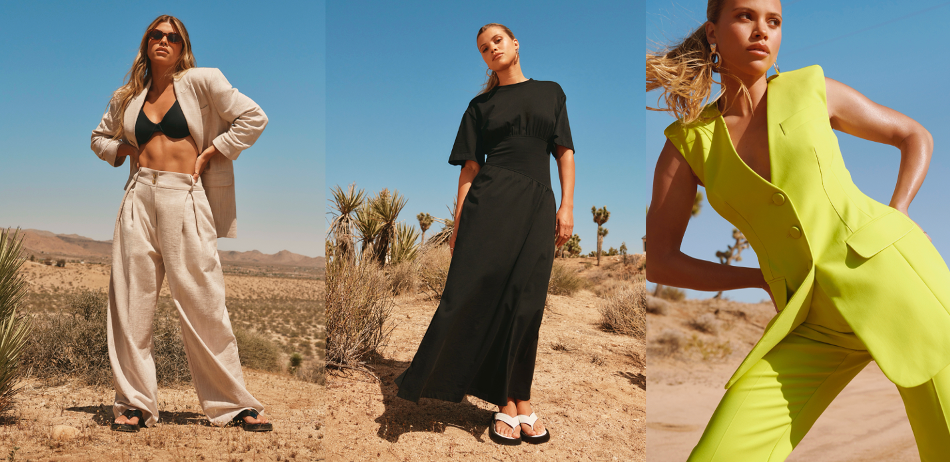 Intuitive Campaigns
The last main pillar of the influencer marketing strategy of River Island was some of the intuitive campaigns that they conducted that really brought a lot of positive awareness to the brand while also talking about topics in society that many feel are not discussed enough.
The two main campaigns that were heavily publicized were the "Find Yourself" campaign and "Labels are for Clothes".

Find Yourself Campaign
The Find Yourself campaign was started in 2017 as a way to encourage people to find the style that fits them at River Island, and also encouraged people to post the styles they wear from the brand on their social media pages.
This campaign targeted the younger generations, considering that all models and creators they worked with were in their 20s or 30s.
They worked with people in the modeling industry such as Mikkel Jensen and Lindsey Wixson, even DJs like DJ Roman Kemp to advertise their styles they wear from River Island.
Along with the big names that they collaborated with, this ended up even being a large influencer over the ads in the present day with almost a new slogan being developed from the campaign: "Find Yourself at River Island".
The campaign was heavily focused on YouTube videos that were posted on the brand page and spread around through sponsored ads, and made sure to make River Island a brand that anyone in the family can find something they love there.

Labels are for Clothes Campaign
The main and one of the most positively received campaigns from River Island was their Labels are for Clothes campaign. The purpose of this campaign was to mock the labels that are given to people based upon their appearance or any sort of disability that one may have.
Labels are for Clothes was a campaign that used a plethora of models and influencers of all colors, backgrounds, and disabilities. They had a shirt that was designed that creators or models could use that said "100% ___" where then the creator would fill in the blank with what they wanted to describe themselves.
They also teamed up with Ditch the Label, which is a charity that is dedicated to combating all forms of bully, and £3 from every purchase going to the foundation.
All in all, this campaign was a big success for River Island, garnering a lot of engagement, millions of interactions across multiple platforms, and put River Island in the spotlight for all the right reasons.
Some images that they used for the campaign are below:

What do we now know about River Island?
They have three main pillars of the influencer marketing strategy:
Affiliate program / Paid collaborations
Celebrity Collaborations
Intuitive Campaigns

These three pillars have helped River Island to create a strong presence on social media with regards to their brand, and increasing their awareness to not just be a high street UK brand, but a brand known worldwide for the right reasons.
With their affiliate program it is very easy to navigate and understand all the information before joining, and they have a team who is ready to assist all their collaborators with any questions they have or any help they need when working with River Island.
With their celebrity collaborations with stars such as Rihanna and Sofia Richie, they are able to keep River Island in the spotlight, and continue to build their strong foundations in the UK, while marketing their line to the US at the same time. This strategy is also a great way to generate demand on limited and exclusive product lines to keep your eyes on River Island.
Their intuitive campaigns have also allowed for them to becoming a company that can also be the catalyst for organizational and societal change by allowing people to express themselves without fear of judgment. Moreover, this allows for people to know they are shopping with a brand that collaborates with charities and is not afraid to encourage conversations about topics that many don't talk about in today's society.

What is still missing from River Island's influencer marketing mix?
1. Affiliate Related Events
River Island hosts very little to no influencer or affiliate marketing events for product launches, dinners or other cool partys.
This is a big loss for River Island as this is a way to show through these events that the affiliate community is appreciated and nurtured.

2. Sustainability Initiatives
One of the biggest negative things that you can find on River Island through a simple Google search is that in terms of sustainability ratings and their manufacturing processes, they are not rated very well in this regard.
While this is not something that would be deemed as directly related to influencer marketing, this is still an important part of the buyer's journey today.

3. Engagement Rates on IG and TT
While River Island has a lot of brand awareness, a lot of affiliates that they work with and great campaigns, the engagement rates on the postings from influencers that are working with River Island is actually below average.
On Instagram and TikTok, the average engagement is 2.2% and 1.9% respectively, with the average on Instagram being around 3%, while on TikTok it is around 4%. How can River Island bump these numbers up, and get more engagement on their postings through the content that is being put out?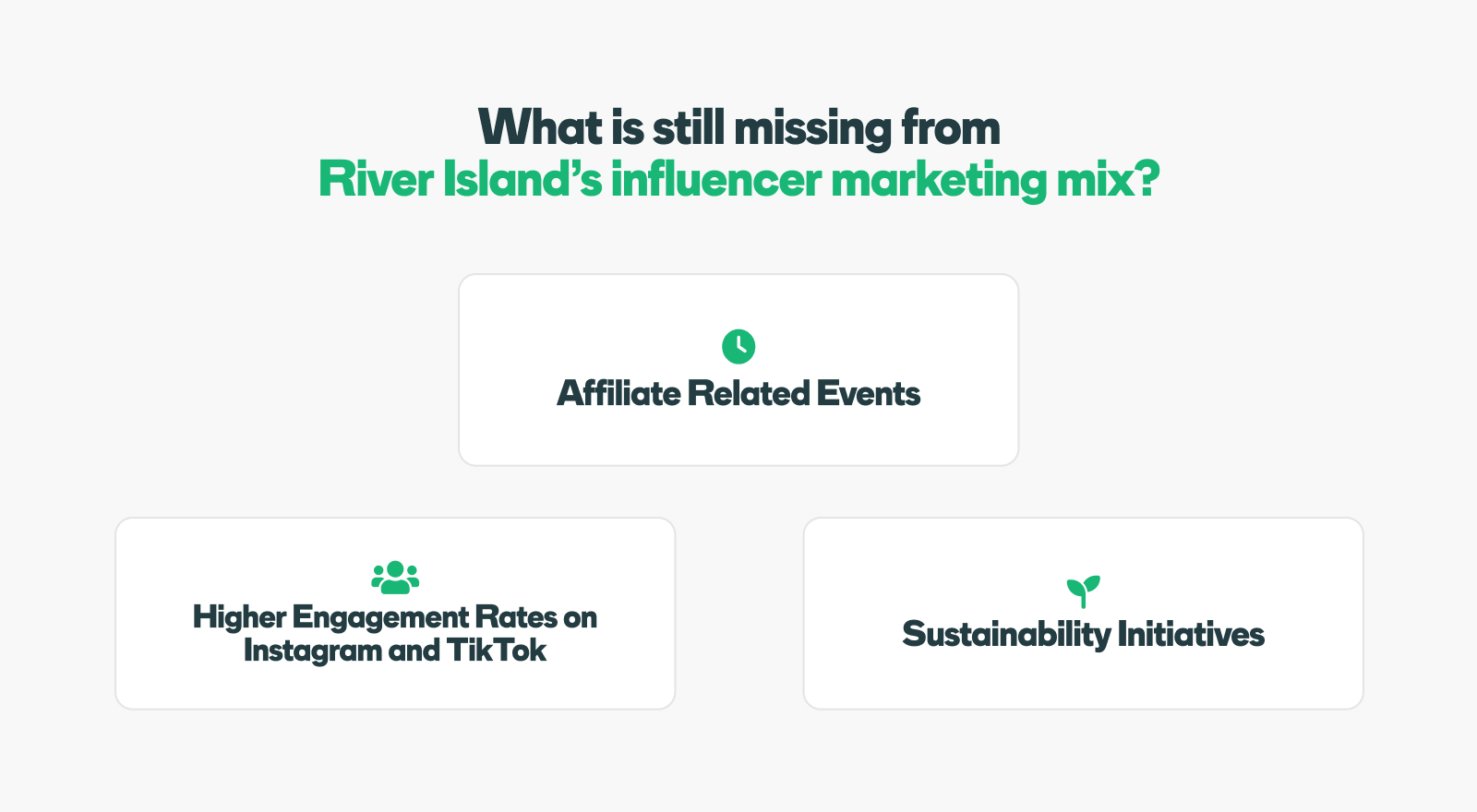 What can you take away from these insights on River Island?
1. Working with celebrities can be very successful with the right plan
When it comes to working with mega creators or celebrities, this can be a tough task because there is a lot of money typically involved, and if the campaign goes badly, it can put a black mark over your brand.
These collaborations need a lot of time to develop the plan, and a delicate touch to ensure the campaign not only goes over smoothly but also effectively, and when done right, can be a massive generator of demand, awareness and positive publicity.

2. Simply creating an affiliate program is not enough
Creating an affiliate program is not simply launching it and letting it go. You may be reading this and say yes this is completely obvious… but the thing is that many brands still do not understand that the work is just beginning once the program is launched.
There is a lot of nurturing to do, a lot of support that needs to be readily available when the affiliates need it, and the planning of events and bringing your community together is becoming more and more essential as influencer marketing evolves.

3. Video, video, video
More and more brands are moving towards video content, and for good reason! We can see from the vast amount of video content we see today that typically video content is generating more engagement than your standard image. So while many brands are pushing for more video content, it is also important to remember that the creator knows their audience better than anyone, especially your brand.
Allow for a dialogue to take place, and let the influencer be a key player in the creative process, because they know their followers best.

4. Importance of marketing research and campaign implementation
Again, you may be saying this is something that is relatively obvious, but even in 2023 we see many cases of brands who did not do their market research, did not implement the campaign in the best way possible, and this has led to catastrophic results for their brand.
Through reading into the stories and marketing failures that we see from companies of the past, and analyzing the marketing successes as well, you can ensure that your next campaign targets the right audience.
---

We have more brand analyses for you to check out!
Want to learn more about other top brands and their influencer marketing strategies?
Watch the full on-demand webinar on Charlotte Tilbury to find out what they could do to be even more successful with influencer marketing!
Also check out our blog post on Charlotte Tilbury if you prefer reading instead of watching, check it out here.

About Storyclash - the brand behind the insights
Storyclash is the AI-powered Influencer Marketing Platform that helps your team drive sales and brand awareness. Discover authentic creators, measure the impact of your campaigns and manage all your data in one place.
Fast-growing DTCs like Bears With Benefits, Junglück or Kapten & Son, as well as large, established companies like Vodafone, Lululemon or Kaufland use Storyclash to get more out of their influencer marketing.