Gymshark is a brand that almost everyone knows, even if you are not someone who is really into fitness and activewear brands. Since their inception in 2012, they have quickly become one of the go to brands when it comes to everything fitness gear related.
It is a truly inspiring story, starting in the garage of co-founder Ben Francis MBE along with his college friend Lewis Morgan. Now, 11 years later, they are a billion euro company, while also being one of the most successful influencer marketing companies in the UK.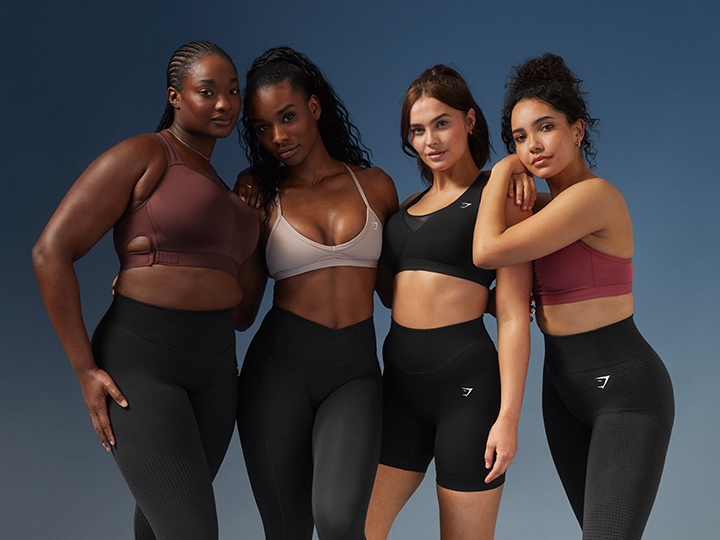 Using our Storyclash platform, we wanted to see what has made Gymshark so successful when it comes to influencer marketing, and not just on Instagram, but TikTok as well.
With their successful campaigns when working with influencers while also creating one of the most exclusive but sought after communities that we have seen in influencer marketing, we knew that Gymshark was a gold mine of insights and learnings for brands to take with them before implementing their future influencer marketing strategies.
We have taken our latest webinar episode of Influencer Marketing De-Constructed and broken down the main facts for you in this blog posting, but if you wanted to watch the full episode to get all the insights and information, you can watch it here on-demand.
Additionally, you can get the webinar slides here:
---
---

Gymshark Social Media: Owned Media Analysis
Gymshark is a brand that has their foundations in social media, and they have a major presence across multiple platforms (Instagram, TikTok, YouTube, Facebook andTwitter). They have around 4.2k postings across their brand accounts in the last 12 months.
When you are scrolling through their account, you almost get the impression that you are looking at an influencer's account, and not a brand page. While they do have some postings that are talking about upcoming sales, events, and product launches, the main focus is on UGC/IGC content. This content is coming primarily from recycled content from their "Gymshark Athletes" which we will dive into more a little later.
When it comes to engagement, while on all aforementioned platforms we see the typical very low engagement, on TikTok it is a completely different story. They have 1.8% engagement rate on their TikTok postings, which is incredibly high compared to other brand accounts.
This is because they follow the meme formatting but also post very consistent content that resonates with their target audience, therefore driving engagement. They have many viral postings with hundreds of thousands or millions of views, and they are definitely killing it on that front.
Below is a screenshot from the Storyclash platform, showing all the general KPIs from their brand account over the past year:
We can see from these statistics that they have had almost 60 million interactions over the past 12 months, and almost 350 million views on their video content, which is one of the primary formats that Gymshark uses when posting on their brand pages.
They also boast around 10 million followers on IG, 5 million on TikTok, 2 million on Facebook and 500k on YT across their three brand accounts, Gymshark, Gymshark Women, and Gymshark Lifting.

Meta Ad Library - What formats does Gymshark prefer?
When taking a deeper look at the Ad library that Gymshark is using for IG, FB, and Messenger, we see that they have a ton of different ads running consistently, with about 350 different ad variations coming just from the last few months alone and about a 75/25 ratio between photo and video.
They have a very diverse model range that they use in their advertisements, as well as co-creation ad campaigns with some of their Gymshark Athletes. Moreover, they have a lot of IGC that they use to recycle content, and have short and simple captions to encourage engagement, such as "tag your gym bro/sis".
Below are some example images they use in their ads, so you can get an idea of what style they are going for:

Gymshark's Influencer Marketing Strategy - Deep Dive
Now that we understand what Gymshark is doing with regards to their brand pages and their advertising, let's take a look at the foundations of their influencer marketing strategy. There are two main pillars of their strategy, which primarily revolve around their Gymshark Athlete program and their Community/Athlete Events.

Gymshark Athletes
The Gymshark Athlete program is essentially a super exclusive affiliate program on steroids. Contrary to almost every other brand out there, with Gymshark there is nowhere you can apply to the program, and there are no metrics with regards to how many followers you need to become an athlete.
The only way to become an Athlete is to actually have Gymshark themselves reach out to you once they see you on social media posting about them, which would mean of course that as a creator you would need to be posting content with Gymshark tagged and with you wearing their gear and your favorite items.
With this "we will seek you out" sort of mentality of the program, while it is a genuine effort to ensure that those who join the community are the best representation of what Gymshark as a brand is, we also have to acknowledge that this is a genius way to market yourself on social media.
Many of the creators who are posting about Gymshark are actually not part of the community, but they want to be while also being an inspiration to their audience who they know and engage with.
The athletes are free to share their own creative content across IG stories, postings and reels, as well as YouTube and TikTok videos. Athletes are paid for posting a certain amount of content for Gymshark on a monthly basis.
The Athletes also have their own affiliate codes, usually a custom discount code with the influencers name for example, and there is a strong amount of UTM tracking in order to have the most accurate information on the performance of an Athlete's content.
Here is some content from Athletes where they share discount codes, talk about upcoming sales, or show you the outfit they are wearing:

Community/Athlete Events
Community events are something that so many brands are doing today to bring their loyal fans together, and Gymshark is a brand that has been doing this since before anyone knew who they were. They have meet and greets with the Athletes, panel talks about the brand, as well as courses to help people learn about different gym workouts and try something new to spice up their workout routine.
These events are happening multiple times a year, and you can always keep track of when they have events on their website, their brand pages on social media, or by following the Gymshark Athletes themselves, and is a great way to meet new people who share the same passion.
With these events, aside from the community building aspect of it, there is also a lot of content that comes out of these events, and is the perfect catalyst to generate UGC/IGC content.
One such example that happened this summer was the 'Life with Leana' tour. The tour was in the United States, in three locations coast to coast in New York City, Dallas and Los Angeles. From this event, which follows the journey of Leana, a massive fitness creator and Gymshark Athlete with around 18 million followers on social media since she started in 2021, and is a truly inspirational story to hear about.
Below are some pieces of content we found in the Storyclash platform showcasing different events that Gymshark has done this year:

What is still missing from Gymshark's Influencer Marketing Strategy?
1. Making YouTube more prominent in their influencer marketing portfolio
Gymshark's social media journey began on YouTube, where they initially focused on content and video to build brand awareness. Recently, their strategy shifted towards Instagram and TikTok, with less content creation and fewer influencer partnerships.
As YouTube Shorts gains traction and YouTube remains a prominent platform, could Gymshark return to its roots? Revisiting YouTube for content and athlete collaborations may offer an additional way to boost awareness and engagement across channels.

2. Inclusivity
Gymshark has a strong emphasis on fitness and positivity, encouraging individuals to become their best selves. This ethos could extend to plus-sized individuals who aspire to be more physically active.
Currently, Gymshark's advertisements and brand content primarily feature hyper-fit, muscular individuals. The question remains: will Gymshark consider diversifying its representation? Only time will tell.

What can we as influencer marketers take away from Gymshark's strategy?
1. The importance of community building in influencer marketing
Community is something that Gymshark is arguably one of the most successful at when it comes to brands on social media today. The way that they've ingrained it in their roots since their inception, along with how they have maintained it and significantly grown it over the years, is testament to just how important building a community is for brands today in the era of social media.

2. Ambassadors are the foundation of your brand
Brand ambassadors are quite simply, a large player in the image that your brand is conveying to the world when they are posting on social media. The way that Gymshark has created an exclusive but highly sought after ambassador program is something that should definitely be noted by any brand that does influencer marketing.
The selection process needs to be meticulous and cautious, and a proper vetting process must take place in order to ensure that your brand is working with the right creators, big or small.

3. Re-using IGC content
Gymshark makes strong use of IGC (influencer generated content). They use content in multiple places, in different formats, in order to ensure they are getting the most out of every posting, video, blog, etc. By recycling content from their Athletes who post about the events and other exciting happenings, Gymshark has created an efficient process that allows them to amplify creator content.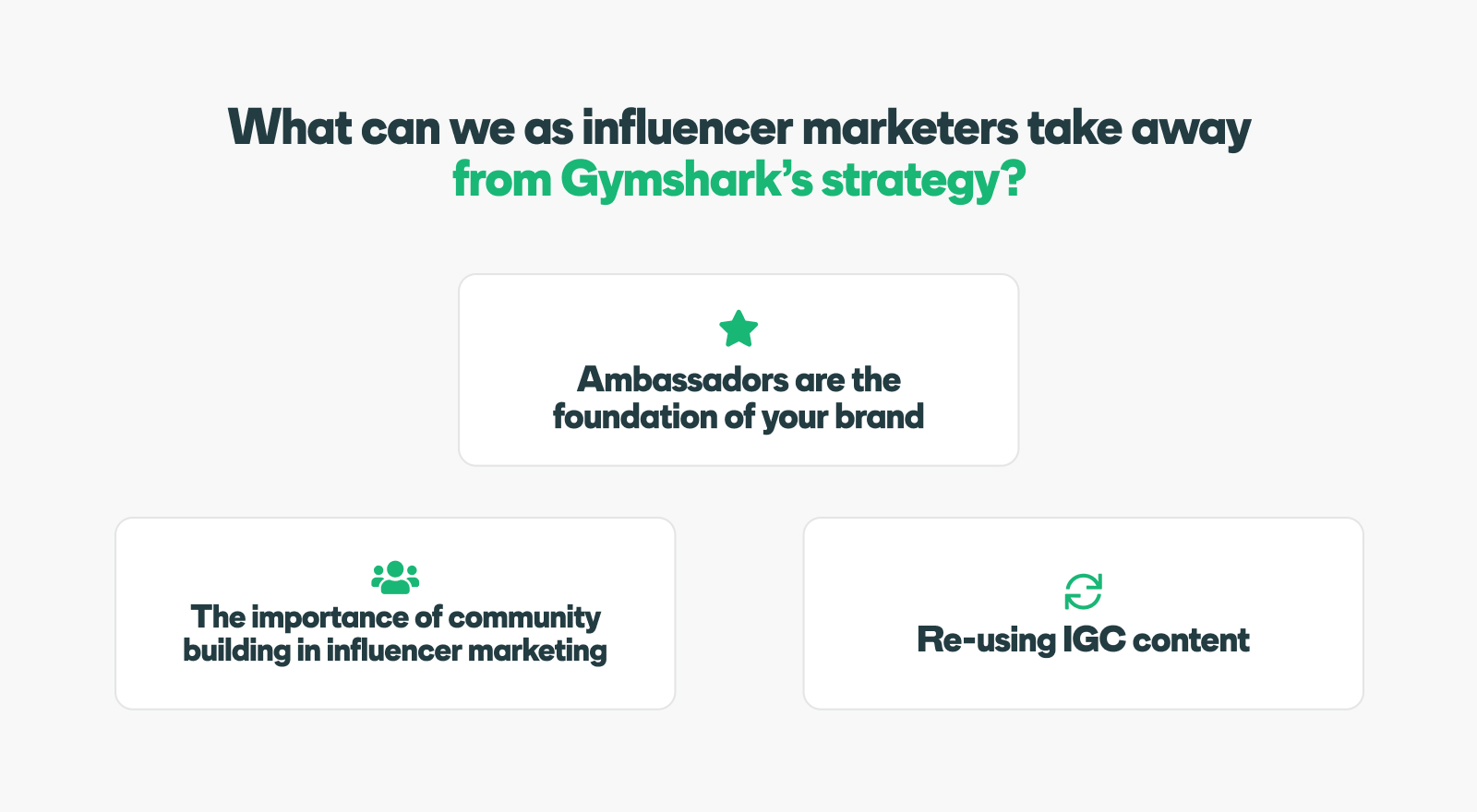 Want to get all the information and insights we found on Gymshark?
If we put everything we found on Gymshark in this posting, it would be a novel. To delve deep into their influencer strategy, including bonus insights and golden nuggets, don't miss our webinar and slide presentation.
Grab the slides here to get a comprehensive understanding of Gymshark's influencer approach!
---

We have more brand analyses for you to check out!
Want to learn more about other top brands and their influencer marketing strategies?
Watch the full on-demand webinar on Charlotte Tilbury to find out what they could do to be even more successful with influencer marketing!
Also check out our blog post on Charlotte Tilbury if you prefer reading instead of watching:

About Storyclash - the brand behind the insights
Storyclash is the AI-powered Influencer Marketing Platform that helps your team drive sales and brand awareness. Discover authentic creators, measure the impact of your campaigns and manage all your data in one place.
Fast-growing DTCs like Bears With Benefits, Junglück or Kapten & Son, as well as large, established companies like Vodafone, Lululemon or Kaufland use Storyclash to get more out of their influencer marketing.