Noonoouri is a 19-year-old vegan activist and model from Munich. She regularly talks to her 403k followers on Instagram about social issues and works with luxury fashion brands like Versace. What's unusual about this German influencer is that she's not actually real.
She's one of the many up-and-coming virtual influencers that are rapidly gaining popularity on the social media scene.
Thanks to today's AI technology, virtual influencers are highly-realistic, with their own styles, personalities and brand partnerships worth millions.
With 52% of people in the US following at least one virtual influencer, brands are now trying to figure out if, how and when to collaborate with virtual influencers.
Hugo Boss, for example, partnered with Noonoouri , Imma and Nobody Sausage for the Spring/Summer 2022 campaigns #HowDoYouHUGO and #BeYourOwnBoss. These virtual influencers starred alongside real-world celebs Kendall Jenner and Hailey Bieber.
We used unique data from Storyclash to analyze the content, audiences and brand collaborations of some of the most famous virtual influencers. Who knows, maybe you'll end up choosing a virtual influencer for your next campaign!

What is a virtual influencer?
A virtual influencer, also known as a CGI influencer ("computer generated influencer") is a digitally created character. They are active on social media and have loyal followers who consume their content. Unlike human influencers, though, virtual influencers are entirely computer-generated and exist solely in the digital realm.
A cool thing about virtual influencers is that their digital nature allows them to visit exotic locations and do impressive things without any physical limitations.
Behind each virtual influencer, there are skilled creators managing the accounts. They are the architects of the virtual influencer's persona, carefully designing their appearance, behavior, interests, and interactions.
Virtual influencers have become a compelling force in influencer marketing, attracting the attention of both brands and followers. They can collaborate with businesses, promote products, and engage with their audience, just like human influencers.
Although the concept of virtual influencers may sound futuristic and unusual, their increasing popularity indicates a potential shift in how influencer marketing is evolving. As AI technology continues to advance, we can expect to see more brands leveraging the power of virtual influencers to connect with their target audiences.

10 of the coolest virtual influencers in fashion
Here is our hand-picked selection of the top virtual influencers in the fashion industry, based on follower count, content quality, and brand partnerships.

1. Lu of Magalu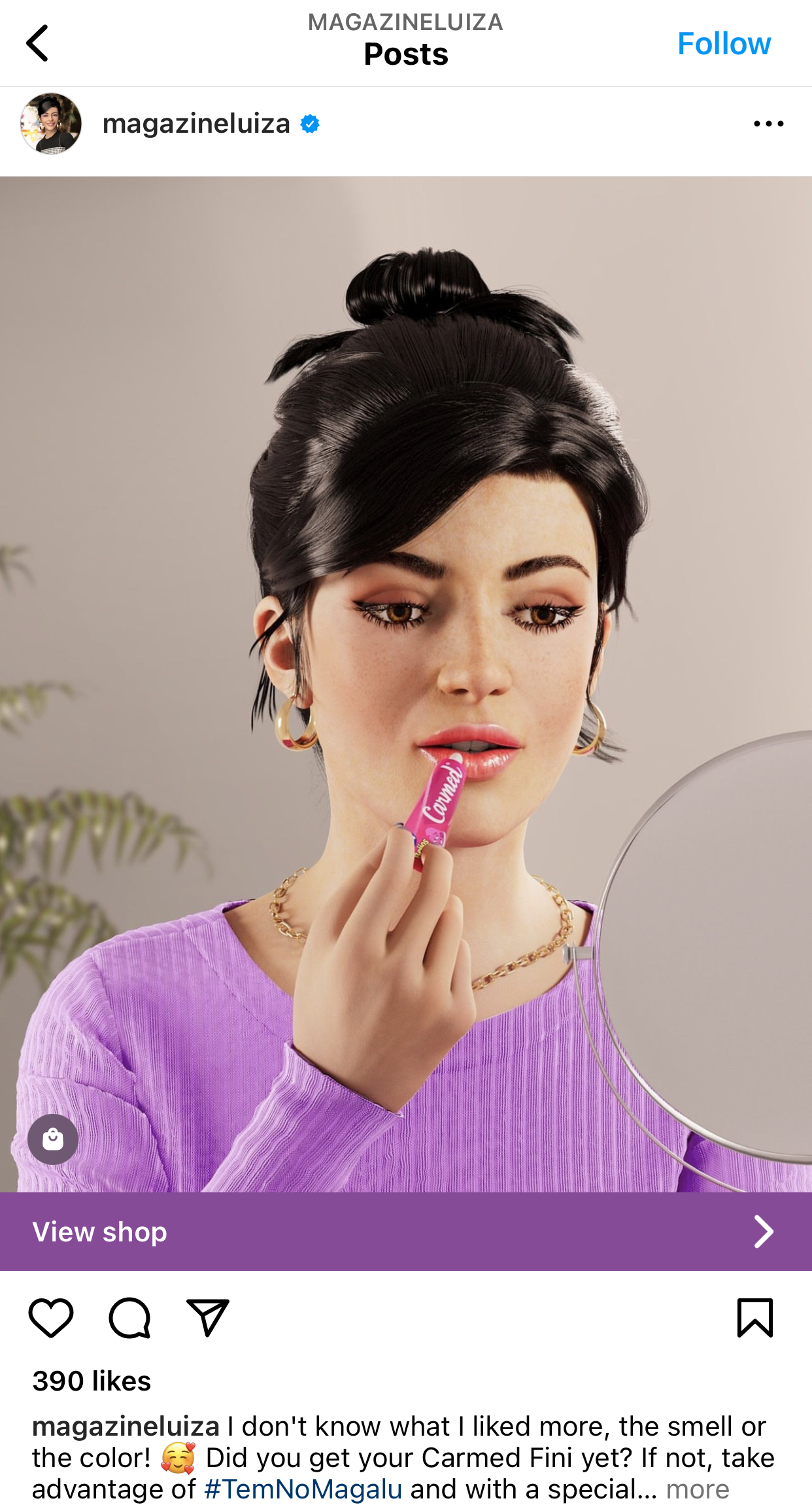 Instagram: @magazineluiza
Instagram folloers: 6.4M
Country: Brazil
Lu of Malagalu was one of the very first virtual influencers, created by Magalu, a Brazilian retail brand, in 2009.
Lu first appeared on YouTube to promote iBlogTV on behalf of Magazine Luiza.These days, Lu delights her Instagram followers with unboxing videos, product reviews, and software tips. She is most popular in her homeland of Brazil.

Collaborations
Lu of Magalu has collaborated with 26 Brands on Instagram in the last 12 months and reached over 35,5m users with 33 posts, 106 stories and 3 reels resulting in an Estimated Media Value of € 117.9m.
Lulu's collaboration timeline shows an ongoing partnership with Samsung, Canaltech and Intel, as well as one-offs collabs with McDonald's, Vogue, Adidas and Lancome.
Her top banded posts are also from Samsung, including a photo shoot of Lu at Times Square, NYC to promote the launch of the Galaxy Z Flip4 and Galaxy Z Fold4:

Audience
Lu's audience swings slightly more male (52%). The audience is young, with 33% of followers aged around 18-24 and 31% of followers aged 25-34. 79% of them speak Portuguese.

Best for brands who …
want to reach Gen Z and Millennials in Brazil and Portugal.

2. Miquela Sousa
Instagram: @lilmiquela
Instagram followers: 2.8M
Country: US
Miquela Sousa is a Brazilian-American 19-year-old created by American AI company Brud. She is one of the most popular virtual influencers in the fashion industry.
This high-profile influencer has been interviewed for many magazines and media outlets including Vogue, The Guardian, and BuzzFeed. She kissed Bella Hadid as part of a Calvin Klein Ad and took over the Instagram page of Prada for Milan Fashion Week. She is rumored to make $10 million a year.

Collaborations
Miquela collaborated with 37 Brands on Instagram in the last 12 months and reached over 7,1m users with 30 posts and 16 stories resulting in an Estimated Media Value of € 23.5m.
Her collaboration timeline shows she has promoted Alexander McQueen, Gucci, Prada, Calvin Klein, Karl Lagerfeld, and more.
Her top branded posts feature her enjoying Haribo sweets, listening to Apple Music, and holding a teddy for Build-a-Bear.

Audience
Miquela's audience skews slightly more female (51%). 36% of her followers are between the age of 18 and 24, and 27% are aged 25-34. 30% of them are based in the US, and 66% of her followers speak English.


Best for brands who …
are in the fashion industry and want to engage with a younger, English-speaking audience.

3. Shudu
Instagram: @shudu.gram
Instagram followers: 241k
Country: US
Shudu is the world's first black virtual supermodel and influencer. Created by fashion photographer Cameron-James Wilson in 2017, Shudu is a fashion queen and uses cutting-edge technology to showcase the latest trends and styles. With a strong presence in editorial and sponsored fashion photography, Shudu is well-known in the fashion world and has been featured in Vogue.

Collaborations
Shudu collaborated with 14 Brands on Instagram in the last 12 months and reached over 426.8k users with 14 posts and 15 stories resulting in an Estimated Media Value of €1.4m.
Shudu's collaboration timeline shows she has recently worked with luxury fashion brands Karl Lagerfeld, Louis Vuitton and Lanvin. She also collaborated with BMW to promote the car brand's new "Freude Forever" magazine.
Her top branded posts feature content from Karl Lagerfield, BMW, and Louis Vuitton.

Audience
Shudu Gram's audience is 62% female and most of her followers are between the age of 25 and 34. She has an international following. Most of her followers are based in the U.S., followed by Brazil, France, Nigeria, and Germany. Her followers mainly speak English.
It's also worth mentioning that she has a very high Audience Quality Score of 7.8, meaning that her audience is very authentic and engaged compared to other virtual influencers.

Best for brands who …
As the self-proclaimed "World's First Digital Supermodel", Shudu is a logical choice for forward-thinking fashion brands.

4. Noonoouri
Instagram: @noonoouri
Instagram followers: 403k
Country: Germany
Noonoouri is an internationally recognized digital influencer represented by IMG Models. She uses her platform to showcase fashion, art, and technology, powered by Movella Entertainment. With a focus on sustainability and diversity, she collaborates with renowned brands like Versace and Balenciaga. Her content revolves around digital haute couture, NFTs, and the metaverse.

Collaborations
Noonoouri's brand timeline shows she has collaborated with top fashion designers including Roberto Cavalli, Karl Lagerfeld, Hugo Boss, Balenciaga, and Giorgio Armani, and Chanel. She occasionally works with luxury brands outside of fashion, like Starbucks. She also promoted the Paris Fashion Week and Milan Fashion Week, as well as German fashion eCommerce giant Zalando.

Her top branded posts feature Hugo Boss, Versace, and Paris Fashion Week.

Audience
Noonoouri's audience is 65% female. 36% of her followers are aged 25-34, and 20% of them are aged 18-24.She is popular in Germany, the US, Italy, Brazil and the UK. Over half her followers (51%) speak English, followed by German (18%).

Best for brands who ...
noonoouri is a very popular partner for luxury fashion brands.

5. Code Miko
Instagram: @thecodemiko
Instagram followers: 121k
Country: US
Miko is a South Korean-American Twitch streamer and YouTuber. She has a human and avatar form. She refers to her human self as "the technician" and is well-known for her live streams on Twitch, where she interviews other streamers and content creators. Thanks to her tech savviness and creativity, Miko has built a loyal following.

Collaborations
Miko was mentioned by only two brands on Instagram in the last 12 Months, streamys and the Rolling Stones.



Audience
Miko's audience is 86% male and 43% of them are aged 25-34. 40% of her followers are based in the US and the vast majority (78%) speak English.



Best for brands who ...
Due to her male audience and tech skills, Miko could be a good choice for tech companies or fashion brands experimenting with new technologies like the metaverse.

6. Imma
Instagram: @imma.gram
Instagram followers: 399k
Country: Japan
Imma is Japan's virtual "It girl". She is the first virtual model from Japan and one of the pioneers in virtual modeling, working with some of the biggest names in fashion like Valentino and Nike.
Imma is passionate about fashion, art, films, and Japanese culture. She is known for her bright pink hair bob cut and bangs.
She was nominated as one of the "New 100 talents to watch" by Japan Economics Entertainment and supported Magnum China with the launch of the new ice cream flavor, Magnum Matcha.

Collaborations
imma.gram collaborated with 83 Brands on Instagram in the last 12 months and reached over 4.2m users with 57 posts and 168 stories resulting in an Estimated Media Value of €13.8m.
Her long collaboration timeline shows collabs with top brands such as Nike, Hermes, Fendi, Balenciaga, Levi's, Puma, Lamborghini, and more.

Her branded posts feature her showcasing a variety of makeup and fashion looks:



Audience
Imma's audience is 51% female and 49% male. 32% of her followers are between the age of 18 and 24, and 28% are aged 25-34.
She has over 100k followers in Japan and around 36k followers in the US. She is also popular in Taiwan, France, and Brazil. 39% of her followers speak English, and 24% speak Japanese.



Best for brands who …
Imma's wide reach and iconic style make her a good choice for international fashion brands.

7. Rozy
Instagram: @rozy.gram
Instagram followers: 155k
Country: South Korea
Oh Rozy (which means "one and only" in Korean) is the first virtual influencer from South Korea. famous for her toned body and attractive facial features with an asian heritage created by Sidus Studio-X.Communicating daily lives nonstop with her followers through social media uploads, comments or even magazine photoshoots is Rozy's favorite thing to do just like other human influencers.
She is loved by Gen Z known as 'GamSeong JangIn' (Korean phrase meaning 'expression expert') due to her amazing facial expressions and postures that fits various concepts accordingly.
Since her online debut in 2020, Rozy has successfully secured advertising deals, participated in two virtual fashion shows, and released two music tracks.
Her official Instagram account showcases her enjoying a glamorous lifestyle, including shopping trips, poolside lounging, travels to exotic destinations like Singapore, golf outings, and fine dining experiences.

Collaborations
Rozy collaborated with 7 brands on Instagram in the last 12 months and reached over 16.4k users with 1 post resulting in an Estimated Media Value of € 574.


Audience
62% of rozy.gram's audience is female, and the average follower age is 25. 26% of her followers are based in Korea, and 8% in the US. 37% speak English natively.

Best for brands who
Rozy is a good choice for brands based in Korea who are looking to target older Gen Z and younger millennial females.

8. Leya Love
Instagram: @leyalovenature
Instagram followers: 398k
Country: Planet Earth - Leya doesn't belong to a specific county
Leya considers herself the "love ambassador for Planet Earth."
Leya is a virtual influencer on a mission to inspire and uplift others while promoting unity and consciousness in the world.As an advocate of the World Awareness Movement, she is interested in climate activism, art, mental health, animals, the metaverse, and creativity.
Leya loves photography, dance, art, nature rituals, and music. This highly-accomplished virtual influencer is co-author of the bestselling book "Life Values: when dreams become true" and has been a speaker at the United Nations.

Collaborations
Leya collaborates with sponsors, companies, and artists who share her futuristic and sustainable vision for changing the world. She doesn't seem to have many commercial collabs yet. Perhaps this could be an interesting opportunity for DTC fashion brands with a focus on sustainability.

Audience
Leyalovenature's audience is 59% female and mostly between the ages of 25 and 34. She has 100,000 followers in India and 20,000 in Germany.

Best for brands who ...
Sustainable brands who love the planet as much as she does.

9. Kyra
Instagram: @kyraonig
Instagram followers: 252.3k
Country: India
Kyra is India's first virtual Influencer, created by Himanshu Goel in 2022. She loves yoga, traveling, and empowerment and describes herself as a "Dream chaser, model and traveler." She often shares content of her travels around the world, yoga sessions, and encourages her followers to work on themselves and live their best lives.

Collaborations
Kyra collaborated with 5 brands on Instagram in the last 12 months,including Amazon, and reached over 248.7k users with 3 branded posts and 2 reels resulting in an Estimated Media Value of € 825.8k.

Audience
Kyra's audience is 86% male and 52% of them are between the ages of 25 and 34. The vast majority (92%) of her followers are based in India and 88% of them speak English.

Best for brands who….
Brands in India looking to target a male audience.

10. Maya
Instagram: @maya_unlimited
Instagram followers: 189k
Country: India
Maya is one the first virtual influencers to be created by a brand. Created by eCommerce fashion platform Myntra, virtual influencer Maya is a student based in Bengaluru. The brand describes her as "confident, opinionated yet empathetic" and says fans look to her to "keep up with her for fashion and make-up inspiration, and her wholesome relatable content."

Collaborations
Maya has only promoted Myntra (her creators) so far. Her branded content has reached over 169.6k users with 9 posts and 1 reel resulting in an Estimated Media Value of € 563.1k.
Her branded posts feature her showcasing different fashion looks for her creators, eCommerce fashion platform Myntra.

Audience
Maya's audience is 93% male and 49% of them are between the ages of 25 and 34. The vast majority (95%) of her followers are based in India and 72% of them speak English.

Best for brands who ...
Maya collaborates exclusively with her creators, Myntra. That said, other brands could take inspiration and create their own "Maya".

Should you work with a virtual influencer?
Virtual influencers are an exciting opportunity for brands to try something new and stand out from the crowd. Collaborating with virtual influencers offers some practical benefits, too, because you don't need to worry about logistics like organizing a photoshoot, finding the right size clothing, or paying for their travel costs.
That said, what makes influencer marketing so powerful is the authentic connection between creators and their audiences, which goes in favor of human influencers.

About Storyclash - the brand behind the insights
Storyclash is the AI-powered Influencer Marketing Platform that helps brands find and evaluate influencers, measure the impact of their campaigns and manage all their data in one place.
Fast-growing DTCs like Bears With Benefits, Junglück or Kapten & Son, as well as large, established companies like Vodafone, Lululemon or Kaufland use Storyclash to get the most out of their influencer marketing.
Feel free to get in touch to learn more.

Keep reading
Learn how to find the right influencers for your brand in 2023 or gain insight into fast-fashion giant Shein's Influencer Marketing Strategy.