We are proud to officially introduce Instagram Stories Monitoring by Storyclash. With this update, not only have we achieved a major milestone from a social media monitoring perspective, we've done so from a company viewpoint as well.
In this article, you'll find everything you need to know to kick-start your Instagram Stories monitoring efforts.
Why Instagram Stories monitoring?
Stories are becoming a popular format among consumers. Worldwide, more than 500 million Instagram Stories are created every single day.
And while most social media teams rely heavily on social media monitoring toolkits, Stories have been a big, unknown black box for many. In most industries, Instagram Stories are the preferred format for consumers, influencers and companies.
We've done some number crunching and found out that - overall - 80% of all Instagram content is published on Stories, while only 20% of content is published as feed posts. In some industries and niches (think of fashion bloggers for example), the stats of Instagram Stories are even higher.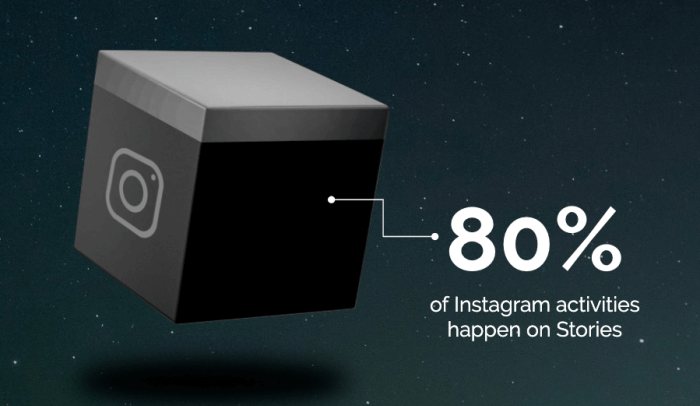 The magic of Instagram Stories monitoring
While social listening (referring to the activity of monitoring brand mentions on social media) became the norm for many, social media managers are still faced with finding and tracking Stories manually.
This might work for a limited set of accounts, but it becomes an impossibility for a larger set of accounts. That's why we at Storyclash launched Instagram Stories monitoring, enabling teams to monitor their brand mentions and competitors, as well as influencers, on Instagram Stories.
Here's how it works.
Use Case 1: Monitor your brand mentions on Instagram Stories
While social listening is widely known and commonly done in the social media world, it's been a big challenge to monitor brand mentions on Instagram Stories. Supported by OCR (optical character recognition) technology, Storyclash allows you to monitor your brand on Instagram Stories.
Let's imagine you, a social media manager at Adidas, want to track brand mentions on Instagram Stories. With a quick keyword search for "adidas" you can uncover Instagram Stories that mention Adidas, or even have a picture of a football player in an Adidas jersey.
Let's see this in action.
Open the "Trending Posts" module inside your Storyclash account.
Choose Instagram Stories as the preferred platform
Simply search for 'Adidas' and hit go.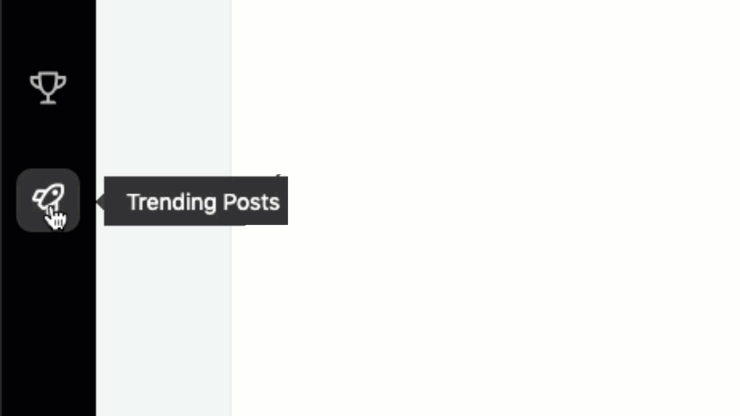 With OCR technology, we uncover hidden brand mentions—even if it's just your logo on a FC Bayern Munich jersey.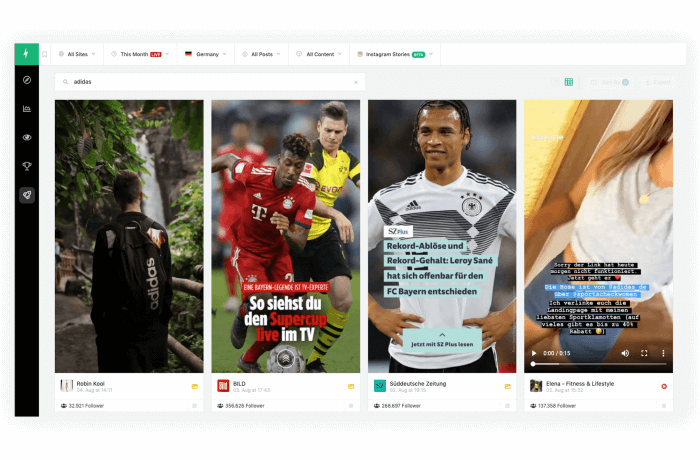 Use case 2: Find & monitor influencers on Instagram Stories
Chances are high that you already have a list of influencers you work with. Plus, you're doing regular research on potential influencers and upcoming content creators that might fit your brand. Up until now, unless you tracked those influencers manually on Instagram and took screenshots of their Stories, you couldn't really monitor them in an effortless way.
With Storyclash, you can monitor the activities of influencers you already work with, or the ones you want to work with on Instagram Stories. Here's how.
Let's assume we want to check out the top car bloggers from Germany in a first step and see what they've posted the previous weekend. In the Storyclash Sites module, we select the category of Car bloggers, set the time range to the previous weekend, and we're done.
At one glimpse, we can see which influencer published how many Instagram Posts and Instagram Stories.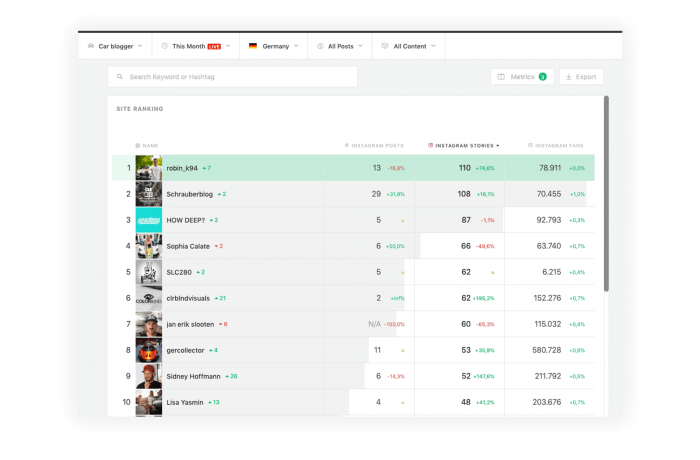 This view allows you to get a first feel on how much is being talked about on Stories and Posts. As a next step, you might want to zoom into particular accounts and analyze their Instagram Stories behavior.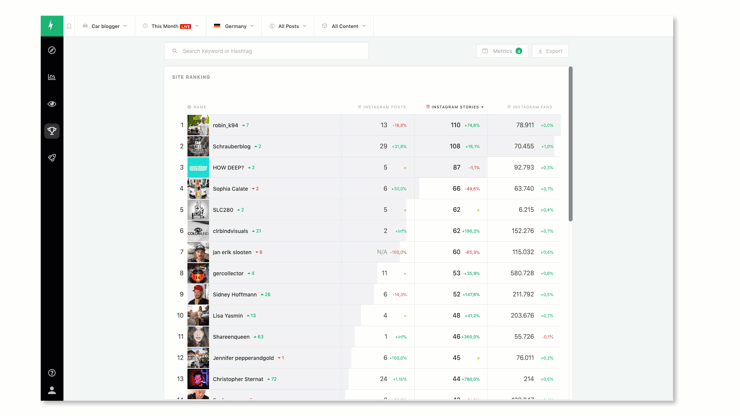 You can easily get the feel of the person's content and figure out if you want to work with the influencer.
You know what's even cooler? You can see which influencers are posting how much about your brand (or your competitors).
For example, you can search for "Mercedes" to figure out which influencers posted which Instagram Stories and Instagram Posts:
Enter the keyword you want to search for, e.g. "Mercedes"
Choose Instagram Posts and Instagram Stories as the metrics you want to monitor
Hit enter and you're done
Use Case 3: Analyze your competitor's Instagram strategy
OK. Let's be honest. As social media managers, we regularly check what our competitors and other companies in our industry are doing. We analyze their social posting behavior and we dig into data points to learn about their social media marketing.
With Instagram monitoring by Storyclash - in particular, through the newly added Stories monitoring - you can get more insights on their Instagram strategy.
Here's how this works.
Open up the "Top Sites" module
If you already have a list of competitors and other companies you'd like to monitor, open up your pre-saved list of choice.
Select Instagram metrics and hit apply.
As you can see in the screenshot below, you can now see the amount of Instagram Stories, in addition to already available KPIs such as Instagram Posts, the number of fans or total Instagram interactions.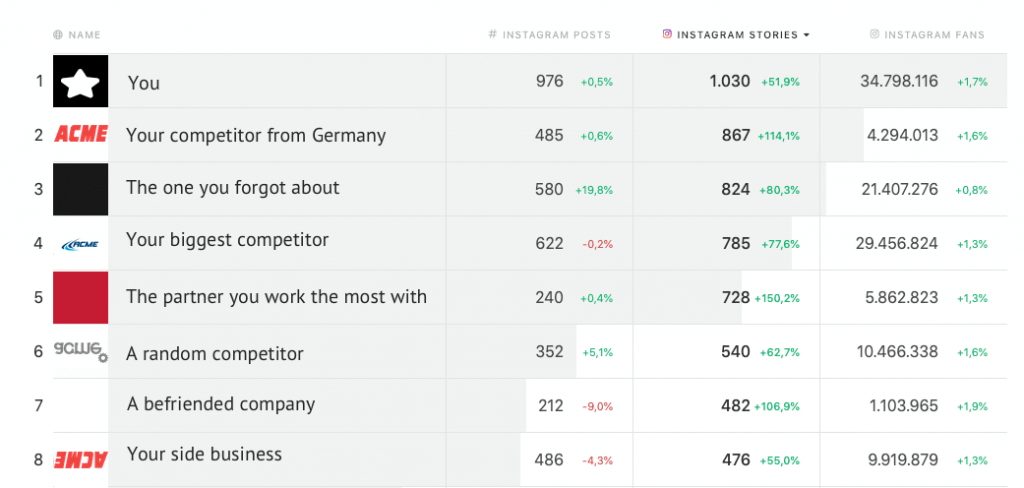 Use Case 4: How to find content trends on Instagram Stories
Last but not least, you probably want to learn more about the types, formats and content that resonate the most on Instagram Stories. With the new Instagram Stories monitoring, you can find Stories and content before anyone else does.
Let's take a closer look.
Open the "Trending Posts" module inside your Storyclash account
Choose Instagram Stories as the preferred platform
Choose a time frame, country or category (e.g. fashion)
In this case, Storyclash will show you all Instagram Stories by fashion bloggers that have been published between mid-to-end of July. Pretty neat, right?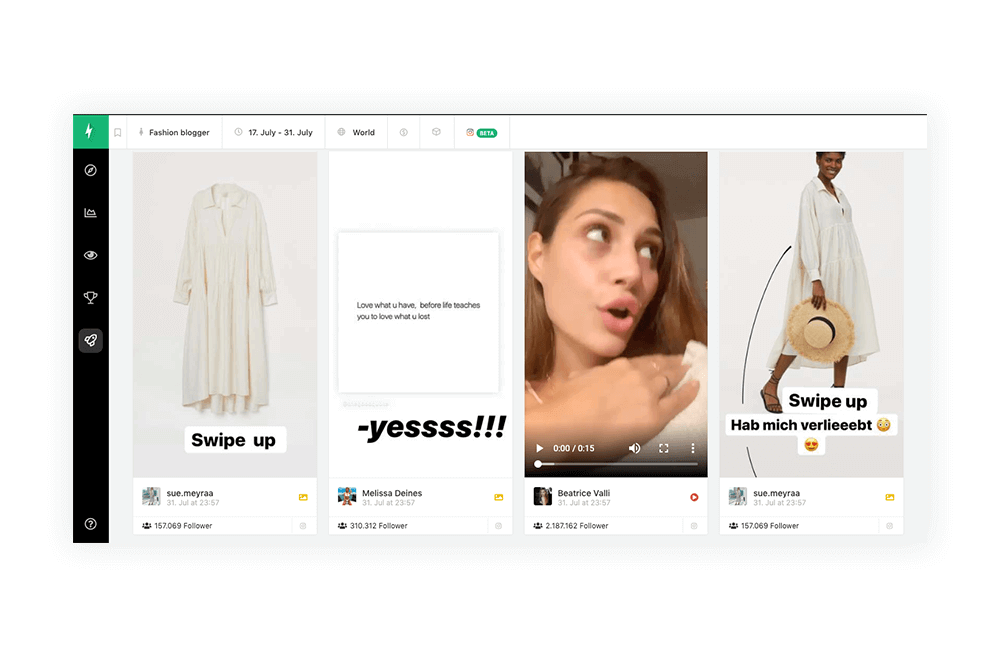 Make the invisible visible. Request your personal demo.
This is just the beginning. If Instagram Stories is still some sort of black box in your organization, or you want to skip the complex and time-consuming process of Stories reporting, or you just want to see what others are doing in your industry, we highly recommend giving Instagram Stories monitoring a try.

Simply get in touch for a personal demo and onboarding here. Our product specialists are happy to help you.