There are many influencer marketing platforms out there. Storyclash and Lefty are popular tools for influencer marketers looking to find influencers, track campaigns, and report on the results. The choice between Storyclash and Lefty isn't black and white. The devil, as they say, is in the details. Let's explore user insights and compare features so you can make the right choice. Could Storyclash be the Lefty alternative you've been seeking? Let's dive in and find out.
Find influencers based on their content with Storyclash
Storyclash and Lefty enable you to search and filter for influencers based on interests and demographic audience data (like location and language). However, Storyclash takes this one step further.
With Storyclash, you can search through influencers based on their content. Lefty's keyword search is based on hashtags and not the content itself, meaning you might miss relevant influencers.
Storyclash makes it effortless to find brand-fit influencers using AI, and the best part is that you can try it yourself for free. Just open storyclash.ai and type in what you're looking for. No need to sign up or pay anything.
For example, let's say you're looking for a skincare influencer with freckles. So, you type in "skincare influencers with freckles":
You'll find a bunch of content with relevant influencers:
This is especially useful when you're looking for a certain type of influencer or someone who doesn't fit into a wide category, like "beauty" or "health."
Watch the video to learn more or try Storyclash AI for free now.
Powerful cross-platform reporting with Storyclash's 30+ metrics
Lefty and Storyclash both offer powerful reporting features. It's easy to measure the ROI of your influencer activities on Instagram including Stories, TikTok, YouTube, and Facebook. Lefty also offers a few Chinese social media networks. That said, the simplicity and accuracy of Storyclash could make it a better choice for US and Europe-based brands.
Learn more about influencer tracking or watch the video to see how it works.

Get unparalleled insights into competitor strategies & creator history
Want to check the collab history of a new influencer? Curious what the competition is up to? Or perhaps you just need inspiration? Both brands offer competitor and creator insights. However, Storyclash is the only influencer marketing platform that shows you every brand an influencer has ever worked with in a handy collaboration timeline.
For example, let's say you were interested in working with Bella Hadid. Using Storyclash, you can check the collaboration timeline to see every brand she has ever worked with:
You can easily dive into the top branded posts and key metrics:
How do Lefty reviews and experiences compare to Storyclash?
Let's take a look at customer feedback and reviews.
Lefty has 17 reviews on G2 with an average rating of 4.7, and 2 reviews on Capterra (5). Lefty does not have any reviews on OMR. Storyclash has 17 reviews on G2 (4.6), 24 reviews on Capterra (4.8), and 173 reviews on OMR (4.8).
One reviewer described Storyclash as a "must-have for Instagram influencer marketing" and highlighted Storyclash's Instagram story tracking:
Lefty vs. Storyclash: Higher Value with Storyclash
Storylash and Lefty are both popular influencer marketing platforms. They come with a variety of features including influencer discovery, analytics, and tracking.
Let's take a deep dive into the platforms' features and how they compare: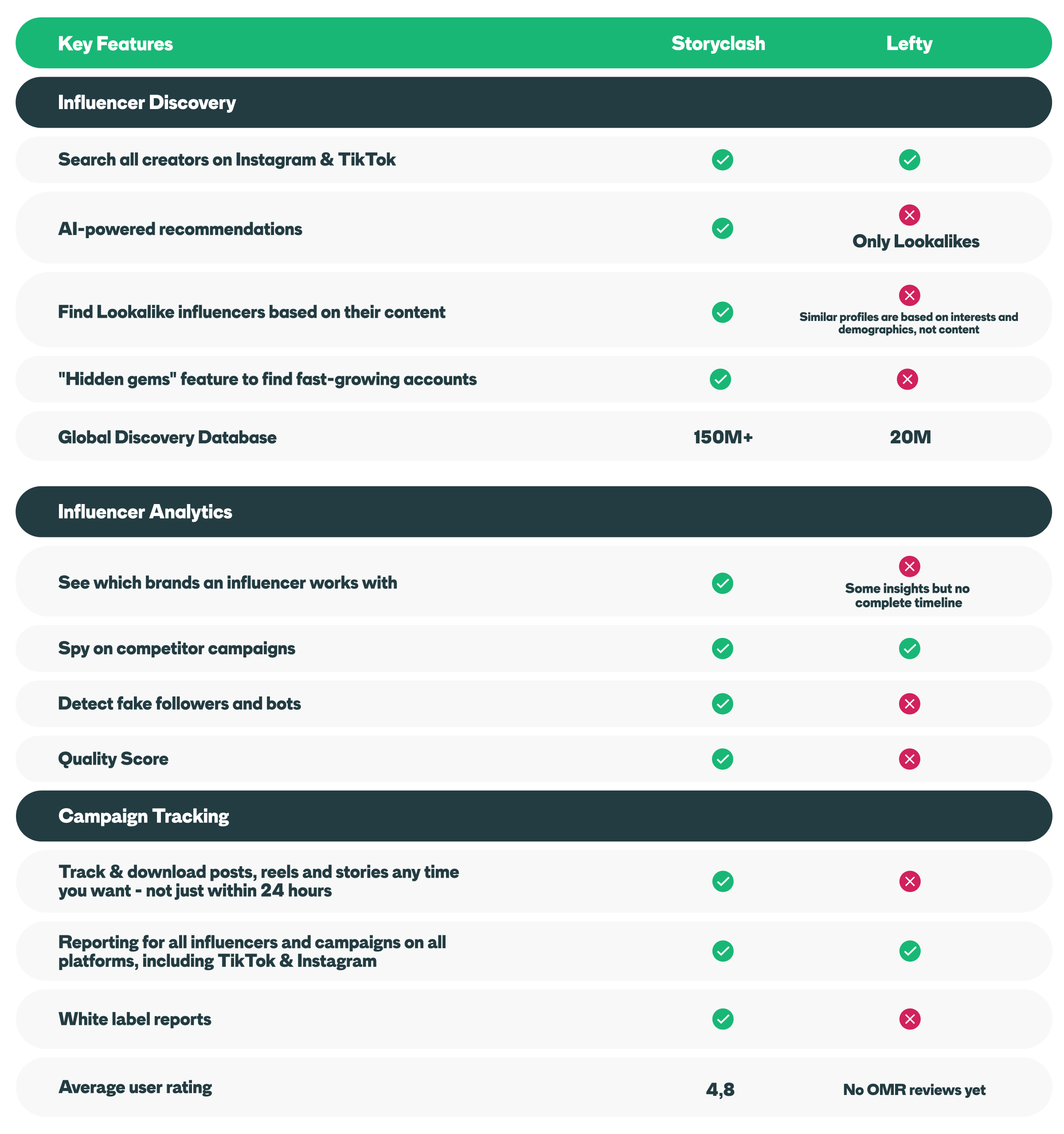 How much does Lefty cost and how is Lefty pricing determined?
Lefty's pricing is not public. Prices are believed to start at €590. Lefty offers customized pricing based on budget, company size, and influencer marketing needs.
Get more out of your influencer marketing with Storyclash
Of course, both platforms are good. But with Storyclash, you get AI-powered influencer discovery, deep insights into creators and competitor brands, and comprehensive campaign tracking.
Unlike Lefty, Storyclash's AI-powered search and discovery features allow you to find and evaluate influencers based on their content, not hashtags or basic demographic data. For this reason, many influencer marketing consider Storyclash to be the best Lefty alternative.
Get in touch to talk about your needs and see Storyclash in action.