Clothing, footwear, jewelry and watches: When we talk fashion in 2020 we mean online shopping, influencers, fast fashion, sustainability, Instagram and so on.
Although most fashion brands have already established themselves on social media and found a way to work with the above mentioned topics, some do it better than others. We took a closer look at the performance of a top fashion brand on social media and summarized the results for you in this report. Here is what we found out:
Social media analysis: Our methodology
Time period: 1/1/20-2/24/20
Platforms: Facebook, Instagram, Twitter, YouTube
Analyzed: top 10 fashion brands according to all social media interactions
If we look at the interaction data (interactions & interaction rate) from 2020, so far there is one clear winner and that is the American fast fashion brand Fashion Nova, with more than double the interactions (55.284.364) of 2nd placed Victoria's Secret.

Content analysis
Why does Fashion Nova have this huge number of interactions? To find out more and get right to the core, let's see which hashtags and keywords triggered the most interactions for them. Posts with the hashtag #fashionnova got an astonishing 27.393.795 interactions distributed over 702 posts.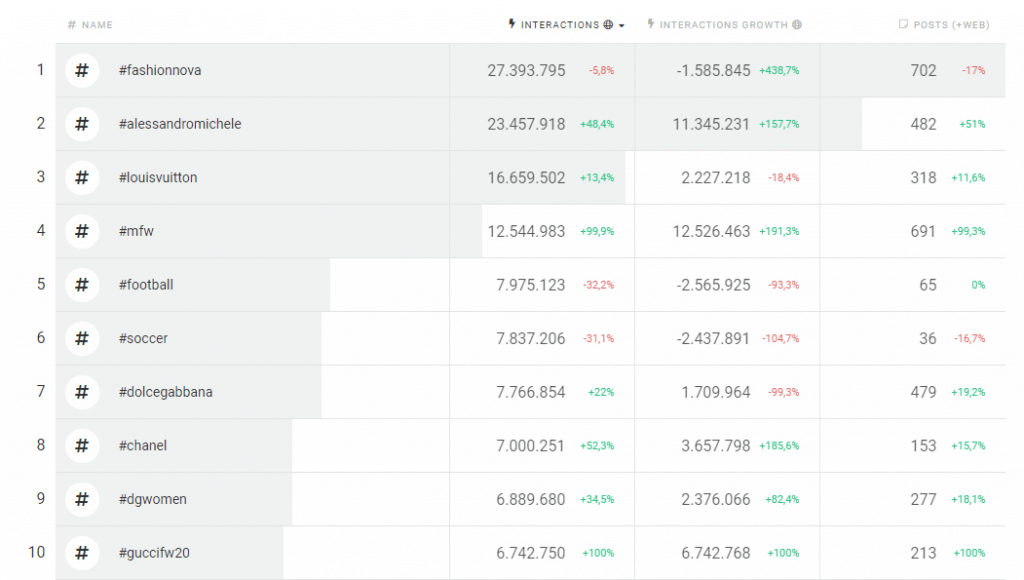 Digging deeper, now that we know that Instagram is their main marketing channel, we found out that 27.388.410 interactions are from Instagram alone while the remaining come from Twitter and Facebook.
Some of their top performing posts have one obvious thing in common: their models show off a lot of skin, maybe because the majority of the top posts contain some of their lingerie items? But keep in mind that we are looking at the data of 2020 where Valentine's Day was around the corner. ;-) Nevertheless, they use a simple yet effective way of advertising: sex sells.

Successful social media marketing due to influencer collaborations
Fashion Nova not only has some impressive numbers on their own channels, but their earned reach is growing as well thanks to various influencer collaborations. The brand works together with influencers, musicians and various brand ambassadors who show off their clothing in Instagram pictures.

Let's check on the media coverage of Fashion Nova. Interestingly enough, they even have different news/media pages who report on their fashion — sponsored (see German study for more insights on branded/non-branded posts).

How can you do better with your brand?
After this quick dive into the social media world of this account, is there anything you can learn from Fashion Nova, one of the top performing brands on social media? Check out our four tips:
1. Engage with the audience: Fashion Nova has launched a campaign with the hashtag #novababe where users post pictures of them wearing their items. It gives the users a feeling of belonging to and contributing to the Fashion Nova community. The brand reposts the pictures and stories of their fans, which shows appreciation.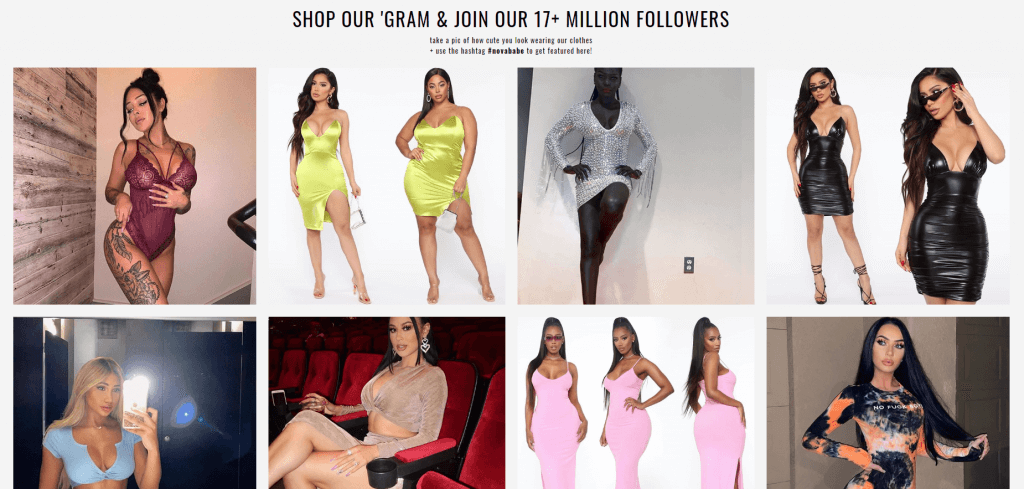 2. Brand ambassadors: Fashion Nova has multiple partnerships with huge Influencers who are as big as Kylie Jenner, Blac Chyna and other social media stars. Even though working with those people is definitely not the cheapest way of marketing, the impact of influencer marketing is undeniable. (Check out our latest blog article if you are interested in finding Influencers.)
3. Cross marketing strategy: Even though Fashion Nova thrives on Instagram, they don't limit themselves to posting on their own channels. Apart from partnerships with Bloggers and Influencers they've also got various media sites on board! This is another factor which adds to the overall reputation of the brand and contributes immensely to their reach.
4. Be active: Fashion Nova has three Instagram accounts: @fashionnova, @fashionnovamen and @fashionnovacurve, which they use very actively. They post multiple times a day (!) and are active on their stories. With three accounts they serve their three target groups of women, women plus size and men and distribute their content accordingly. With over 70.000 accumulated posts on Instagram, Fashion Nova is not only the brand with the most interactions but also the brand with the most posts.
If you want to have more insights on Fashion Nova's social media strategy, request access to Storyclash or get in touchwith us. We're happy to help.