If you've ever undergone the journey of building your insights reports, you know how time consuming this can be. As social media managers, we spend quite some time on Facebook, Instagram, Twitter and co. Not because we're planning or publishing new posts. Rather, we are digging into the data.
Luckily, there are social media monitoring tools that come to the rescue. In this article, we elaborate on why you should think about a proper social media monitoring setup after the process finally reached a breaking point in 2019.
In the end, you'll appreciate the time saved on your weekly and monthly social media reporting efforts. No need to thank us, we're happy to help.
Before we get into stress-free social media monitoring via 3 easily shareable reporting templates, it's important to understand the term. We define social media monitoring in contrast to social media analytics below.
What is social media monitoring?
If you're a pro, feel free to skip this section. If you're not too sure what differentiates social media monitoring from social media analytics, read on.
So let's get right into it. What's the difference between social media monitoring and social media analytics? You probably feel that those two terms are used synonymously and are often mixed up in our daily conversations among social media pros, right?
If we take a look at some definitions, we'll see that there's a slight—but significant—difference between the two.

Social media monitoring defined:
Social media monitoring is a process of using social media channels to track, gather and mine the information and data of certain individuals or groups, usually companies or organizations, to assess their reputation and discern how they are perceived online.

Social media monitoring is also known as social media listening and social media measurement.

(source: Technopedia)
To sum it up, social media monitoring / listening tracks and gathers data on your own social channels, those of your competitors, or basically any social media channel and posts you'd like to collect data on.

Social media analytics defined:
Social media analytics (SMA) refers to the approach of collecting data from social media sites and blogs and evaluating that data to make business decisions. This process goes beyond the usual monitoring or a basic analysis of retweets or "likes" to develop an in-depth idea of the social consumer.

(source: Technopedia)
As you can see from the definition above, social media analytics focuses not so much on the social listening part, but rather on capturing the sentiment of consumers and brands.

Social media analytics vs social media monitoring
Social Media Monitoring
Social Media Analytics
Social listening is the monitoring of digital conversations to understand what people are saying about a product, business, individual, or industry
Social analytics involves the monitoring of one's own social media channels for insights
Monitoring solutions work out of the box and can monitor any channel or topic—no connection required
Analytics tools need a connection with the account that's being analyzed in order to access relevant data
Teams use monitoring to:

Maintain brand reputation
Understand public sentiment about products, brands, and services
Monitor and manage relevant conversations
Improve customer service online
Engage industry influencers
Listen and react to consumer questions, complaints, and comments

Teams use analytics to:

Understand topics and tactics driving social engagement
Identify and engage target audiences
Optimize ROI from content and campaigns
Measure effective channels and distribution tactics
Adjust paid promotion based on campaign results
Improve competitive positioning
3 social media report templates for you
Depending on your goals and objectives as a social media manager, a social media report will include a broad set of data points and insights. In general, a social media report should include information that highlights your overall social performance.
Sure—you can always use a simple spreadsheet for monitoring and reporting your social efforts. However, we instead recommend using a professional social media monitoring solution as those come with a variety of advantages:
All channels and platforms combined:

With a modern social media monitoring tool, you don't need to manually collect data. You simply have it one place.

Smart categorization & insights

: Intelligent social media monitoring solutions—such as Storyclash—allow you to monitor whole industries in multiple countries and languages with a few simple clicks. No manual data-digging.

Shareable reports that are always up-to-date

: Spreadsheets are nice for quick and simple reporting. Still, they usually don't update themselves by default. A professional social media monitoring report allows you to easily share it with whomever you'd like, including data points that are always up-to-date.
At Storyclash we drink our own champagne: we use our very own social media monitoring solution for watching our own social channels. The following three social reports work with mostly any tool (including our own), so choose what works best for you and get reporting!
1) Social media report to monitor your own brand
A typical social media report for monitoring your own brand should include the following metrics:
Number of:

social interactions on all social channels

social interactions per channel (e.g. Facebook, Instagram, Twitter)

social posts in a certain period of time

interactions per content format (e.g. photo, video, GIF, status post)

reactions to social posts (e.g. Facebook reactions, Instagram likes, Tweet likes)

Top performing posts

Detailed view on interactions and performance metrics per content format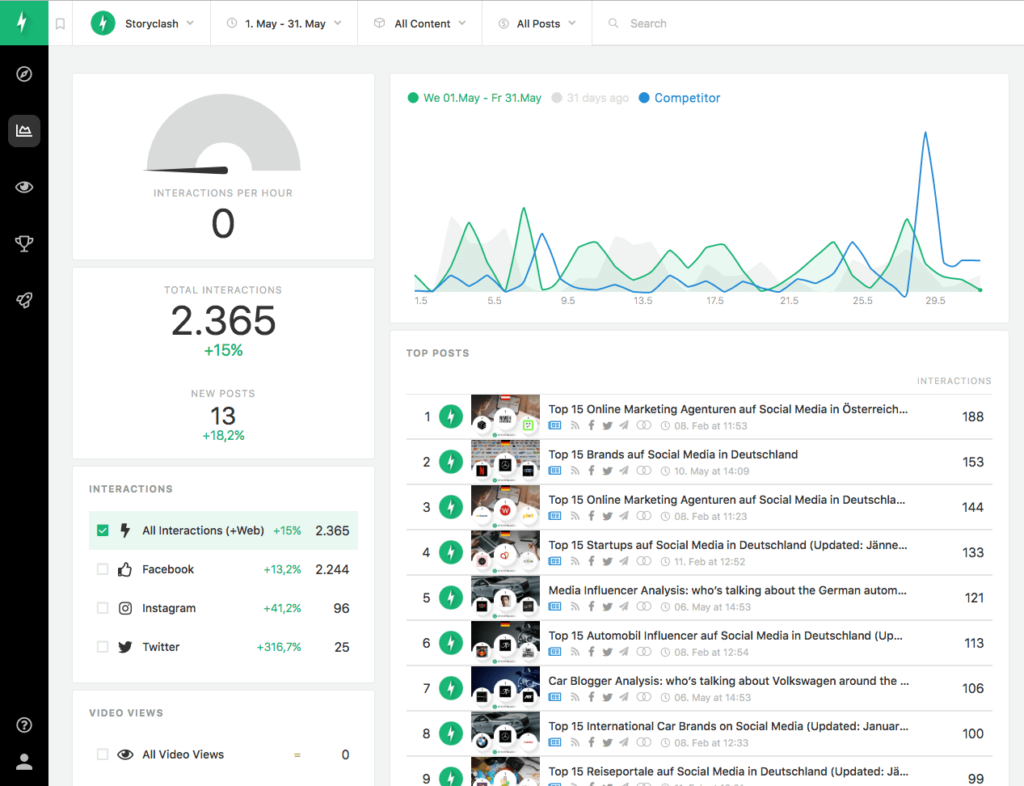 As you can see in the screenshot above, we track our own social performance with this view. This allows us to see the most important metrics at a glimpse. In addition, we can easily zoom in and get insights on performance metrics.
2) Social media report template to monitor competitors
A social media report for monitoring your competitors should give you a comprehensive view on the performance of your social media competition compared to your own.
The social media report from Storyclash gives our social media team a quick overview of the total interactions of all competitors combined, ranks the best performing posts, as well as gives detailed insights for each listed competitor. If necessary, the report allows us to directly zoom in on particular platforms (e.g. Facebook or Instagram), content format (e.g. video vs image) or a particular competitor.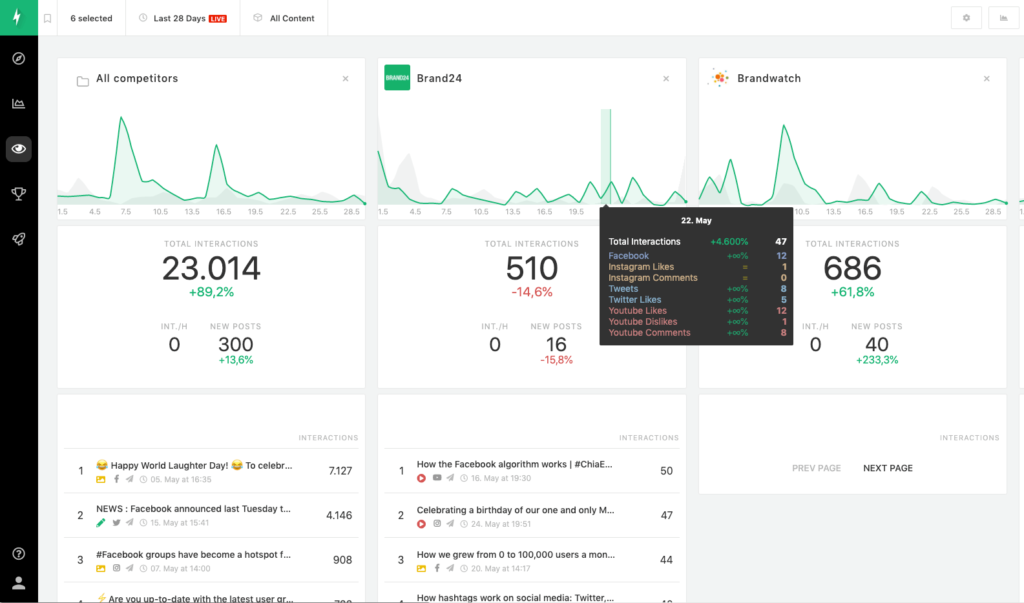 3) Social media report template to find influencers and content
Finding influencers and content that fit well with your brand is easier said than done, but the right type of search will yield meaningful results with which you can make data-driven decisions.
With Storyclash's search feature, carefully setting up your filters to match the type of influencers and content you want to find is a great way to discover what you need. When the data is pulled up, you'll see interaction numbers, Top Posts, time stamps and more—visible in multiple formats such as this content-prioritized grid view: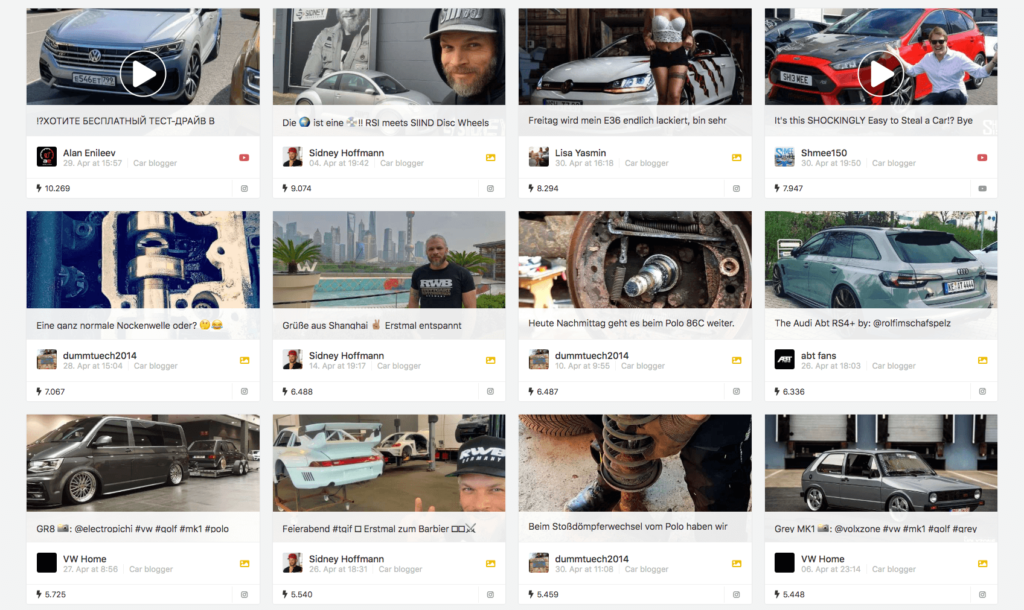 Starting with these three social media report templates, you'll be well-equipped to neatly and effectively organize your social media insights into an easy to read overview. Don't celebrate too soon, you're not quite done yet: the next step usually involves sharing the report with team members or stakeholders.
Sharing your social media report with various stakeholders
In most organizations, you'll find the following roles whom you will provide social media reports to:
The CEO

Your boss

The communications team

Other departments
Sometimes those roles differ or even overlap (maybe the CEO is your boss). Depending on the goals defined for your role, a social media report will consist of the following information:
Brand awareness & share of voice over a given period of time

Best performing themes and topics

Competitive analysis

Extended social post performance

Extended information on earned media and social conversations about your brand

Alerts for certain keywords and topics

Industry specific content trends
One part of social media reporting is the data gathering and creation of the report itself. A second—even more important aspect—is the shareability of it.
While PDFs, spreadsheets and many other tools used for social media reporting are rather static, a modern social media monitoring solution provides shareability by default. Ideally, once you've shared the report with your team they will always see live data within it. No need to update the report or re-share the link.
In Storyclash, for example, the Direct Link export feature does precisely that.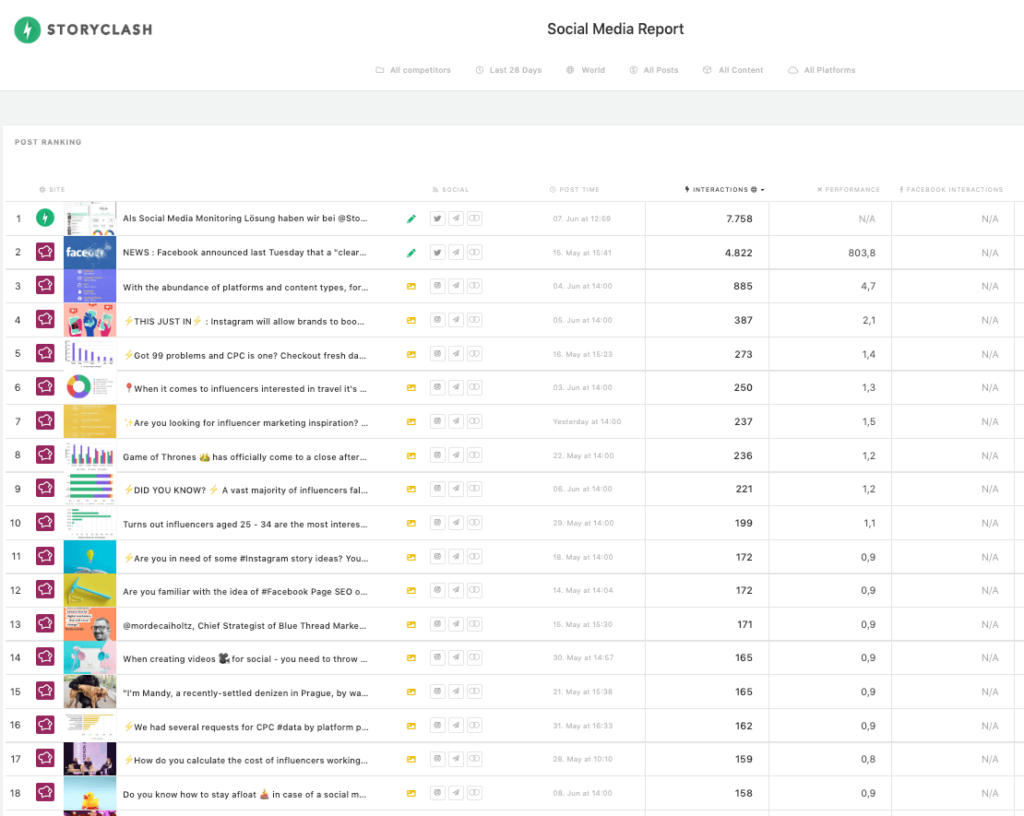 Here's a link to one of our social media reports. Alternatively, you can also generate a PDF (or other export types) to share your report. You can see an example of such a PDF report above.
Social media is complex. Social media monitoring shouldn't be.
Social media monitoring—also widely known as social listening—is an extensive process of gathering information about your own performance, as well as those of your competitors. In addition, social monitoring takes a close look at who's talking about your brand on social media.
All in all, social media monitoring (reporting included) used to be a manual process of gathering data. With a modern, state-of-the-art social media monitoring solution those days are fortunately behind us.
What's next?
Want to learn more about how Storyclash can help your social media monitoring efforts? Request access today! Alternatively, our product experts can guide you through setting up your social media monitoring reports too. Just request a demo here and give Storyclash a try.