Now more than ever, people engage online with every aspect of fashion culture. Social media has played an increasingly prominent role in that online engagement, and it's challenging to deny that social media and fashion are practically inseparable.
From posting an #OOTD (outfit of the day) to drooling over photos of the latest shoe drops with the sneakerhead community, modern day society has pushed fashion beyond store racks and catalogs into the interaction-crazed realm of social media.
Brands are well aware that social media campaigns
can effectively reach those audiences.
And just like fashion, social media can be done stylishly. For fashion retail brands, this means running social media campaigns that achieve several things simultaneously:
production of engaging and relevant content resulting in improved numbers across core campaign KPIs (mentions, interactions, reach, media value)
creation and reinforcement of lasting consumer relationships
In this article, we'll highlight some crucial aspects that brands are focusing on to get ahead of their competitors and show you some best practice examples too!
---
Start with the three 'In's
For fashion retail brands in the social media game, there's a lot to think about when it comes to social media campaigns. It's not hard to get overwhelmed, so it's best to ease into things by starting off with three things. Coincidentally, these three things are easy to remember because they all start with the 'In' prefix:
Instagram • Influencers • Indicators
While that sounds pretty catchy, there's actually meaning behind this. Let's jump in.
Instagram
The first 'In' is Instagram. Brands should be using the popular platform to spearhead their social media campaigns and create content that is specifically tailored for its various formats in order to effectively engage with audiences. Instagram shouldn't be a second thought when it comes to social media—instead, brands should approach their campaigns with an Instagram-first strategy.

According to an infographic by Hootsuite, 1 billion people use Instagram every month, half of whom use IG Stories on a daily basis. Not only that: 200 million Instagram users visit at least one business profile every day, equating to a potential advertising reach of nearly 850 million users.
Along with the fact that Instagram Stories has never been more popular than it is now, the social network also provides a one-stop shop for the next two 'In's on this list.
Influencers
The second 'In' is Influencers. Instagram is still the best place to discover and work with collaborators for influencer marketing campaigns. It's the uncontested homebase for influencers, as there's no other platform with such an enormously active influencer community quite like Instagram.
When 18% of all Instagram Stories posted by influencers are branded (i.e. labeled as advertising or paid cooperation), it's evident that the ceiling is still far from being reached. Branded influencer Stories have tremendous potential for growth. We've said it before and we'll keep saying it for as long as it remains true:
Influencer marketing is here to stay.
Brands are increasingly discovering the advantages of teaming up with influencers to promote their businesses, and this is especially the case with the fashion retail industry.
Indicators
Lastly, the third 'In' is Indicators. Better known by its full term, key performance indicators include metrics such as mentions, interactions, media value, etc. Monitoring KPIs is an essential component of running a successful social media campaign, and all of our social media industry reports back up that statement.
With its diverse mix of content formats, growing user base and influencer community, Instagram has brewed up the perfect storm for heavy engagement and enterprising brands with optimistic social media campaign aspirations are keeping a watchful eye on KPIs which can help them make data-driven decisions.
Let's analyze the social media activities of two different fashion retail brands—over a range of three months, March 1st to May 31st—to see how they've been optimizing their campaigns along these guidelines: asphaltgold and Fashion Nova
---
asphaltgold is social media gold
For over a decade, asphaltgold has been serving the sneaker and street fashion communities in Darmstadt, Germany. As a successful e-commerce brand, their reach extends to customers in every corner of the country and beyond. But how much of that success can be attributed to their social media efforts, specifically to Instagram?
Before we dive into an analysis of their social media endeavors, let's have a look at some quick overview statistics from March to May of this year:

Over the span of three months, asphaltgold amassed 1.2 million total interactions through owned media across Instagram, Facebook, YouTube, and Twitter. Calculated with a CPM of €25, their estimated media value between March and May comes in at €11 million with an approximate reach of 442 million people.
Rising owned media value
For perspective, asphaltgold's estimated media value was also €11 million in the three month period prior to March 1st (December 1st to February 29th). Look back three months earlier, September 1st to November 30th, and their media value was approximated to be €9.6 million. Stretch further back into the summer months and it was €7.6 million—with an estimated reach of 304 million people.


The data depicts asphaltgold's key performance indicators steadily trending up over the past year.

All statistics are more useful when compared and contrasted against similar time ranges from the past, and this is definitely true for media value. Trying to interpret media value as an isolated indicator can be mystifying, but trends become possible to quantify once several data sets are measured in relation to each other.

Asphaltgold's KPI trends are consistently climbing in positive directions, and we haven't yet begun to investigate their engagement value of 1.2 million interactions over the past three months…

Interactions: one million and climbing
Turning our focus to another common indicator used in social media campaigns, asphaltgold's +1 million interactions in three months is no small achievement. Let's go deeper and identify what might have contributed to these impressive numbers by first taking a look at the fashion retail brand's content distribution from March to May.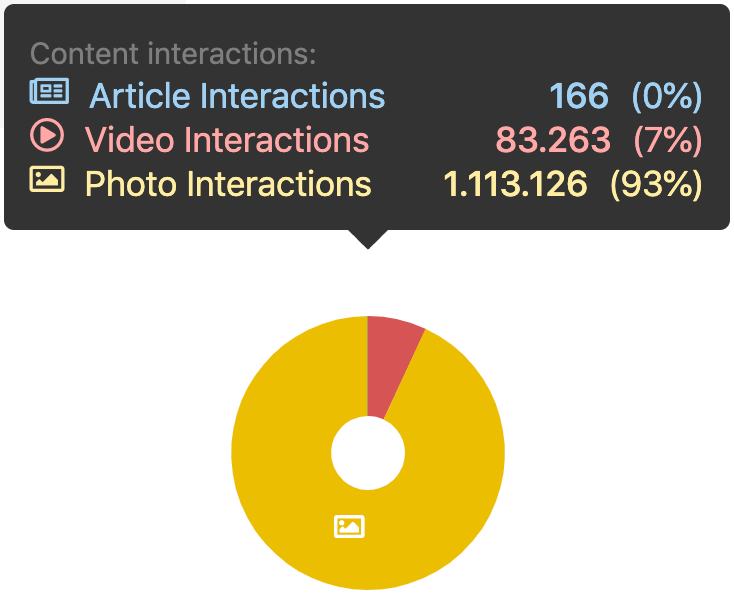 This chart visualizes their content by type, according to the amount of interactions. As you can see, more than a million of their social media interactions (93%) comes from pictures that they share on their platforms.
This makes perfect sense.

As a brand whose bread and butter is fashion, their content primarily depends on the visual communication of their products. After all, selling sneakers and apparel would be a lot more challenging if consumers aren't able to see what they're buying. With this in mind, Instagram also makes perfect sense.
Out of all the major social media platforms, Instagram is the one which is catered toward a highly visual user experience.
The photo feed is the perfect place for asphaltgold to flaunt their goods: other than face-to-face salesmanship, showing high quality closeup images of their shop's latest styles—often featuring models wearing those looks—is the most effective online method of making a sale. Users can scroll through product photos and spend however much time they want in order to decide if they will make the purchase.
All of asphaltgold's top posts are Instagram posts, and some of their best-performing ones are raffle giveaways, which has always been the case for any brand holding a social media contest. Who doesn't like the chance at winning prizes? Their number one feed post between March and May is this Nike x Travis Scott shoe raffle:
With over 120,000 interactions—including likes, shares and comments—the post exemplifies asphaltgold's optimal content, which is certainly an interaction-magnet.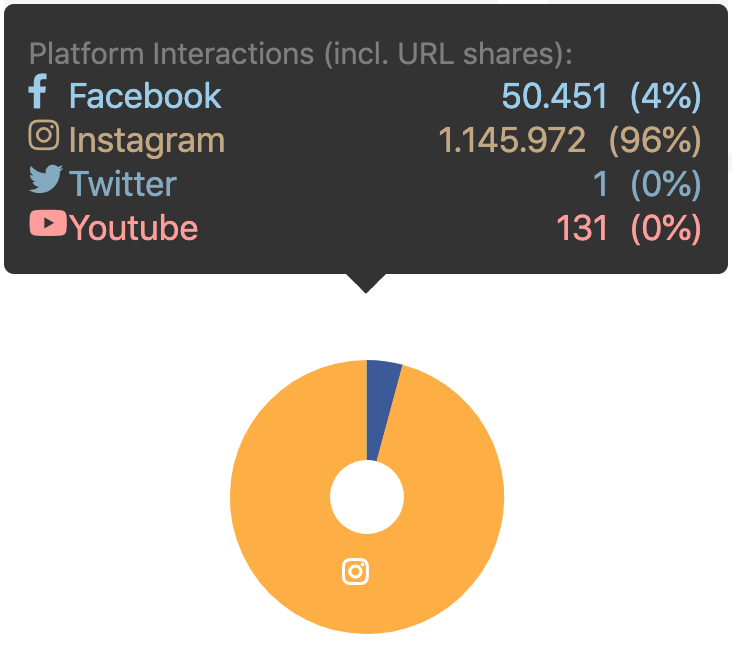 Considering these results, it should come as no surprise that Instagram is their absolute preferred platform. As this chart shows, 96% of asphaltgold's social media interactions from March to May happened on Instagram. That's an overwhelming majority.
Asphaltgold's social media campaigns generally consist of community-engaging raffles, photogenic pictures of their shoes and clothing (which are a mix between on-foot shoe photos, standalone shots, and flat-lays), plus the occasional video thrown in for good measure. And this isn't just classic feed posts, either.
The advantages of Stories
From the beginning of March to the end of May, asphaltgold posted 633 Instagram Stories. That's a respectable number, especially when you think about the benefits of adding Stories to your content distribution strategy. More screen space for content, call-to-action elements, the ability to sort posts into collections… Simply put, Stories are more versatile versions of classic posts, and users are hooked.
Asphaltgold makes generous use of Instagram Stories,
and they do it quite well.
Asphaltgold uses Instagram Stories to add more visibility to their products in a way that encourages increased interaction from viewers. By showcasing things like shoes and apparel from multiple angles, poses, and background settings, viewers / potential consumers are enticed to tap through more and more Stories.
Keeping a consistent aesthetic and atmosphere throughout their Stories helps asphaltgold reinforce their social media leverage across a dynamic combination of content types.
Want to learn more about the advantages of Stories? Check out this in-depth analysis we conducted to learn more about what makes Instagram Stories tick.
asphaltgold × Influencers
Perhaps the icing on the cake for asphaltgold's successful social media campaigns is the brand's high compatibility with influencers. For a brand that specializes in sneaker culture and street apparel, there's no shortage of social media influencers who would leap at the opportunity to market asphaltgold within their own online activities.
Fashion is tailor-made for influencer marketing,
pun intended.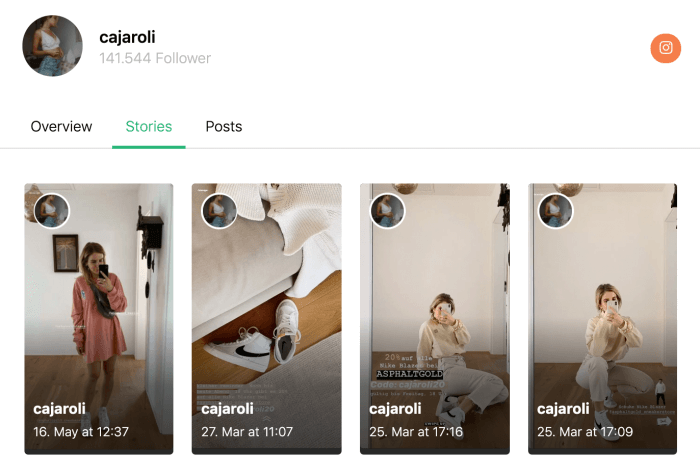 Influencers such as those featured here are more than comfortable leveraging their platform and audience to promote asphaltgold, and well done influencer marketing campaigns benefit all parties involved.

Let's crunch some numbers. We revisited the same three month period utilized in our initial asphaltgold social media analysis (March 1st – May 31st), but this time we used different filters to also include brand mentions by influencers and similarly influential online entities. Here's the overview for owned plus earned media throughout the aforementioned time range:
As we did earlier, comparing this data to several other three-month segments prior to March 2020 will show how these influencer metrics—estimated reach, media value, etc.—have been trending over time.
In the three month period prior to March 1st (December 1st to February 29th), asphaltgold's earned media value was estimated to be €3.7 million, up from €3.4 million emv in the period previous to that one (September 1st to November 30th). Last summer that value was €3.1 million—with an estimated reach of 304 million people (approximate reach also grew over time).
But how much of that growth can be attributed to influencers? Some numbers excerpted from the Storyclash infuencer database:
15 total influencers mentioned asphaltgold from March 1st – May 31st
21 of the 501 classic feed post mentions were posted by influencers
24 of the 112 Instagram Story mentions were posted by influencers
Once again, Instagram Stories flexes its social media strengths when it comes to influencer marketing. Influencers prefer posting branded content in Story format, and for asphaltgold, that makes Instagram the golden platform.
---
Fashion Nova: a global social media star
In the same exact time range—from March 1st to May 31st—Fashion Nova's international popularity amplifies their campaign metrics across the board. While the U.S. fast fashion retail company is headquartered in Los Angeles, California, their commercial reach stretches across the entire world.
With such a colossal ecommerce operation, Fashion Nova has established itself as an industry success. So just how much of a role did their social media efforts play a part?
Over €1 billion in owned media value
The numbers above show that Fashion Nova's estimated owned media value from March to May 2020 was €1.2 billion.
But to get a better sense of what that media value indicates, we need to look at the past year: in the three month period prior to March 1st, the brand's media value was estimated at €1.09 billion (December 1st to February 29th). Three months earlier? €1.12 billion (September 1st to November 30th), which was a marked increase from their approximate €942 million media value during the summer of 2019.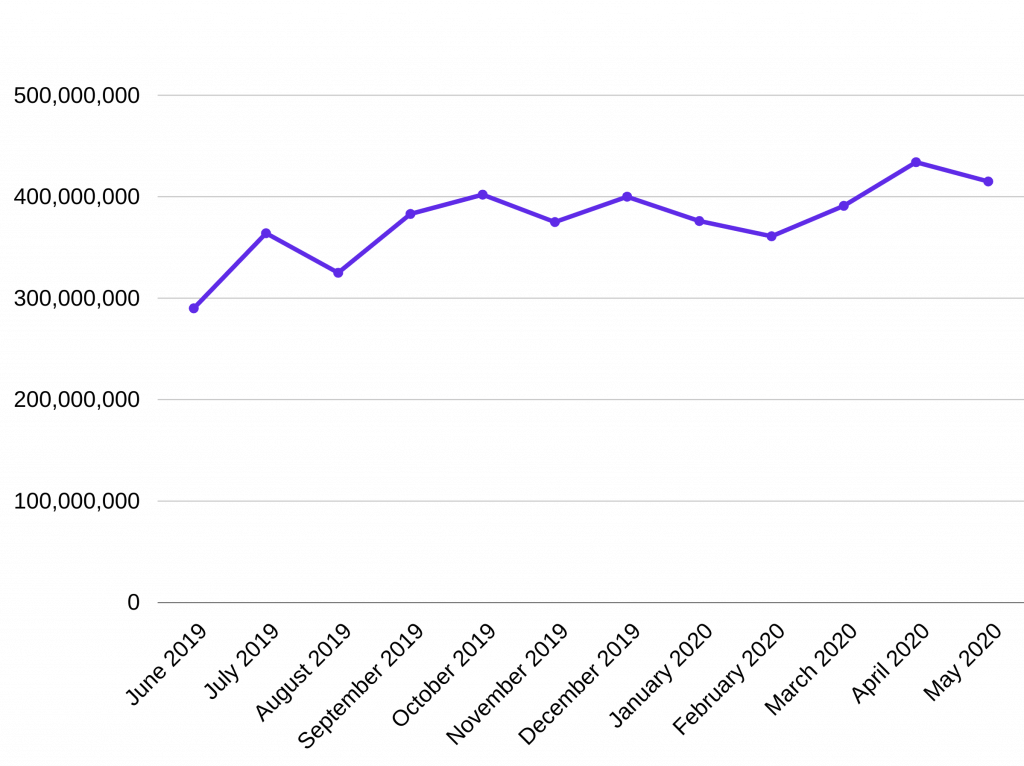 With each three month period, Fashion Nova's estimated media value trended upward until it surpassed the €1 billion mark—
and then it just kept going.

This indicates that the fashion retail brand's estimated media value should keep rising for the foreseeable future, so long as their interaction numbers and estimated reach keep rising as well (which they have).
A supernova of interactions
Media value isn't the only Fashion Nova KPI that's through the roof; since media value is calculated based on interactions, then it must be the case that both metrics trend in the same direction. It's tough to wrap your mind around a number like 78 million. Yet that's how many total social media interactions Fashion Nova earned in three months, a number which grew exponentially throughout 2019–2020.
But how do all those millions of interactions break down?
On a macro level, what type of content does Fashion Nova post across their social media channels, and which of their platforms pulls in the highest amount of interactions? Is there a relationship to be drawn between Fashion Nova's content and their platform of choice? Let's find out.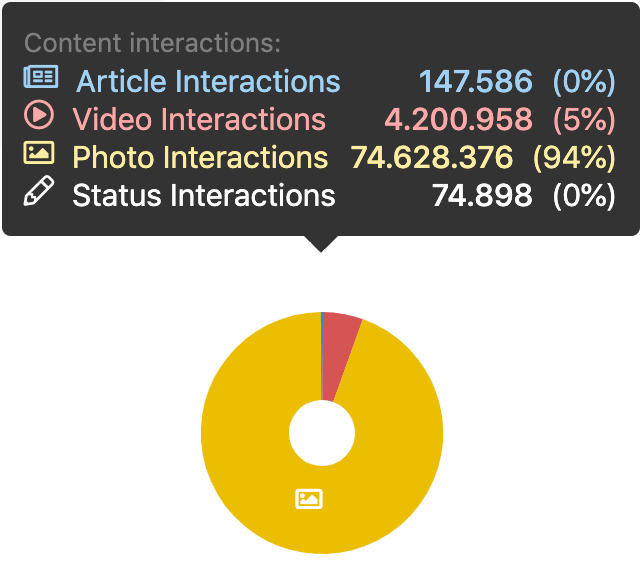 When it comes to content type, Fashion Nova does it all. Articles, videos, photos—you name it, they've posted it. Though upon deeper inspection, things are far from an even distribution.

As shown here, interactions earned by their photo content dominates all of Fashion Nova's other content types, and it's not even close. That's 94% of all their content interactions: pictures.
Fashion Nova's photos earned 74.6 million social media interactions in our selected timeframe.
Where is Fashion Nova posting these pictures? You already know the answer. Instagram is the go-to platform for fashion brands, and this is the case because of the way Instagram is set up to deliver content to its users.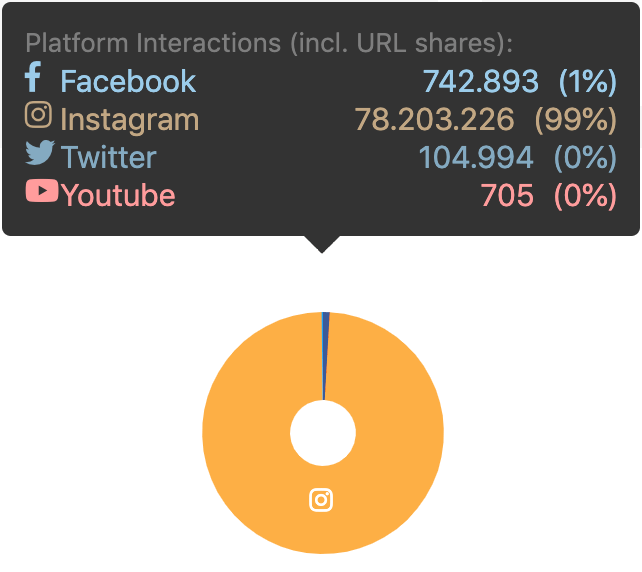 Eye-pleasing photo feeds, seamlessly transitioning Stories, and a simple and intuitive user experience are all reasons why brands like Fashion Nova do most of their social media activities on Instagram.

This chart shows that during the months of March, April, and May, the fashion brand pulled in more than 78 million interactions through their Instagram posts, which equates to a staggering 99% in relation to their other platforms.
Analyzing Fashion Nova's top posts during that time period, you can see how 78 million total social media interactions was an achievable number for them. Their best-performing classic feed posts all earned more than 175,000 interactions each. In fact, most of them were closer to the 190,000-interactions mark. Fashion Nova's best post during our analysis time frame (based on interactions)?

It's this one, a summer-ready photo of American rapper / actress Cardi B wearing one of their bikini products:
The post gained nearly 211,000 interactions on Instagram, a statistic which doesn't just come from the massive popularity of Cardi B (although running a Fashion Nova campaign with her doesn't hurt). The brand knows exactly what type of content their followers like to see and interact with, and it's a tried-and-true formula: alluring photography, models in compelling poses wearing the brand's fashion items, and captions that engage their community.
Fashion Nova never forgets that it's an e-commerce fast fashion brand, and their posts show it. Whether it's guiding followers with the exact search query they should use to find specific products on their site, promoting discount codes, or running social media contests, the brand is confidently on top of their Instagram game.
Instagram Stories are in style
What do Fashion Nova's Instagram Stories look like? Without a doubt, they are optimizing their content to take advantage of the format's best attributes.
As you can see from their latest batch of Stories, every other post is either an Instagram contest of some sort or a mention of their sale. Interspersed between those Stories, Fashion Nova shares teases of current hot items and upcoming styles, and most of them incorporate a call-to-action element (which Instagram Stories are perfect for). It's a delicate balance, but one that Fashion Nova seems to orchestrate without flaw.
A quick overview reveals that between March and May, their Instagram Stories alone had an estimated Story media value of €350 million. That's a hefty 29% of the overall estimated media value for that time period.
Fashion Nova's Instagram Stories are a well oiled machine, and the brand obviously knows how beneficial it can be to keep their story campaigns running like clockwork. An important takeaway from Fashion Nova's social media success with Instagram Stories is that interaction-generating content doesn't always have to be photos and videos (and they don't even have to be the majority).
Use the unique Stories format for type graphics which include CTAs to promote sales, make announcements, and run limited time giveaway contests.
Fashion Nova × Influencers
Earlier this year, we ran a fashion brand analysis on Fashion Nova and determined that influencer collaborations were a core part of their successful social media marketing. Looking at an overview of their owned and earned media KPIs, this shouldn't come as a surprise:
Prior to this—during the three month period from December 1st to February 29th—Fashion Nova's earned media value was estimated to be €19 million, which was down from their €21 million emv estimation for September 1st through November 30th in 2019. Overall, Fashion Nova's approximate earned media value improved drastically from its €9.3 million mark in the summer of 2019.
Numbers at a glance, excerpted from the Storyclash influencer database:
126 total influencers mentioned Fashion Nova from March 1st – May 31st
309 of the 461 classic feed post mentions were posted by influencers (~67%)
38 of the 292 Instagram Story mentions were posted by influencers (~13%)
No fashion brand in their right mind would skip the opportunity to work with willing social media influencers, particularly with Instagram being as prevalent a platform as it currently is.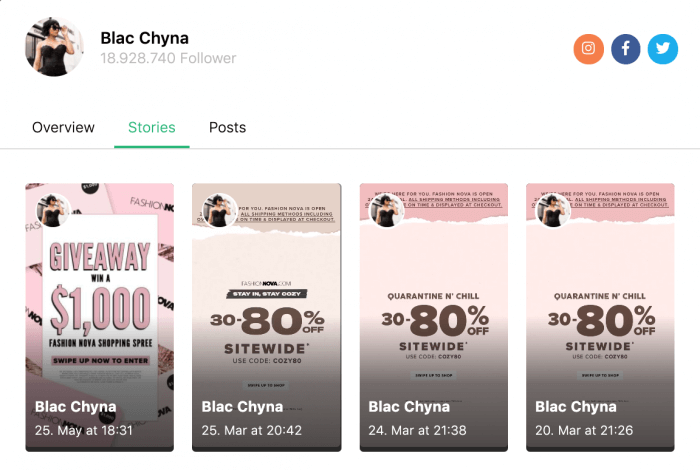 But Fashion Nova takes it to the next level with their influencer marketing, choosing to work beyond the normal scope of influencers and cooperating with popular celebrity personalities as well as other influential brands within varying industries.
From our article we mentioned earlier:
"The brand works together with influencers, musicians and various brand ambassadors who show off their clothing in Instagram pictures."
This is important: influencer marketing doesn't have to mean just working with 'everyday influencers'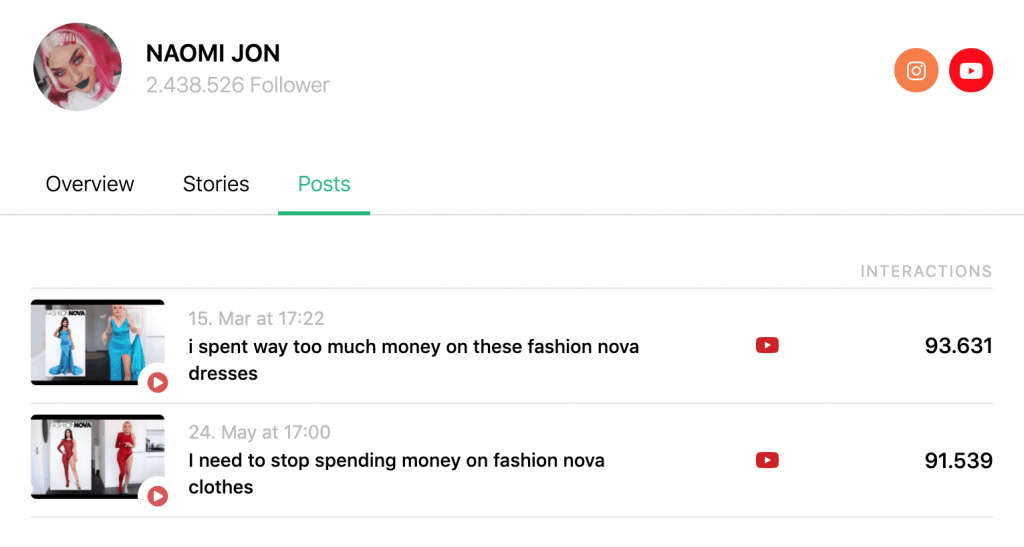 The sooner brands realize that the definition of influencer can include pop culture personalities and brand ambassadors too, the sooner they can make influencer marketing work for them on a highly efficient level.
Fashion Nova recognizes this, and they've made influencer marketing work for them in the best possible way.
---
Buttoning up our findings
There's a lot to take in here, so let's summarize the key points based on our analysis of these two fashion retail brands. Based on the performance of both asphaltgold and Fashion Nova over the course of three months in 2020—but keeping their long term KPI trends in mind—it's evident that the versatility of Instagram's various formats make it the ideal platform for social media campaigns which revolve around fashion products.
Everything supports this conclusion, from the growth in media value, reach, and interactions every three months throughout the past year, to the synergy between brands and influencers on Instagram. If asphaltgold is a prime example of the booming potential of Instagram Stories for fashion retail brands, Fashion Nova's global scope undoubtedly magnifies that outcome by an astonishing degree.
Right now, a single platform stands far above the rest in terms of maximizing any brand's social media campaigns and that platform is the one and only Instagram.
Monitoring the three 'In's
By now you've probably made a mental note. What dashboard are the screenshots in this article from? Well, if you haven't heard of Storyclash yet, that changes today. Brands are able to use Storyclash to fulfill their social media campaign needs, meaning—for example—that monitoring the three 'In's mentioned in this article can be done all in one place:
Monitor