Happy new year 2021! As you know – if you have followed Storyclash for a while – we love to take this time of the year to celebrate the brands which performed extraordinarily well throughout the past 12 months.
That being said, let's bring on the Social Media Awards 2020!
To determine the most successful Banks in Germany as well as the year's top post, we consider all sites including articles, pictures and videos. Total interactions are measured across the platforms of Instagram, Facebook, YouTube, Twitter and TikTok.
We proudly present you:
2020's most successful Banks in Germany: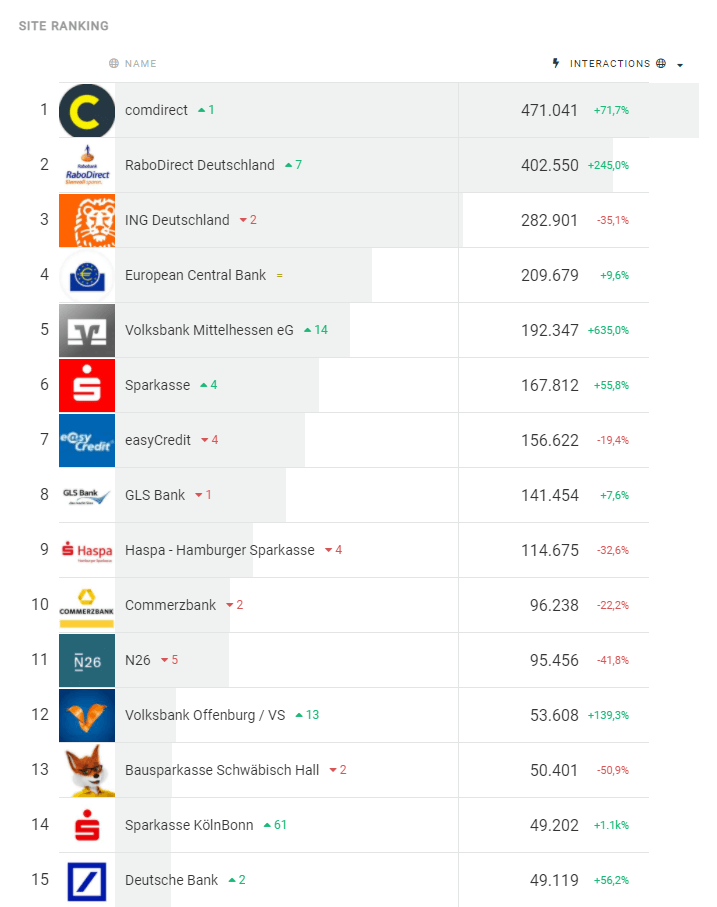 The winner of 2020's social media awards is comdirect, which made it to the top with 471.041 interactions.
Coming in second is RaboDirect Deutschland with 402.550 interactions, followed by ING Deutschland with a total of 282.901 interactions on social media.
🥇 comdirect
Comdirect has gathered a total of over 77.000 fans on social media, posted over 2.000 times and got most of their interactions last year on Instagram (89.3%), followed by Facebook (8.1%).
---
🥈 RaboDirect Deutschland
RaboDirect Deutschland has a total of more than 42.000 fans. Instagram works best for them, earning over 219.000 interactions compared to their next-best platform: Facebook – 182.000.
---
🥉 ING Deutschland
A total of more than 120.000 fans follow ING Deutschland on social media. Facebook is their top-performing social media platform, they earned over 94% of all their social media interactions on there.
---
🎉 Most successful social media post of the year
The top social media post of 2020 is from ING Deutschland. It was posted on their Facebook account and gathered a total of 33.596 interactions.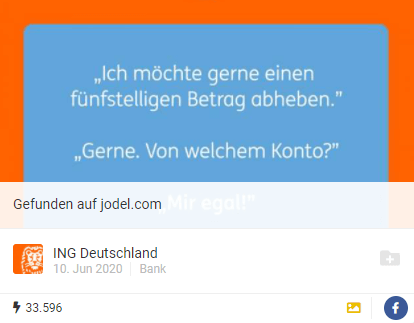 ---
Wow, what a crazy successful year for banks in Germany! We hope you enjoyed this glimpse into their social media performance of last year. If you are interested in more insights of the Banks in Germany ranking send us an email to marketing@storyclash.com.
---
Storyclash is a social media monitoring solution that tracks social media activities on trending platforms such as TikTok, Instagram, Facebook, Twitter and YouTube. Storyclash helps companies to measure and communicate the outcome of their influencer campaigns, to benchmark themselves with the industry and to discover new content trends.