In the competitive world of influencer marketing, it's crucial to have tools that keep you ahead of the curve. For brands and marketers making the choice between Storyclash and Kolsquare, there are some key distinctions that could make all the difference. Join us as we dive into customer feedback, compare key features, and consider Storyclash as a Kolsquare alternative.
Kolsquare vs. Storyclash: Higher Value with Storyclash
Storylash and Kolsquare are both popular influencer marketing platforms. They come with a variety of features including influencer discovery, analytics, and tracking. Let's take a deep dive into the platforms' features and how they compare: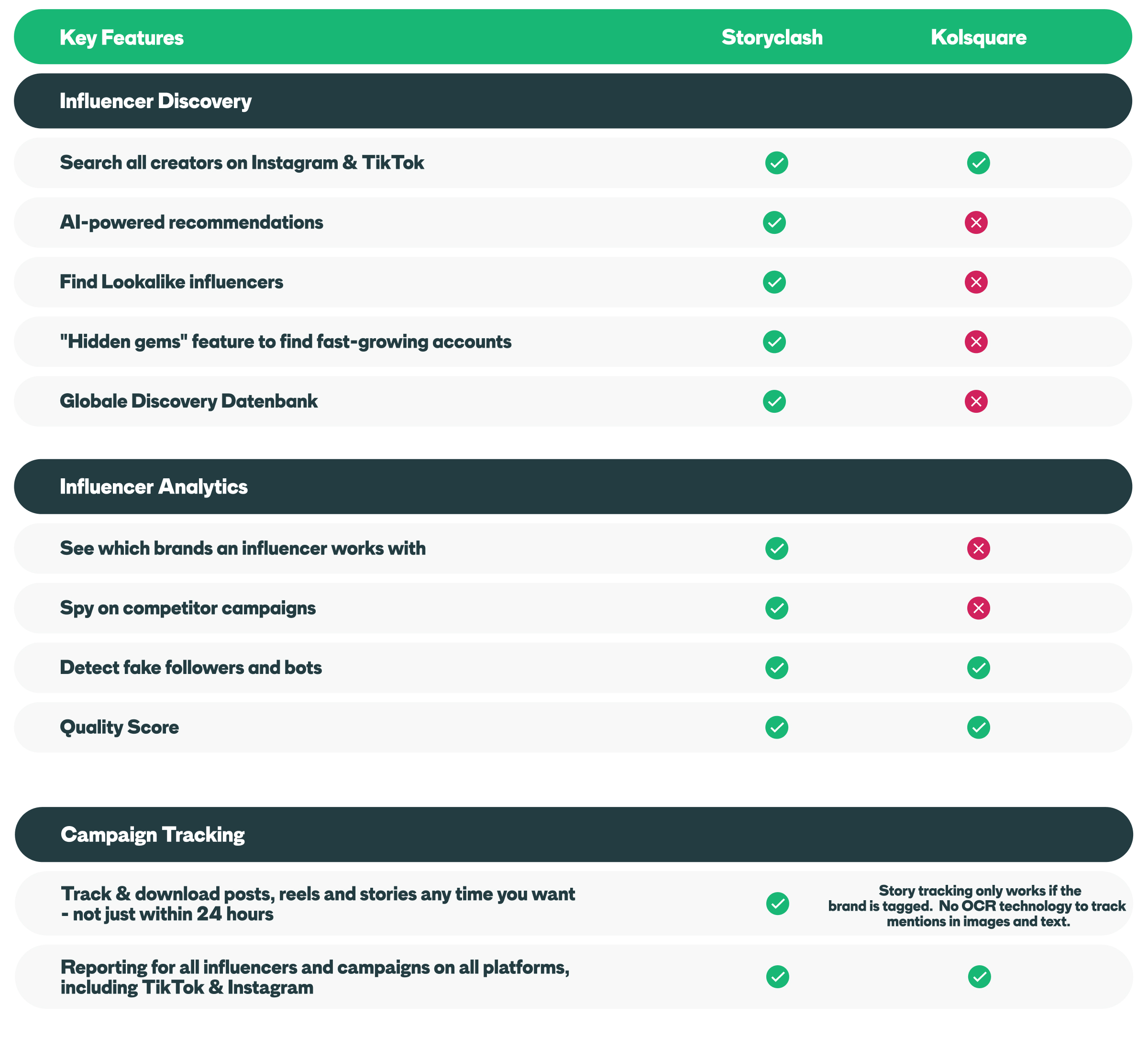 Find brand-fit influencers effortlessly with Storyclash
Looking for influencers who are a perfect match for your brand or campaign? Storyclash and Kolsqaure both enable you to search for influencers. The difference is that with Storyclash, marketers can find brand-fit influencers based on their content.
Unlike Kolsquare, which relies on demographic filters and basic keyword searches, Storyclash leverages image recognition and intelligent analysis to uncover the most relevant influencers for your campaigns. But that's not all! Through lookalikes and AI-based suggestions, Storyclash gives your brand the edge in finding the best influencers.
Storyclash makes it super easy to find brand-fit influencers using AI, and the best part is that you can try it yourself for free. Just open storyclash.ai and type in what you're looking for. No need to sign up or pay anything.
For example, let's say you're looking for an influencer who's a mom and passionate about yoga. So, you type in "mom influencer doing yoga":
You'll find a bunch of content with relevant influencers:
This is especially useful when you're looking for a certain type of influencer or someone who doesn't fit into a wide category, like "beauty" or "health."
Vet influencers more effectively with Storyclash
You can vet influencers with Storyclash and Kolsquare. But there are some key differences.
Kolsquare offers credibility and reachability scores to analyze the trustworthiness and audience value of an influencer. While that's useful information, Storyclash offers deeper insights into an influencer's track record.
Unlike Kolsquare, Storyclash shows you which brands an influencer has collaborated with, what the content looked like, and how it performed.
For example, let's say you were interested in working with Pamela Reif. Using Storyclash, you can check the collaboration timeline to see every brand she has ever worked with:
You can easily dive into the top branded posts and key metrics:
Powerful campaign tracking as standard with Storyclash

Campaign tracking is critical to help you figure out how your influencer campaigns are performing. Storyclash and Kolsquare both offer tracking functionality, but at a different price point.
With Storyclash, full campaign tracking is already included in the "light" package, whereas Kolsquare offers campaign management and dashboarding only as part of its enterprise package starting at €18,000 per year.
With Storyclash, you will always be able to track the ROI of your influencer activities across Instagram including Stories, TikTok, YouTube, and Facebook. It's simple to create comprehensive, shareable dashboards with just a few clicks.
Here is a sample tracking report:
Watch the video to learn more or read about how tracking works.
How do Kolsquare reviews and experiences compare to Storyclash?
Let's take a look at customer feedback and reviews.
Kolsquare has 1 review on G2 (5 stars) and 5 reviews on Capterra (4.6). Storyclash has 17 reviews on G2 (4.6) and 24 reviews on Capterra (4.8).
On OMR, Kolsquare has 26 reviews and an average score of 4.3:
Storyclash has 173 OMR reviews and a significantly higher rating of 4.8:
One user described Storyclash as a "must-have for Instagram influencer marketing" and highlighted Storyclash's Instagram story tracking:
How much does Kolsquare cost and how is Kolsquare pricing determined?
Kolsquare pricing is not public. Prices start at €500. Kolsquare offers customized packages based on market, target group, and influencer marketing strategy.
What are other Kolsquare alternatives?
1. Storyclash
Empowered by AI-driven technology, Storyclash stands out as the leading influencer marketing platform. This platform provides brands with a seamless experience, from discovering the right influencers within seconds using AI, to measuring campaign impact and managing all influencer data in a single CRM. Trusted by industry giants like Adidas, Samsung, and John Lewis, as well as rising stars like Wild and Bears with Benefits, Storyclash's distinctive features, such as the AI-powered Influencer search based on content, cross-platform reporting, and built-in CRM, offer a transformative approach to influencer marketing.
2. CreatorIQ
Serving as the backend for several brands' influencer marketing, CreatorIQ offers tools for influencer discovery, campaign management, and reporting. Their customer base includes well-known names like Disney and H&M. Some of their features harness AI and machine learning, though exact implementation details and pricing remain proprietary.
3. HypeAuditor
Positioned as an all-in-one platform, HypeAuditor provides tools for managing influencer marketing campaigns. Features include influencer account searches using various metrics and audience analysis. They have been adopted by larger brands, such as Dior. Their full suite of offerings and pricing are available upon request.
4. Klear
Klear's platform is designed with simplicity in mind, offering tools for influencer marketing with an emphasis on search and campaign management. They cater primarily to established brands.
5. Traackr
With a name suggestive of its analytical capabilities, Traackr provides a comprehensive set of tools for influencer marketing. Known to be adopted by brands in the beauty sector, their platform offers influencer search, campaign management, and analytics. Their integration features and usability require a deeper look for those considering it as a solution.
6. Upfluence
Branding themselves as an all-in-one platform, Upfluence covers a range of influencer marketing needs. From influencer discovery to affiliate programs, they offer various tools. With integration options and different packages available, brands need to assess its suitability based on specific requirements.
7. Grin
Grin describes itself as the "all-in-one influencer marketing platform designed to help you scale. It helps you expand your influencer relationships, your sales, and your brand—without expanding your workload." The platform works with brands like MVMT, CUTS, and Everlane.
Is the Kolsquare Chrome extension worth it?
You can install the Kolsquare extension to get basic info about an influencer, including location, age and gender, interests, and audience quality score. Just open the Instagram or TikTok profile and click the extension icon to see the Kolsquare bar on the right hand side. For example, this is what it looks like for Pamela Reif:
However, the insights are mostly limited to mega influencers with hundreds of thousands of followers. If you try to find out about smaller influencers, you will typically just see an error message and a recommendation to obtain the full (paid) Kolsquare platform:
Do you need a Kolsquare login to trial the platform?
Kolsquare, like Storyclash, is a tool that requires you to sign up for a demo. There is currently no self-serve trial available. However, if you'd like to road-test Storyclash's AI-powered influencer discovery capabilities you can. No need to create an account. Just open Storyclash AI and start searching!
Kolsquare vs. Storyclash: Get more out of your influencer marketing with Storyclash
With Storyclash, you get AI-powered influencer discovery, deep insights into creators and competitor brands, and comprehensive campaign tracking—all at a more affordable price than Kolsquare.
Get in touch to talk about your needs and see Storyclash in action.