Welcome to Storyclash Industry Insights
In our new series called "Industry Insights" we give you an overview of different industries and how they use social media for their needs. For the first run we dive into the automotive sector. Let's look into the social media year 2019 for the top performing global automotive brands on Facebook, Instagram, YouTube and Twitter and uncover some of their secrets.
2019 so far – who is winning the race?
We accumulated all interactions and fans from Facebook, Instagram, Twitter and YouTube from January 1st to June 1st and present you a ranking of the best-performing automotive brands worldwide: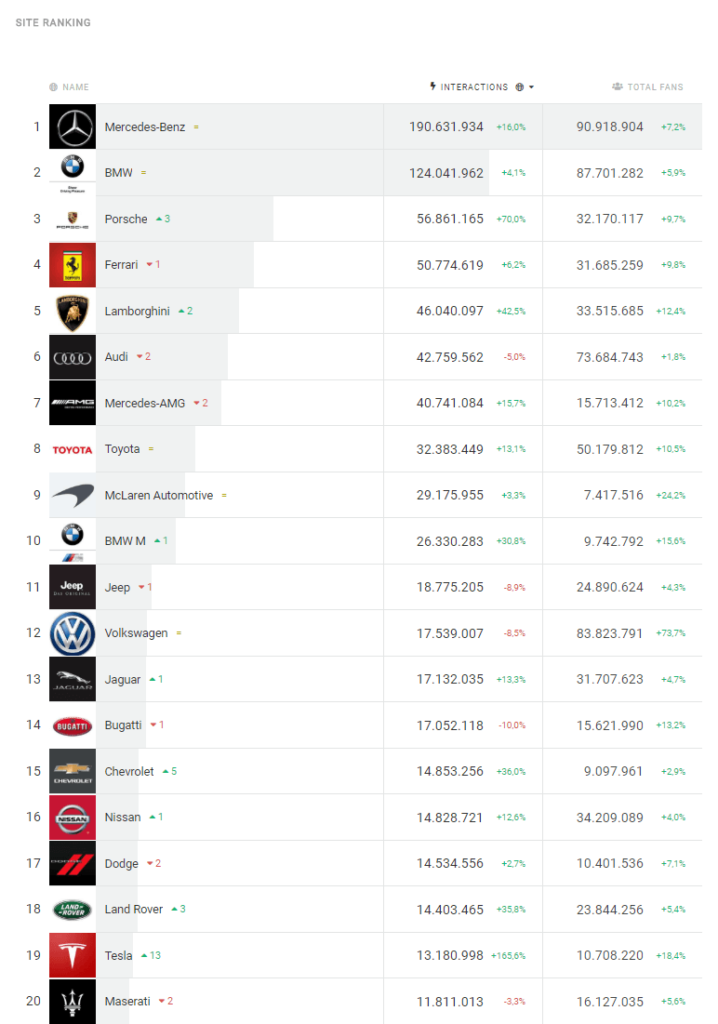 (Top 20 automotive brands in 2019)

As you've probably seen in some of our previous blog articles, the global social media team at Mercedes-Benz is doing such a great job that it will be hard for others to compete in the coming months. In second place we have a strong BMW, who shows steady development throughout 2019.

Third place changes as the year goes on. In January, Toyota ranked 3rd before Porsche went for the bronze medal and since settled in at number three. One glance at the table shows that apart from Mercedes-Benz and BMW, other brands—even Porsche in their solid 3rd place position—have collected significantly less interactions over the year than the two top-ranked automakers.

---
Now, after that short overview we would like to show you some insights which caught our eyes.
Average interactions per post
To get a sense of the interaction amount in relation to the posts, let's have a look at the top five brands interaction-wise and the best five players post-wise to figure out the average interactions per post.
Where total interactions and number of posts are concerned, Mercedes-Benz is number 1 overall, even though they only have approx. 4.131 interactions per post. BMW gets around 3.372 interactions per post and Porsche 6.544. Ferrari and Lamborghini, which have not published as many posts compared to the others, can now show off the highest average interactions per post: Ferrari has 32.278 and Lamborghini an astonishing 65.397 interactions per post in 2019.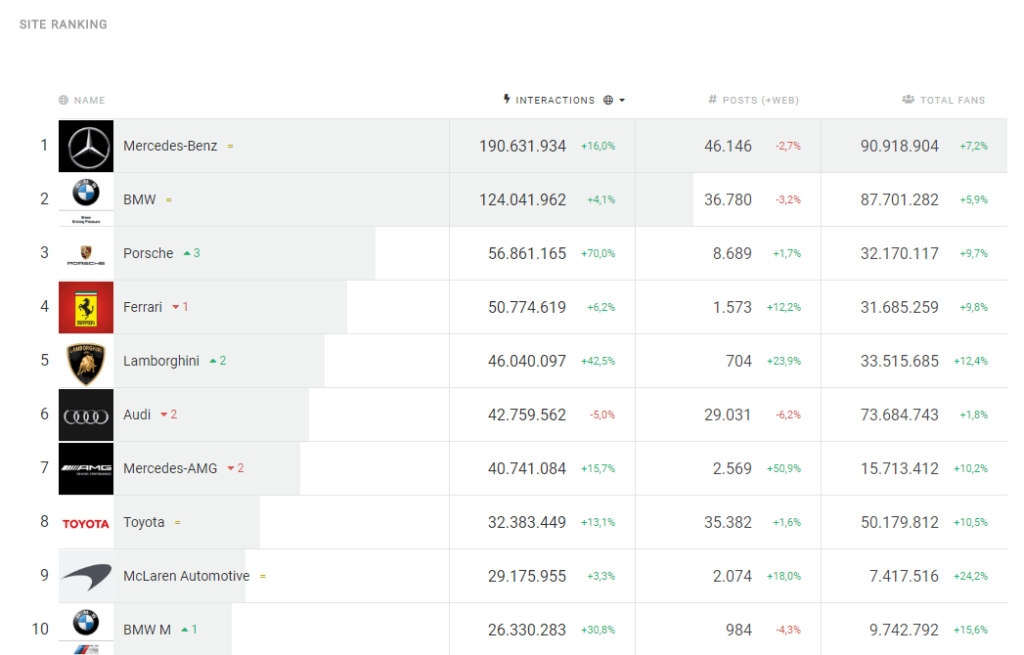 Next to Mercedes-Benz, BMW, Toyota, Citroen and Volkswagen are amongst the top 5 companies when it comes to being active and producing the most posts on social media.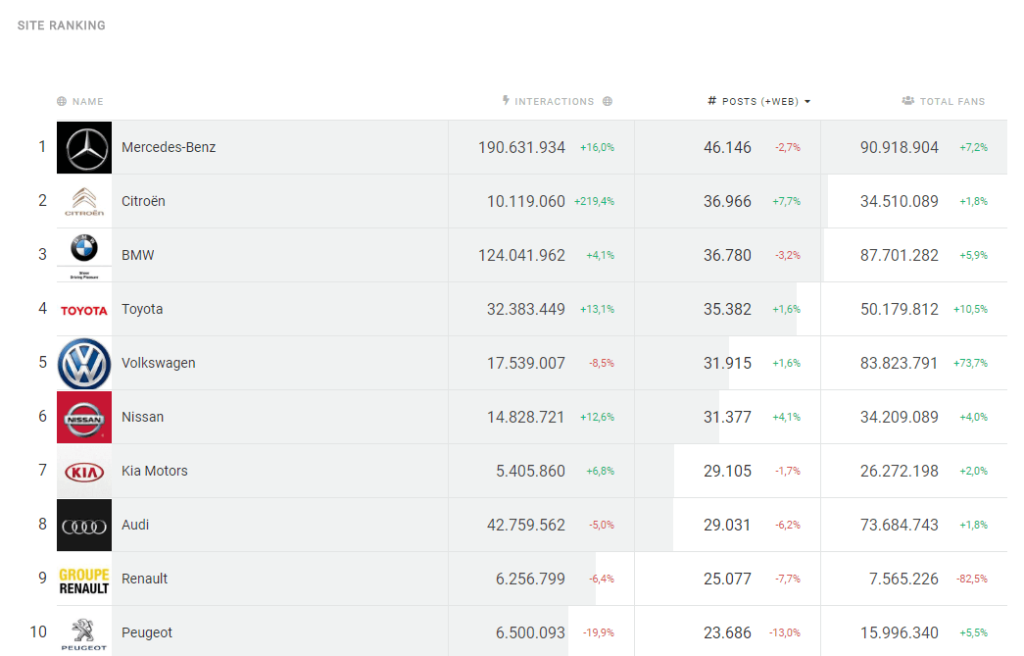 Based on the average interactions per post, we see the following results:
Lamborghini – 65.397 interactions per post

Ferrari – 32.278 interactions per post

Porsche – 6.544 interactions per post

Mercedes-Benz – 4.131 interactions per post

BMW – 3.372 interactions per post

Toyota – 915 interactions per post

Volkswagen – 549 interactions per post

Citroen – 273 interactions per post
Number of posts
When we look at the number of posts since January 1st, Mercedes-Benz is no. 1 with 46.146 posts but the French automotive company Citroen is a close second (36.966).
Facebook interactions
Toyota, a familiar face among the top car brands, placed 3rd at the beginning of the year but dropped down to 8th place. The Japanese brand has over 22 mio. Facebook interactions, whereas no. 2 Citroen and no. 3 Chevrolet only have around 8 to 9 mio.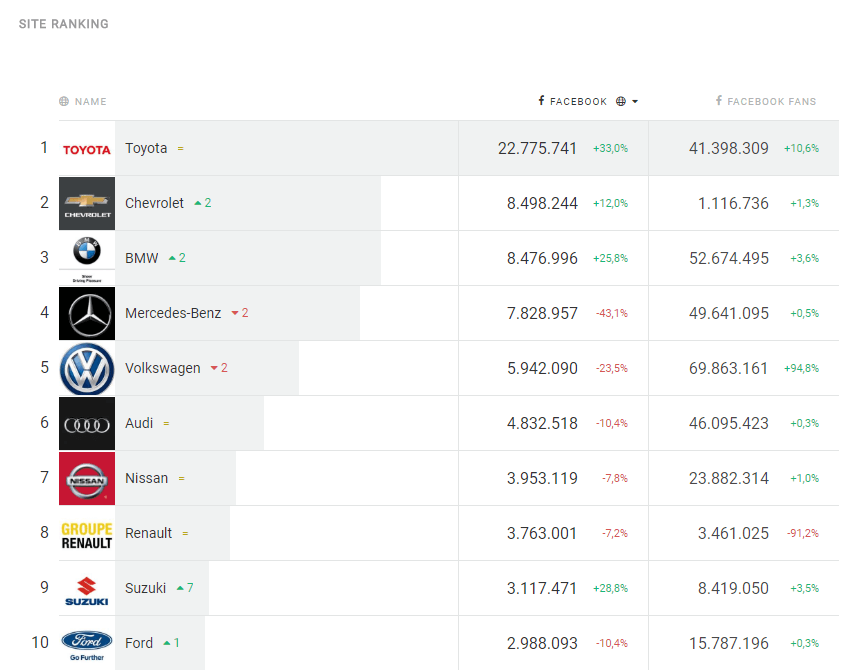 Instagram interactions
The ranking of the top Instagram performers looks like this:
Mercedes-Benz is in 1st place with around 181 mio. interactions, BMW is in 2nd with 114 mio. interactions and Porsche places a distant 3rd with 55 mio. interactions on Instagram.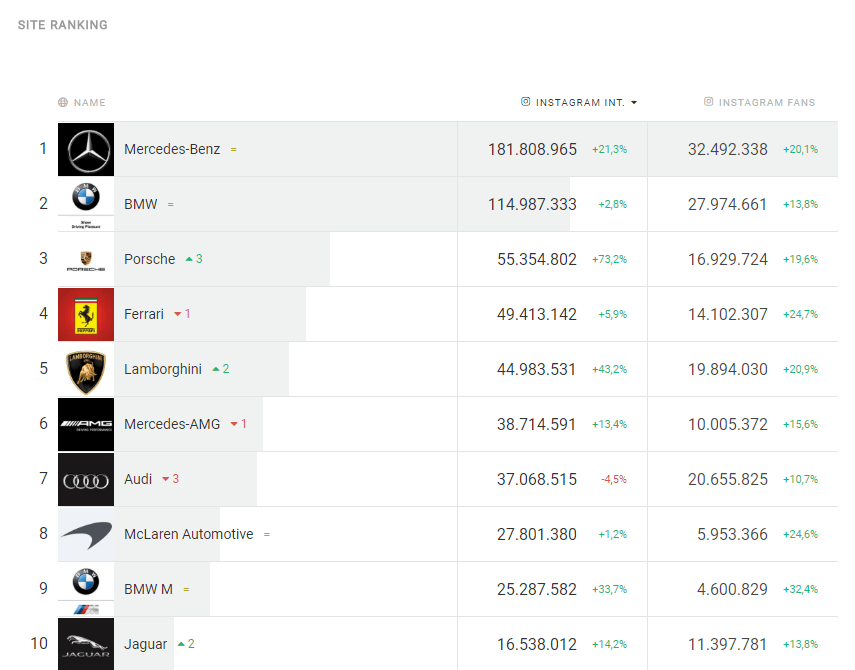 Twitter interactions
Most brands do not focus on posting on Twitter. However, Tesla concentrates the most on this social network. As you can see, there are different top players in the Twitter field: after Tesla we also have Mercedes-AMG followed by the American company Dodge.
One can now assume that Elon Musk's love for Twitter rambles transfers to the company's communications strategy, but that could just be a coincidence. 🙂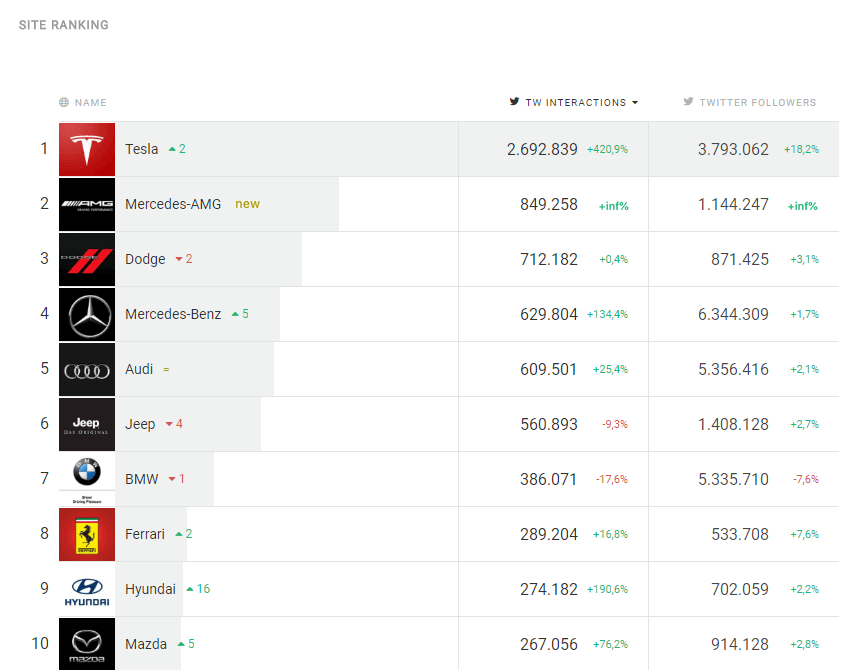 And last but not least: Let's have a look at a comparison of the three best performing automotive brands on social media and their top posts: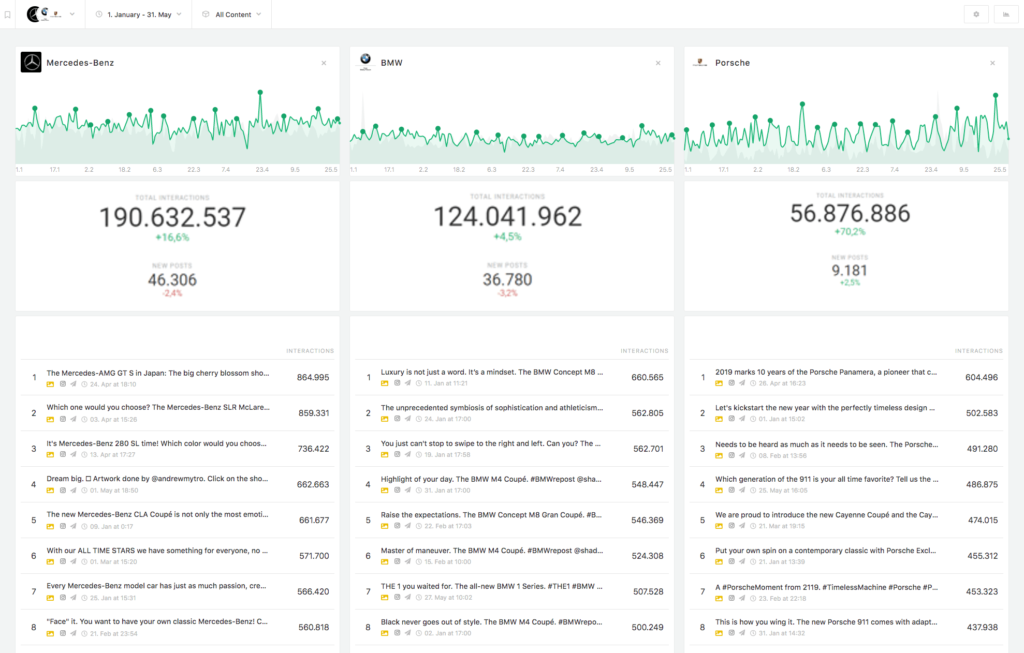 Hint: With the "comparison module" of Storyclash you can see the top KPIs, a historic development, plus the top 10 performing posts and their details. It just takes a couple of clicks. Just sign up here and learn more about Storyclash or log in to your account.
So… what are the top 2 brands doing that make them so successful?
Now looking at the top 20, it seems clear that the no. 1 and no. 2 automotive brands must have some kind of secret for earning lots of interactions.
Let's take a look into their top-performing posts. On a surface level one can differentiate the content types and platforms to see where the best automotive brands publish their content and, of course, what kind.
BMW and Mercedes-Benz focus on putting out photos on the platform Instagram, whereas Toyota—who placed third in January—published more posts on Facebook. These were not only photos, but videos as well.
After some great performing posts within their "50 years of Hilux" campaign in January, Toyota lost their position as the brand's interactions decreased drastically by 50%.
In the following months, the Japanese automotive company realized the trend around Instagram and started to put out more content on there. We discuss this in the following section.
---
The trending posts of 2019
Here is an overview of the 15 best performing social media posts of automotive companies in 2019.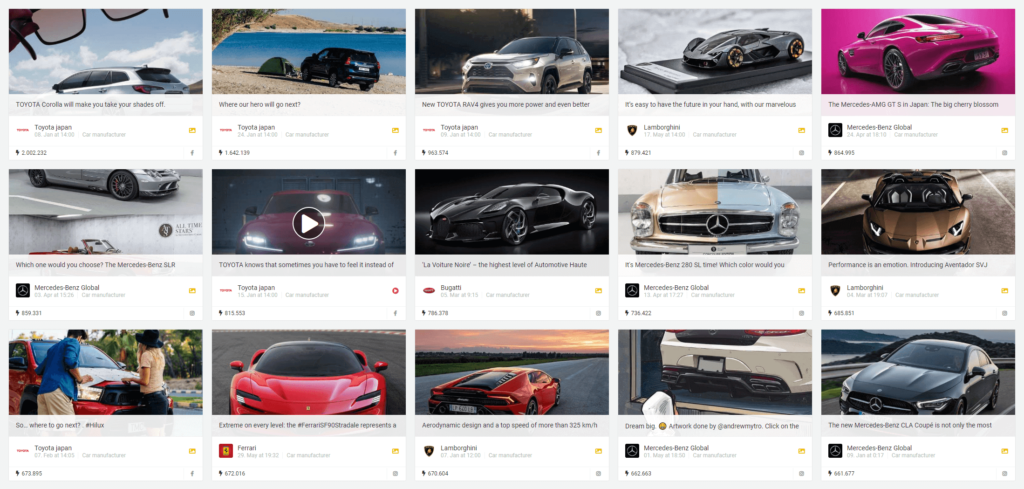 Hint: Switch to "Grid view" mode when you want to look at posts. You can see larger images and immediately get an idea and feel of what the top posts are about.

Fun fact: When it comes to content type, only one video made it into the ranking: a video from Toyota (the other posts are pictures). Interestingly enough, the top 3 posts aren't from Instagram as one would expect. Though the most successful posts from Mercedes-Benz, BMW and Porsche are on Instagram, the top 3 are actually from Facebook. Still, the best performing Instagram post is from Lamborghini and it ranks at 4th place.

Something to notice is that basically all top posts show just simple pictures of cars in a futuristic or natural environment. There are no crazy edits or shots. One picture even features a drawing from someone else (post no. 14 from Mercedes-Benz).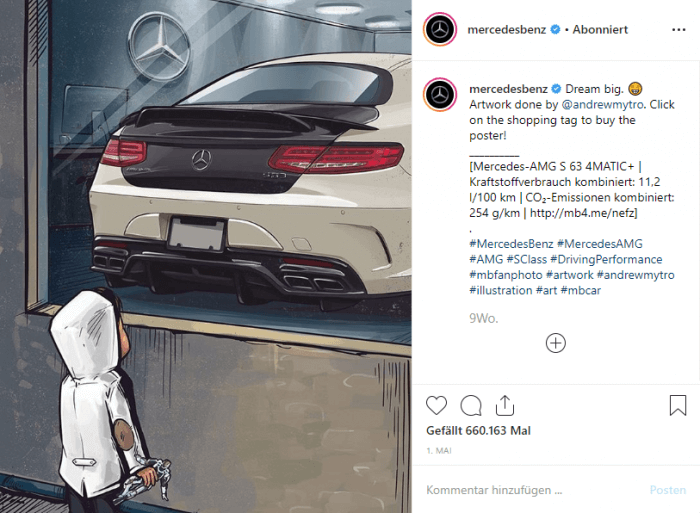 Regarding the platforms:
5 posts are from Facebook

10 from Instagram

There is no top post from Twitter or YouTube
The top 3 Toyota posts are almost too basic: one sentence, no hashtags, no emojis. As you can see in the picture below, they don't engage their audience; they don't even state the facts about the pictured car.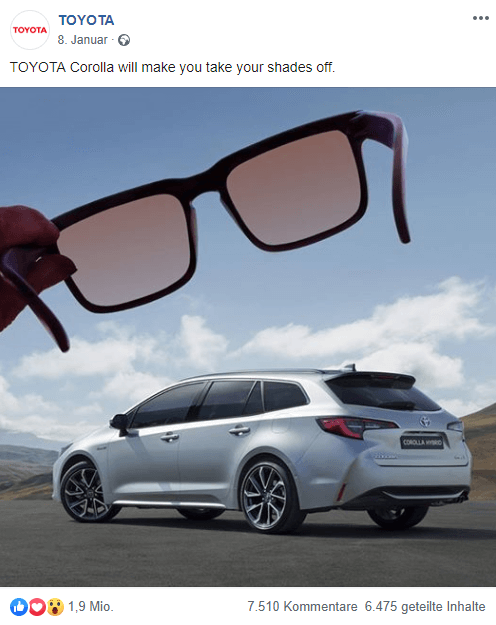 The others, Lamborghini and Mercedes for example, put more detail into their posts. They also use hashtags and try to interact with their audience by mobilising them through a CTA.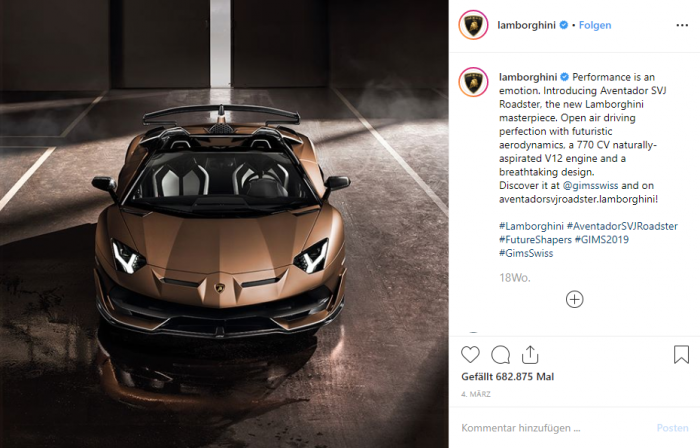 ---
Concluding thoughts on the automotive industry on social media
We have seen that the posting strategy of Toyota works out well for them. They post simple pictures and captions, and they don't even need to branch out to different platforms.
Although their posts perform very well, they still have to grow to reach the interaction levels of the top companies.
Mercedes-Benz continues to be in pole position after their very good run in 2018. By analysing the mentioned data points, Mercedes seems to be in perfect position to also dominate 2019. A well-executed social media strategy of BMW allowed them to secure a great spot in our rankings, making them the number 1 competitor of Mercedes-Benz.
One company that assumedly performs very well on digital platforms—Tesla—is ranked surprisingly low. It seems that Tesla follows a different strategy, especially when it comes to Facebook and Instagram, which are the leading platforms for automotive brands.
It must be stated: automotive brands are amongst the top social media brands overall, since even our current German brands ranking includes 6 automotive brands.
We definitely have to keep an eye out for cars on social media!
---
Download full report for free
To get the full insights on how automotive brands use social media, download our report for free here:
If you are interested in finding out more insights about certain industries and their social media performance, stay tuned for the upcoming articles on retail, influencers and more! In addition, we highly recommend that you conduct your own social media monitoring with Storyclash.