Before we jump into this article we need to talk about what an influencer is and isn't.
For this analysis we focus on bloggers, located in Germany, who have a large follower count and whose posts get lots of interactions. Those are the 2 KPIs we take into consideration when we measure what social media accounts, operated by individuals, influence their audience.
Taking into account the social media data from Facebook, Instagram, Twitter and YouTube from this year so far (1/1/2020 – 2/24/2020) we get a bigger picture of who is getting the most likes: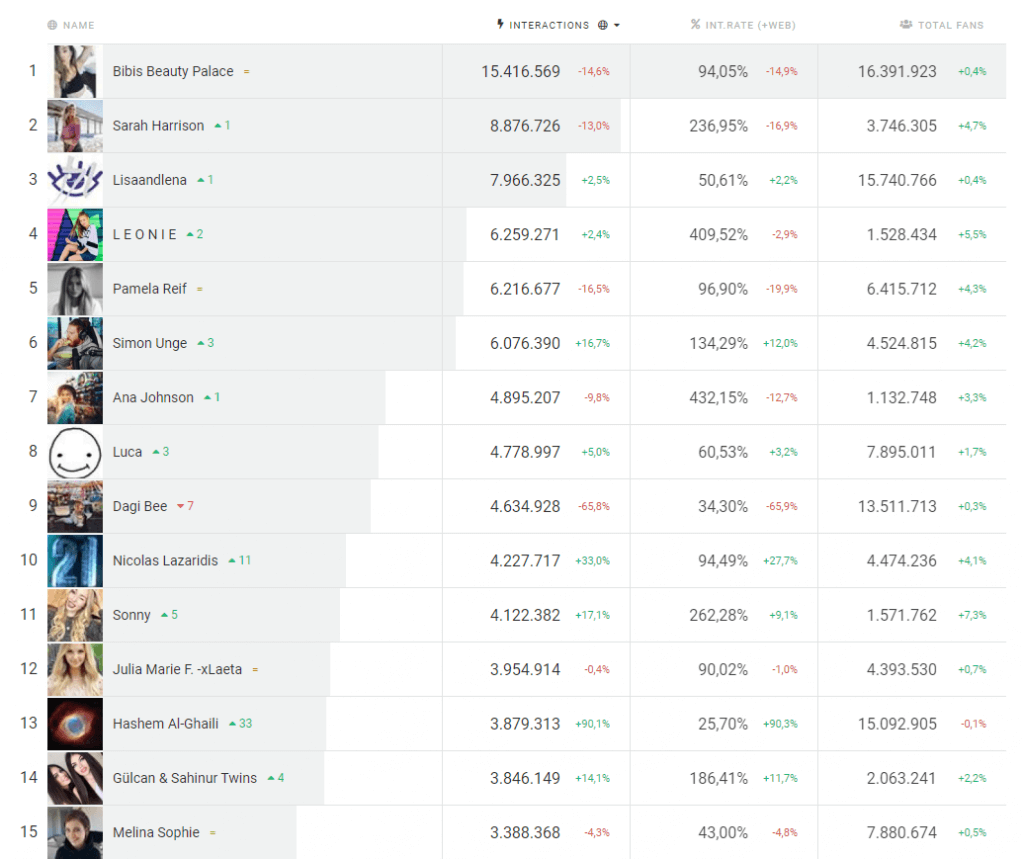 Bianca Claßen (Bibis Beauty Palace) dominates the influencer scene in Germany. Cologne-based Claßen started on YouTube and moved over to Instagram later on. Right now she has a fan base of 16.391.923 followers.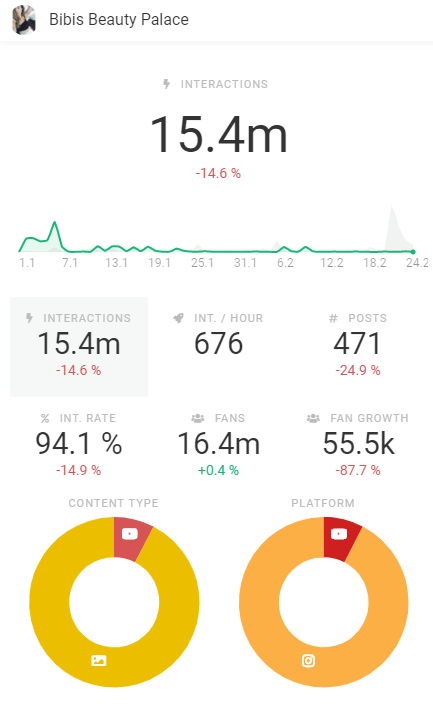 She posts mainly on Instagram but also on YouTube, where she uploads multiple times a week. She gains most interactions through Instagram though.
Following up with the next four influencers in our list, we see similar accounts to Bibis Beauty Palace: Young 20-something women who mainly post on Instagram and target a younger audience through beauty, fashion and lifestyle pictures.
Let's switch it up and look at the social media data of one of the biggest German male influencers, Simon Unge: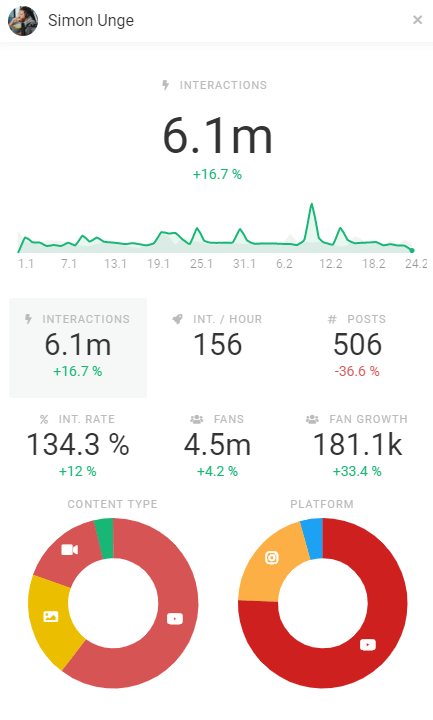 Mostly active on YouTube, the gamer shows a different side to an influencer's activities.
While most influencers post about all things lifestyle, beauty and/or fashion, there is also a big market with gaming and streaming which is predominantly male. Other influencers like Luca Thilo Scharpenberg ("Luca") or Nicolas Lazaridis entertain their audiences with let's play videos, comedy and vlogs. One exception to what we see here is Hashem Al-Ghaili. Not only does he mainly post on Facebook, he also isn't your standard entertainer. He talks about science and shares the latest news and inventions in this field.
What kind of content gets the most likes?
Although there are different types of content producers, as we just stated above, the content pieces with the most interactions look strangely similar.
In 2020 the five posts with the most interactions are from Bianca Claßen and show her with her husband and child.

When you look up paid promotions and ads specifically, different posts show up. The top five posts with the most interactions are from gaming & comedy Influencers — interesting!

Why German brands should work with nano-influencers
Clearly there is no easy answer to which influencer best fits your needs when talking about partnerships and Influencer campaigns.
Most big and successful German influencers cater to similar needs. They talk about their personal life and share advice, give beauty and fashion inspiration or entertain you with comedy and games.
But what if you want to work with an Influencer who is not widely known? Does that work?
Nano-influencers have around 1.000 to 10.000 followers and are the smallest category of influencers, followed by micro-influencers, who have 5.000 to 100.000 followers.
At first it may seem that nano-influencers don't have the reach that you might want.
Reach = interactions = sales, right? No, not quite.
There are a couple of reasons why you don't need to invest thousands of euros into influencer collaborations. Working with smaller creators has lots of benefits as well.
Higher interaction rate: Creators with less followers usually have a higher interaction rate due to their more active audience. Users like to interact with smaller creators because the change of "being noticed" or getting a reply by them is bigger than chatting with your favorite singer or actress on Instagram.
More authenticity: People tend to trust influencers, who have a smaller following compared with big social media stars. Their content feels more private and intimate. Most smaller creators take you through their days and show you their real life whereas bigger creators' profiles may come across more staged. They don't have the lifestyle of their followers, which can result in the users not caring or trusting them as much.
Targeting niches: Nano-Influencers are either just rising stars or they cater to a very specific audience. If the latter is the case, you might have a harder time finding them — but if your brand fits theirs, congratulations! You have found the perfect candidate for representing your brand to your specific target group.
Cost effectiveness: Nano-influencers charge less money (or even no money at all) than micro- or macro-influencers, because they don't have the reach and the popularity the big ones have. Even though they cost less, you will be pleased with the results you get through your joint social media marketing campaign, thanks to the three previous points mentioned above.
Are you interested in more insights into the world of influencers? Then get in touch with us, we would love to hear from you!
Also don't forget to check out our latest article on finding Instagram Influencers.