'What if I spend € 100.000 on a couple of sponsored posts? What if we hire one additional social media manager and two additional content producers? How much more can we get out of social media? How much more revenue can I expect?'

If you have ever heard that sentence or something similar, well, welcome to the club of social media management! Social Media Managers, influencer associates and social media agencies know the daily struggle of explaining and showing how the world of social media marketing works.
What we want:
Time + Money in → Social Media Magic → More €€€
Getting started with your social media campaign reporting
A great, and probably the easiest, way to show the results of your hard work of coming up with the perfect social media strategy for your business is to follow up with a bomb-ass report after the campaign.
This blog article will help you put together an easy to understand report which—on the one hand— fulfills every CEO's dreams, and on the other hand shows the relevant KPIs to pin down the success of the campaign. Evaluating campaigns is essential to move on with even better social media strategies.
Storyclash specializes in the reporting of organic campaigns, so social media ads won't be taken into account. But feel free to use the following tips and consider them when reporting on an ad campaign as well! :-)
What do you wanna say with your report? And to who?
First of all, we need to set the stage: What do you want to report? To whom are you reporting? And why do you need a campaign report, overall?
Answer those questions and think of the most important things that highlight the purpose of the overall campaign.
Most of the time you will use your report to:
Report the success of your social media campaigns overall

Evaluate strategies and benchmark for yourself or your team

Assure your stakeholders (e.g. CEO, Head of marketing, team) that you did good work
Definitely include the following points:
Starting point: what is the status quo of the task, what are the challenges right now?
Goal of the social media campaign: what do you want to achieve with the campaign
Strategy for each social media platform: plan the distribution of the content per social media platform you want to work with
Definition of target group: who do you want to market to?
Content assets: include pictures, videos, links, etc. that you want to share in your campaign
Timeline: think about the time period of the campaign, when to start and when to end
Estimated outcome: what do you think is realistically achievable with the campaign?
Lessons & future campaign possibilities: summarize the campaign performance and think about further social media campaigns for the future
optional: media budget plan: of course you can include the budgeting of the media assets as well
You can probably score some extra points by paying attention to who you are reporting to:
CEO: Create a CEO-proof report by building it in an easy to understand way. Include only the most important metrics like budget, interactions and media value and add a summary of why this campaign worked out or not (and suggest ways to improve it).
Yourself and your team: Tricking around doesn't make sense when it's yourself who wants to see the results. ;-)
Clients: They pay for everything you do, so make sure to show them what steps it took you to set up, execute and report the campaign in order to develop trust.
This is how your social media report can look like
Of course there are many ways of putting together a report. Surely you went down the road of using Excel sheet, Powerpoint and all the other business tools to whip up something.
When using Storyclash you can create a simple report which only takes you a few clicks.
Campaign Reporting Example
Congratulations, you made it through introducing and structuring your campaign reporting. Now it's time to actually monitor and report the social media activities. And this is how you do it!
Let's assume we are the German pet food brand Wildes Land and we want to monitor and report our latest social media campaign #nieohnemeintier".
Through this campaign, the brand wanted to create awareness for the rising number of people dropping their pets off at shelters, because they were afraid of catching covid-19 through them.
Here's how an initial report with Storyclash might look like. The overview shows all relevant metrics for this campaign in one glimpse.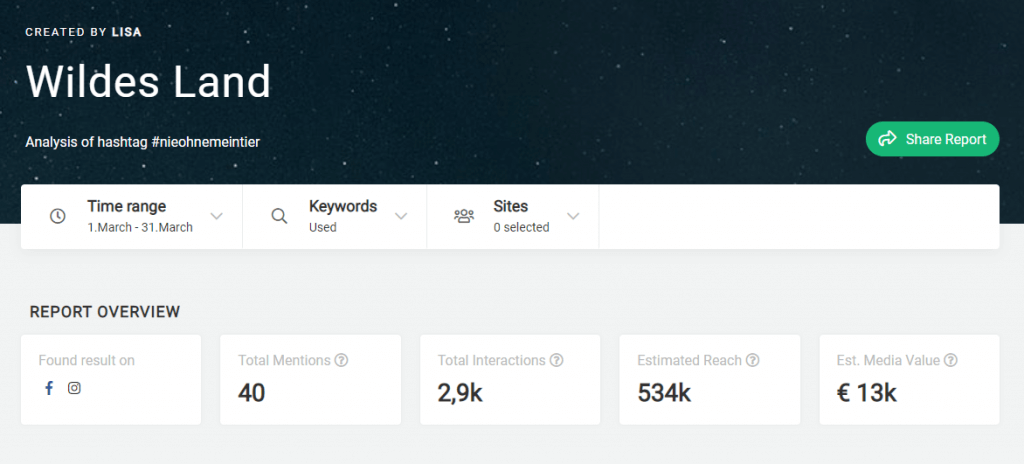 (source: Storyclash report)
Settings explained
| | |
| --- | --- |
| Time range | time period of your campaign |
| Keywords/Hashtags | your campaign-specific keyword or hashtag |
| Sites | social media accounts that are talking about your brand |
| Found result on | social media platforms on which people mentioned your campaign |
Metrics explained
| | |
| --- | --- |
| Mentions | how often your keyword or hashtag was mentioned |
| Interactions | number of likes, comments, shares and other reactions |
| Estimated Reach | how many people potentially saw your post |
| Estimated Media Value | this is a KPI to measure the value = return of your social media work. |

(source: Storyclash report)
Top Stories: As Stories are one of the most used formats these days, evaluating your campaign without taking them into account would distort your data.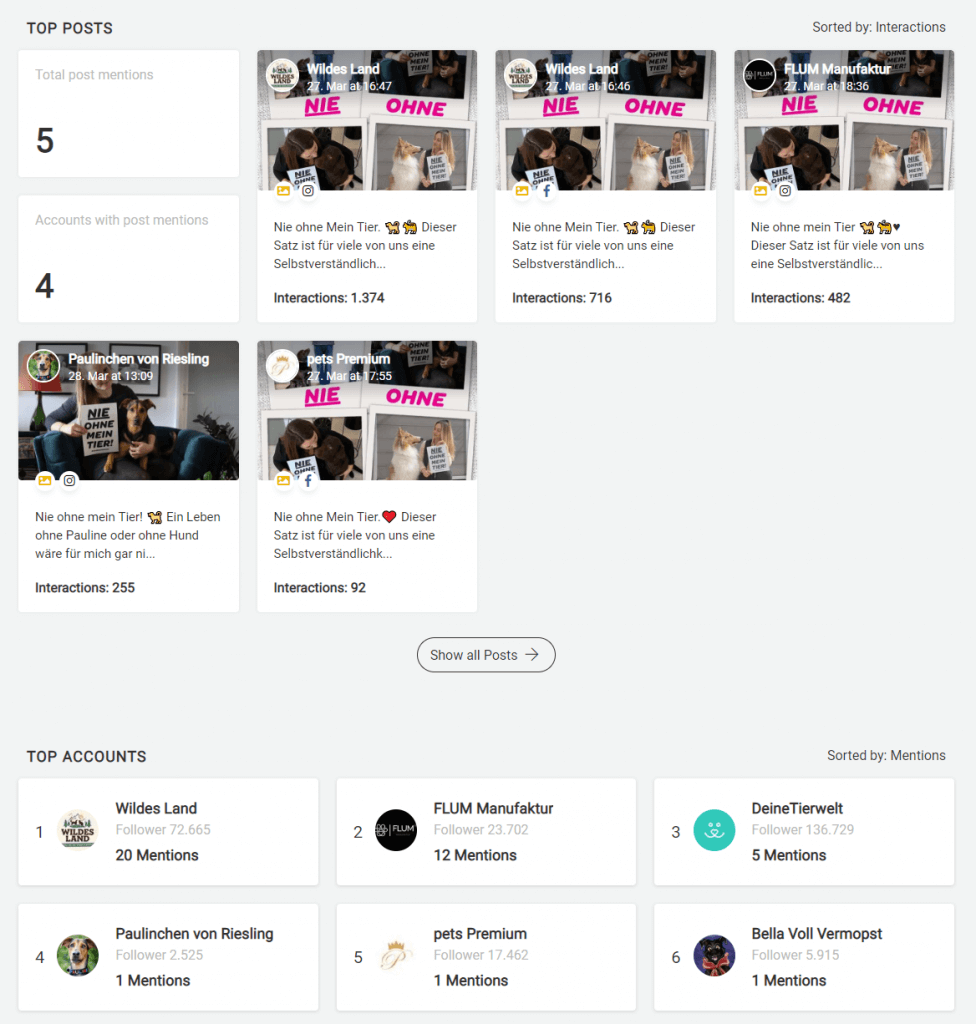 (source: Storylash report)
Sorting by interactions and mentions allows you to find the top posts and sites who contributed to the success of your campaign the most, while also enabling you to evaluate the less successful performances of other sites.
Top Posts: What were the top performing posts of the campaign? Check them out sorted by interactions.
Bonus tip: Analyze top content
Insert the top 3 performing posts and stories of the campaign and analyze them.
What do they have in common? Is there something I can identify and add to my buyer's persona or my typical social media fan?
Try to come up with a couple of similarities in the top performing content assets and collect your findings. Compare them to your current target group's profile and improve your knowledge about your actual audience.
For example:
Where are the top posts coming from — meaning which platform are they on?
Do the Influencers who posted about it have something in common, demographically speaking?
What is the post about? In this case maybe a specific animal or topic is talked about?
Top Accounts: Who contributed to the campaign? If it's the goal of your campaign to involve Influencers to expand your reach, you can check out who mentioned your campaign the most.
Qs and As from your CEO or clients – what to say
Some quickfire questions and answers for situations you will most definitely face. Get your battle cards ready.
Q: How do I compare to my competitors?
A: Through Storyclash's benchmarking feature you can compare various metrics to those of your competitors, quickly and easily with real-time data. Comparing hashtag campaigns, social media accounts or influencer collaborations works like a breeze.
Q: How does my campaign compare to last year's/quarter's activities?
A: Comparison works easily. Just use the Storyclash report solution and have a look at the performance of the data through different time periods. This allows you to easily compare your media value, reach and interactions across campaigns.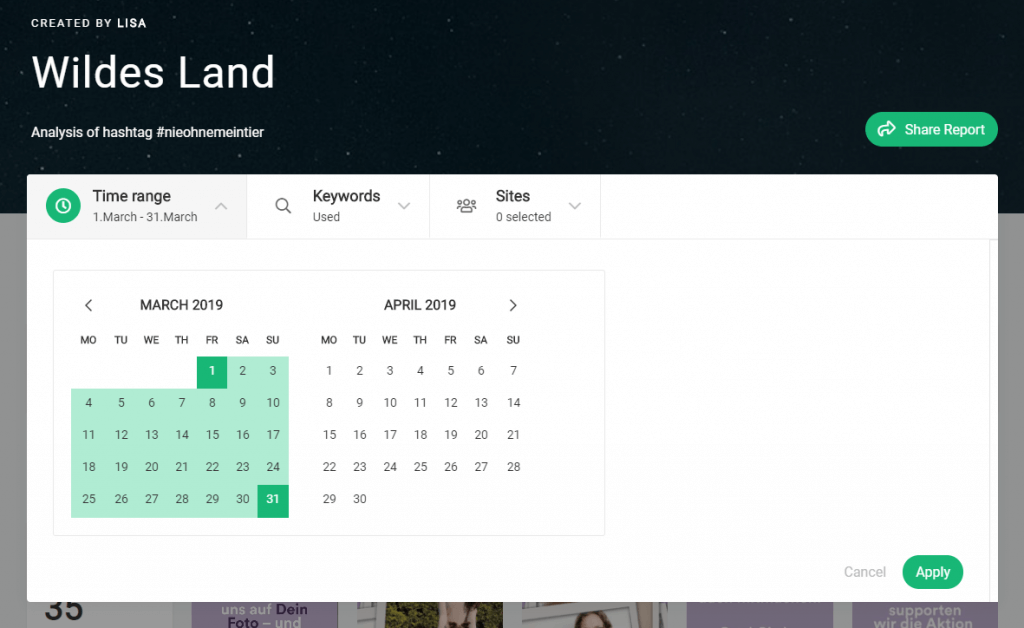 (source: Storylash report)
Q: How many people can I reach with my campaign?
A: While reach is an important factor in your campaign, it's definitely not the most important one you should focus on. Of course you want to spread awareness and want to be seen by as many people as possible, but to see if your content and overall social media strategy works out for the targeted group, it's better to measure interactions/engagement.
Q: Which formats and platforms drive the most leads?
A: Depends on the target group, your business, product and overall marketing strategy. B2B or B2C has a big impact on the overall strategy as well as the audience demographics. Just act accordingly to the targeted market and have a look at where your audience naturally hangs out online. Software solutions like Storyclash help you answer some of those questions and provide data instead of gut feelings.
Create your first social media campaign report with Storyclash
Want to learn more about how a social media monitoring and reporting solution like Storyclash can help your social media team? Give Storyclash a try and create your social media report today!
P.S. For further inspiration you can find some social media campaign examples on this page. Check out some examples from Nike, Mazda or Aldi.