Looking at the last 3 months of social media data for the world's globally established airlines, there was a clear leader based on several social media-relevant KPIs: Etihad Airways. Let's dive into the numbers and determine what made Etihad the international airline to beat from November 2019 to now.
Etihad Airways at a glance
Etihad Airways may not be as well known as Emirates Airlines or Qatar Airways (it's the least-followed of the three based on social media followers), but the UAE air carrier earned more than 3x the total number of social media interactions as both Emirates and Qatar combined:
39.7 million interactions is no small achievement, and that's also considering that Etihad Airways had a decrease in performance of -4.9% compared to the previous 3-month interval. Emirates barely cracked the 6 million interaction mark, a total that Qatar narrowly missed itself. By these metrics alone, Etihad dominated its fellow competition in the Top 3, not to mention the rest of the world's airlines.
Here's a snapshot of Etihad Airways' social media monitoring profile, calculated over the past 3 months from November 2019 through January 2020. You can see various interaction statistics in addition to other KPIs such as total number of posts through that given period, fan data, content type and platform figures:
Analyzing the data
| | | | | | |
| --- | --- | --- | --- | --- | --- |
| | Total Int. | Int. Rate | Total Posts | Total Fans | Fan Growth |
| Etihad | 39.7m | 569.7% | 651 | 7m | 116.700 |
| Emirates | 6m | 34.7% | 986 | 17.4m | 378.400 |
| Qatar | 5.9m | 28.3% | 1.800 | 20.9m | 2.3m |
Etihad has 7 million combined fans across Instagram, Facebook, YouTube and Twitter, with a growth metric of 116.7k fans through the 3-month date range. They posted 651 total posts between Nov. 2019 and Feb. 2020 — pulling in 39.7m interactions — and their interaction rate is 569.7%.
Compare that to Emirates and Qatar, who have 17.4m and 20.9m combined fans, respectively. Their fan growth is 378.4k (Emirates) and 2.3m (Qatar), dwarfing Etihad's fan growth by comparison. The number of total posts within the 3-month period is 986 for Emirates, 1.8k for Qatar, yet only 651 for Etihad.
However, here is perhaps the most intriguing KPI of them all: interaction rate.
569.7% for Etihad, 34.7% for Emirates, 28.3% for Qatar.
569.7% interaction (651 posts)
Less total fans, less fan growth, less total posts.
Yet despite it all, Etihad had more total interactions and a phenomenal interaction rate too. What this means is that Etihad is much more efficient with their post-to-interaction ratio. They've achieved this with less fans, engaging the fans that they do have, getting through to them better.
The next logical question is: how?
Content comparison
Let's compare the top posts of each airline and contemplate how Etihad is successfully earning millions of interactions.
Etihad Airways' top posts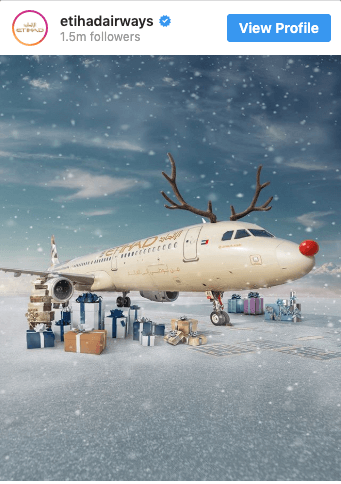 A fun and festive holiday Instagram picture of an Etihad passenger jet with a giant red Rudolph nose, complementary giant antlers and wrapped gifts in the place of regular cargo?
We can't think of anything that would make this a more engaging holiday post for an airline brand. Oh wait, yes we can: add snow. Check ✔
This Instagram picture pulled in over 1 million interactions for Etihad; in fact, their Top 3 posts from November through January each earned over 1 million interactions!
A quick look at the interaction numbers for the rest of their Top 10 posts during that period, eight of which were Instagram pictures, reveals per-post-totals in the 800k to 1m range. That's nearly 10m interactions for just 10 social media posts, and they were all pictures (Etihad's 11th top post was a video which pulled in 782k interactions).
The airline's Instagram profile is an excellent snapshot of the engaging social media posts that are typical of Etihad across each of their platforms. Here's what we noticed:
Each post / picture is always themed around their passenger jets, staff, or travelers and their destinations.
If there are people featured in the photos, they're always smiling.
All of the posts have a unifying aesthetic theme. The filters are consistent, and each photo has a touch of gold that connects them to the brand colors.
Top Posts of Emirates Airlines and Qatar Airways
By comparison, Emirates' best post was also a holiday picture. Theirs earned 201.402 total social media interactions via Instagram on New Year's Eve. Qatar Airways opted to go the video route, earning 777.856 total interactions back in November for their Instagram video announcing Qatar Live, their new music concert series. With 8.7 million views on IG, it's safe to say that videos are working for the popular airline brand's social media efforts.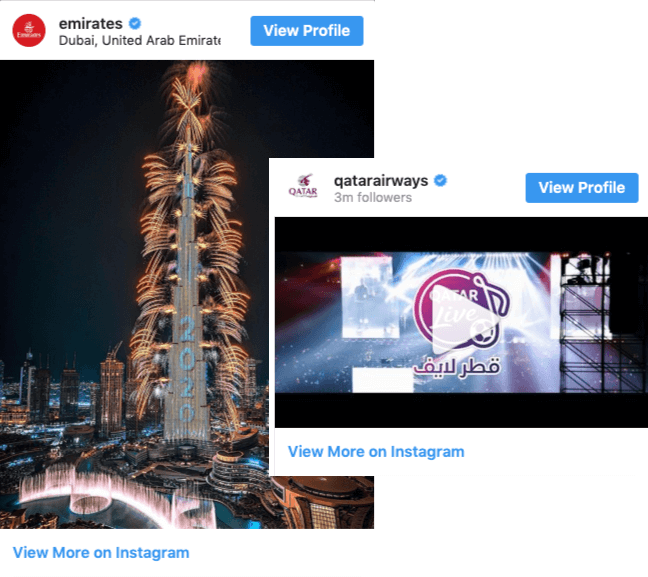 As you'll observe below, it follows that these content type preferences have worked for each of the airlines mentioned.
Content types of social media-savvy airlines
Here's a breakdown of the types of content that Etihad, Emirates and Qatar are posting across each social media platform. The yellow sections represent pictures, while the red sections represent video. Blue represents articles.
Etihad Airways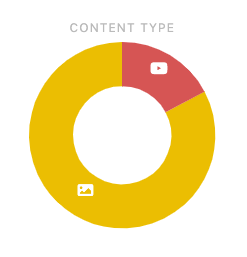 Emirates Airlines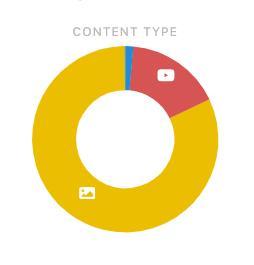 Qatar Airways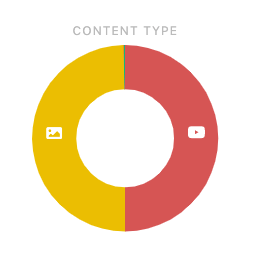 | | | |
| --- | --- | --- |
| Etihad Airways | Emirates Airlines | Qatar Airways |
| | | |

Clearly Etihad has found consistent traction with pictures. All of their Top 10 posts are pictures, and each one pulls in a massive amount of interactions. That doesn't mean they don't post videos, though. Brands will always have their go-to content type, and generally pictures are easier to create and edit than videos, but it's never a bad idea to mix up formats from time to time.
Emirates' content summary looks almost identical to Etihad's, except for a small sliver of blue which represents articles. Qatar appears to have an even split between pictures and video, with an even tinier sliver of blue. Since Etihad and Emirates lead Qatar in terms of interactions gained through 3 months, the formula of pictures as their content majority looks to be a proven one.
Using Instagram Stories
Whether or not social media presence has already been established, Instagram Stories is a must for any brand in 2020. Etihad Airways supplements their classic feed posts with Stories that fall into multiple categories, so there's something for everyone even when their primary content is airline travel-related.
A quick glance at the last 6 IG Stories from Etihad at the end of January reveals that they were running a charity campaign to support relief efforts for the Australian wildfires which took news headlines by storm. What is unique about this charity campaign is that Etihad asked viewers to donate travel miles instead of the usual donation funds that are typical with such campaigns.
The brand creatively committed to the fact that they're an airline, making sure that even when the spotlight wasn't on them, people would remember that they donated miles to feed and care for Australian wildlife in need.
The IG Stories of Emirates and Qatar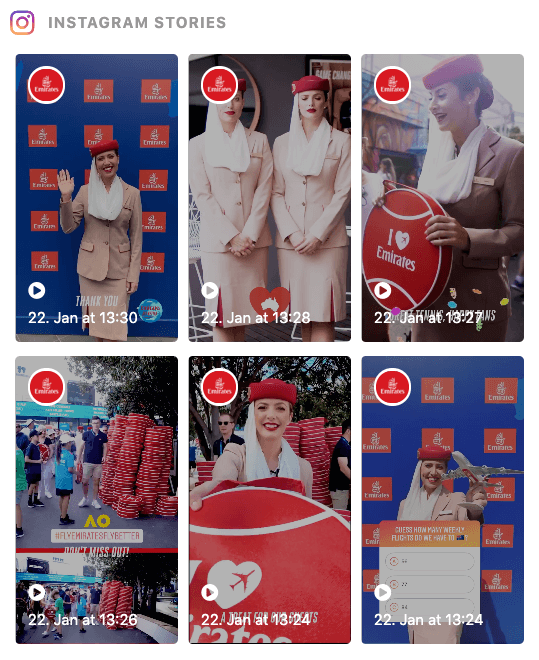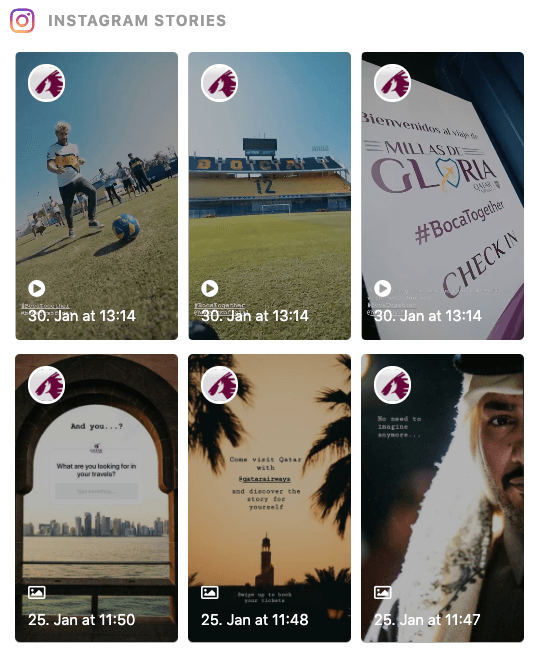 Emirates and Qatar stick to the travel playbook, showing smiling faces, travel destinations and brand colors as much as possible. All three airlines are very active on Instagram Stories, and it makes sense considering that the majority of Instagram activities happen on Stories.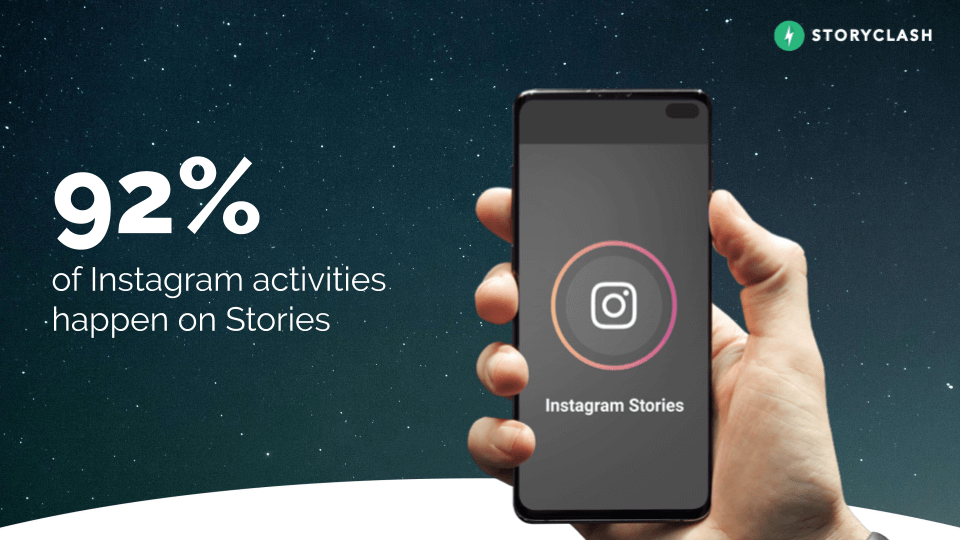 Takeaway points
Etihad posts less often but gains more interactions per hour than other airlines
Carefully curated photographed content that is on-brand performs well
High follower count doesn't always equate to high interaction rates
Instagram is the platform of the moment, but Facebook still performs great too
Don't fly blind! Learn how social media monitoring can help your brand
Interested in harnessing the power of social media reporting for your brand? We can help with that—just request access to Storyclash or get in touch with us!