Thanks to Instagram, we've seen an increase in the amount of food content on social media. Social media is the perfect playground for foodies and so-called food bloggers.
While food photography became an industry of its own, we see German food bloggers adopting the new social media trends — such as Instagram Stories or TikTok — quickly.
Using our own social media monitoring solution, we at Storyclash analyzed the food blogger industry and its content on social media. Read on to find out what we discovered!
#FoodPorn: What's trending?
Food porn, defined, means images of food presented in such an appealing and, well, titillating way — more delicious than health-conscious — that the food could be just as pleasurable as sex.
Let's be honest: We've seen plenty of posts with the hashtag #FoodPorn, and maybe we are guilty of posting one or two pictures ourselves on social media before enjoying a well-deserved meal with friends.

The term foodporn has been trending ever since Instagram grew its massive user base in the past few years. With more than 218 million Instagram posts, #FoodPorn is a thing. Even on Google search this trend can be seen. On average, there are 135.000 search queries per month for the term "FoodPorn."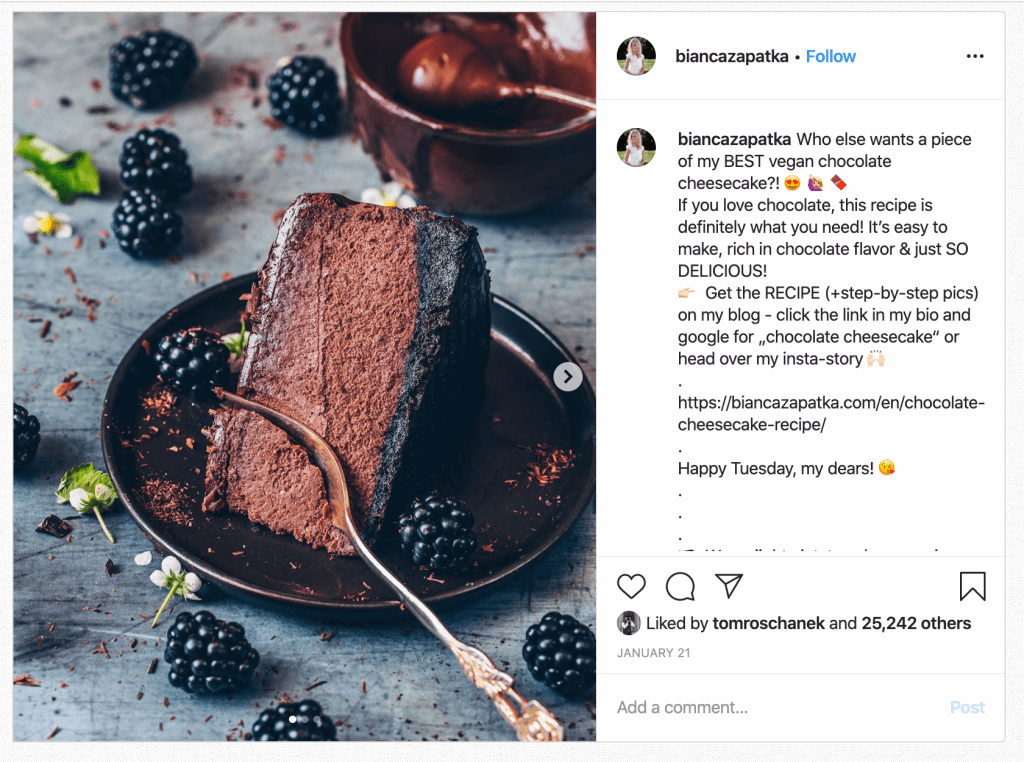 (With 25.000+ likes, this #FoodPorn post has been among the best performing ones in Germany over the last 3 months.)
There's no denying it: Instagram changed the way food brands and restaurants operate their businesses, and how we (as consumers) perceive the food we eat.
Instagram: The place for all the German food bloggers
Let's take a look at our list of German food bloggers on Instagram. Instagram is the leading platform for food bloggers in Germany as most of their activities and engagements take place there.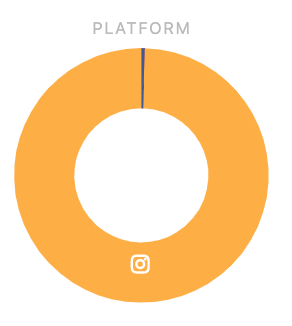 With 1+ million Instagram followers, Nora Eisermann & Laura Muthesius with Our Food Stories come out on top.
From an engagement perspective, you can see how important Instagram is for Our Food Stories' performance.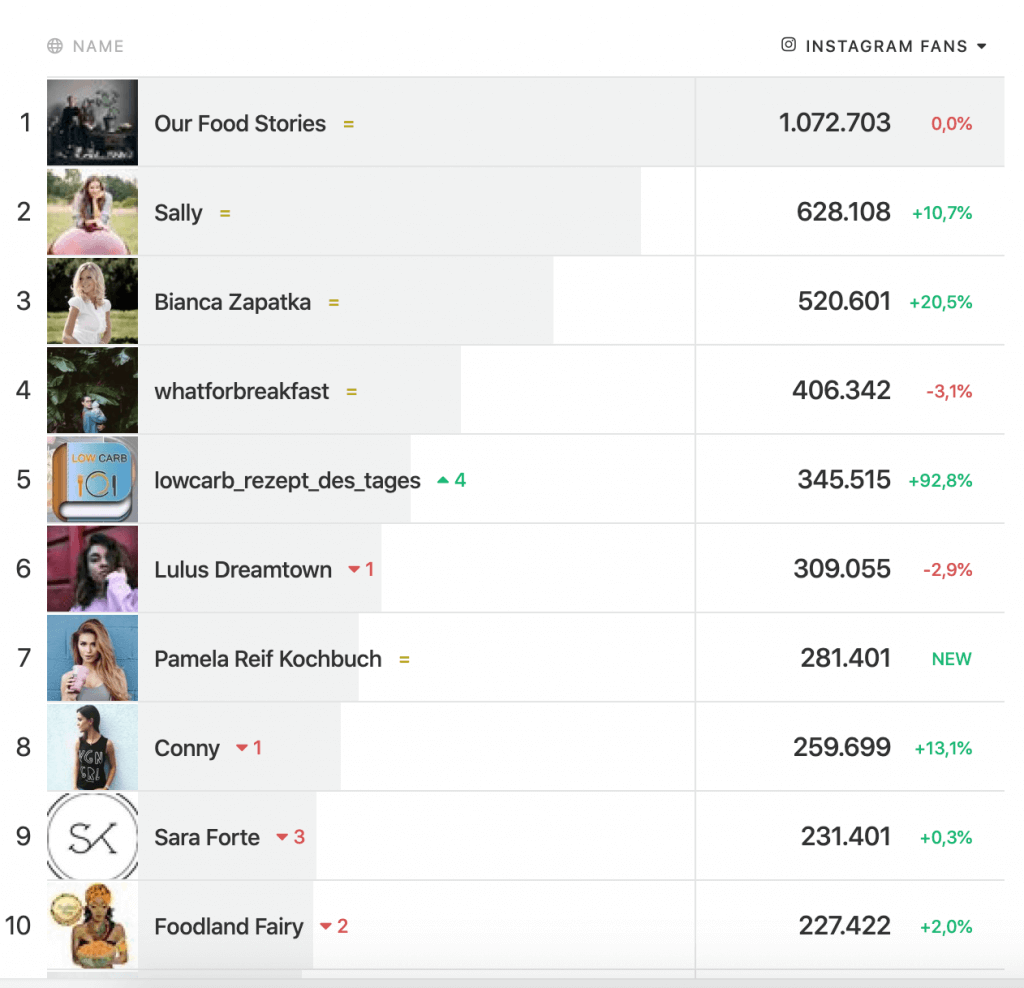 Based on the number of Instagram followers, the screenshot above shows the German food bloggers (state: 24.02.2020) (source).
250 food blogger - 17 million Instagram likes
When analysing the last 3 months (November 2019 until January 2020), we found some interesting insights. The top 250 food bloggers from Germany created 10.195 Instagram posts that generated nearly 17 million Instagram likes.
If we look at Instagram Stories, we even see some more impressive statistics.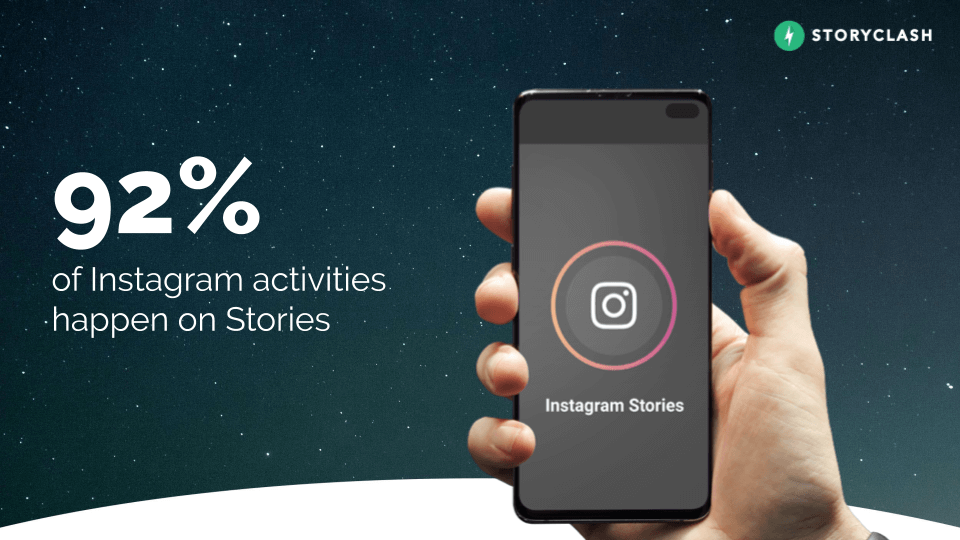 92,1% of all activities of German food bloggers happened on Instagram Stories. Or in absolute numbers: 118.392 Instagram Stories (compared to 10.195 Instagram posts) have been published by German food bloggers.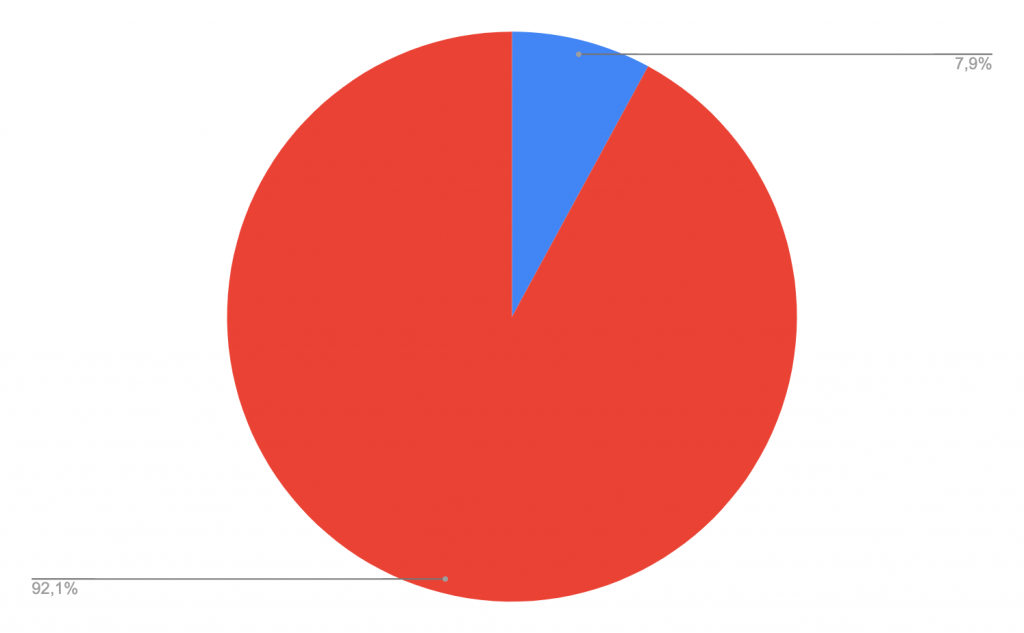 Want to see all the #FoodPorn Insta Story Content? Here's a compilation of all German influencers talking about FoodPorn in their Stories.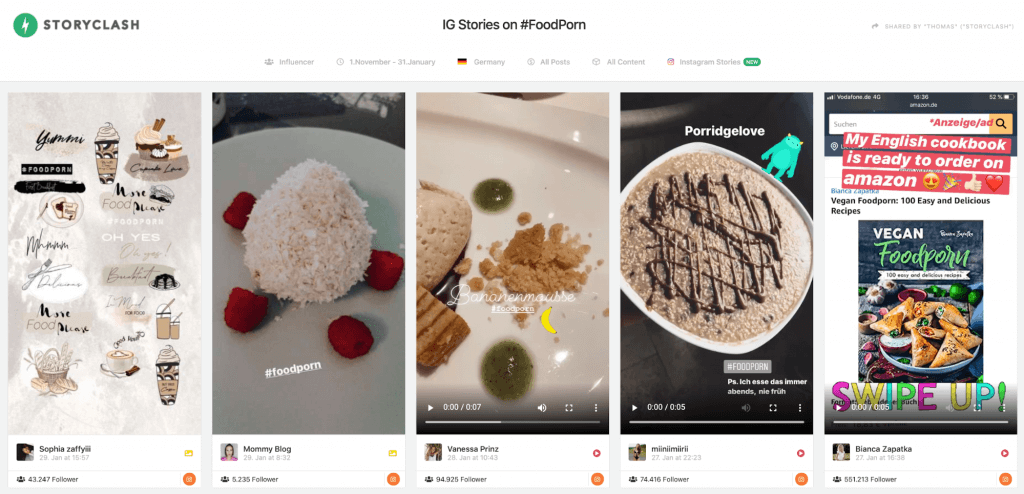 German food blogger statistics
Want further interesting statistics on the German food blogger scene? We at Storyclash dug through some data points.
Time period: Nov. 01, 2019 – Oct. 31, 2020
Analyzed: German Influencers
Platform: Instagram
1. #FoodPorn content performs better than the average Instagram post
Analyzing the German influencer landscape, we compared the performance of food-related Instagram posts to all Instagram posts.
FoodPorn: On average, an Instagram Post with #FoodPorn generates 1.725 Instagram Likes
All: In the same influencer group, an average Instagram post generated 1.457 Instagram Likes
It can be concluded that Food-related Instagram posts perform above average compared to all Instagram Influencer posts.
2. Food images perform better than videos
If we take a look at food-related Instagram posts from German influencers, sorted by interactions, we can see that the top 10 are image-only.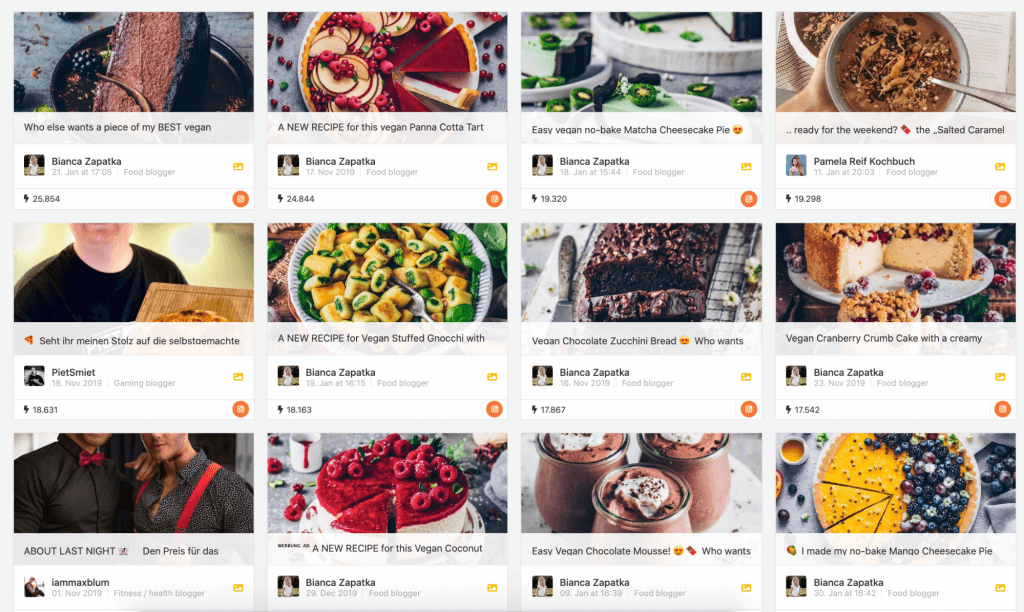 3. The trending hashtags among German influencers: Food, #FoodPorn, #Rezepte
If we look at the trending topics among German influencers, we can see the following hashtags performing well on Instagram.
#food
#foodportn
#rezepte
#breakfast
#frühstück
#healthyfood
#essen
#gesund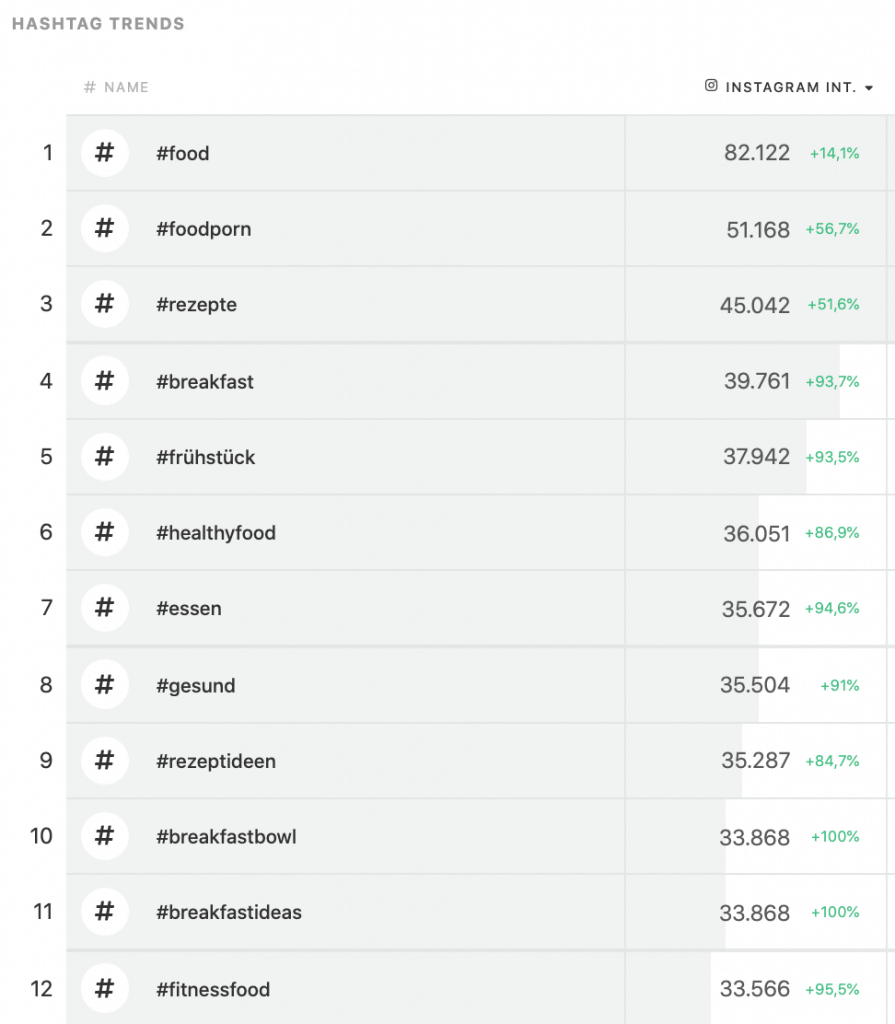 Brand - influencer relationships: What to look out for?
Is your brand thinking about influencer collaborations and utilizing the German food blogger scene? Here are a couple of tips to keep in mind when working with food bloggers.
Brand-fit: Which influencers match your brand and your offerings? There are various different areas and topics that are covered by food bloggers. Some of them are vegan, others are barbecue lovers. Which one fits your brand persona?
Sponsored content: When building up your influencer marketing, you want to keep a close look at branded vs non-branded content? With which brands is your influencer working with?
Engagement & return: Measuring the reach and engagement of certain influencer groups is the first step. But what really matters: How can certain food bloggers & influencers help your brand achieve your goal? (Little hint: Think about your goals — no matter if they're awareness- or sales-driven first)
Want to get the full expert-experience on leveraging food bloggers? Request access to Storyclash or get in touch. Our team is happy to help.