To read this article in German, click here.
The eighth and final season of Game of Thrones is now past the halfway point, so we conducted a social media analysis of GoT character chatter over the past 3 weeks. From episode 1 up to now, here's a data visualization of fan-favorite characters being talked about on social media! WARNING: potential spoilers ahead
You're seeing a daily progression of each major character as their names are posted on social media, using keyword and hashtag data from Instagram, Facebook, Twitter and YouTube. As each week goes by and a new episode airs, different characters enter the discussion thus affecting the flow of conversation and changing the overall results.
If you're caught up on the show, then it's even more interesting to make connections between episode events and the character data shown! For instance: during episodes 1 and 2, numbers show that the Night King steadily increases progression and eventually catches up to Jon Snow as anticipation builds toward their long overdue subsequent encounter.
From episode 3 to 4, keen observers might spot Arya sneaking up the ranks due to several spotlight sequences, eventually overtaking Jon Snow. Until now, however, the Night King reigns supreme as the most talked-about Game of Thrones character on social media. Winter is indeed here.
---
Top Posts
We also analyzed GoT character hashtag data to bring you an overview of Top Posts based on Facebook, Twitter, Instagram and YouTube interactions (these are summarized from all likes, shares, comments and reactions earned by trending articles). Similar to our previous Game of Thrones social media ranking, 9GAG sent many MANY ravens.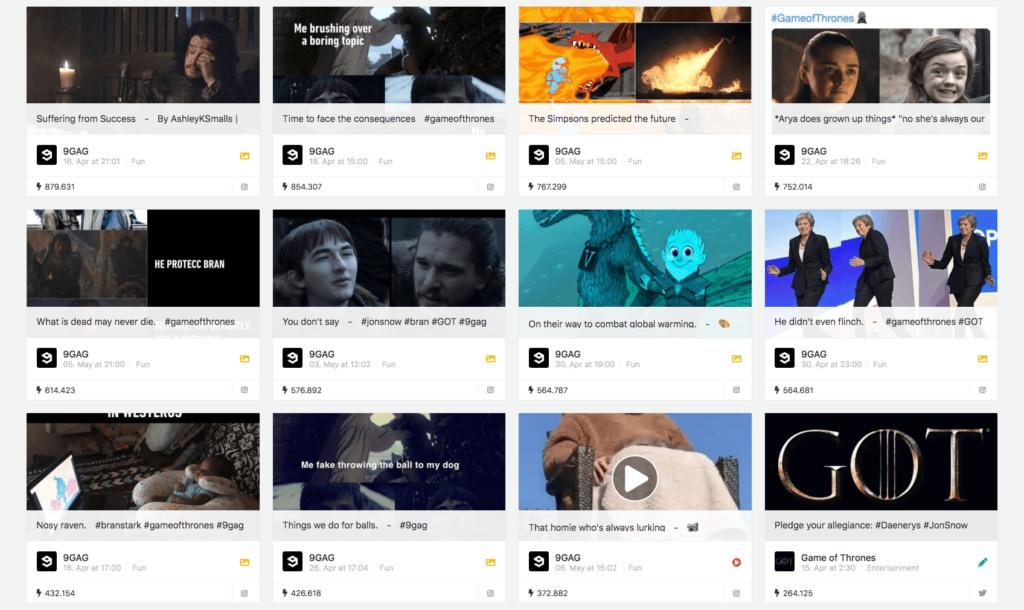 (to see more details on the posts above, sign up for a free Storyclash trial)
No. 1
9GAG earned more than 1.2 million interactions for this Instagram picture of the #NightKing and his White Walker boy band, which would actually make a good album cover. During the 3 weeks between episode 1 and episode 4, this was the top character hashtag post!
No. 2
This fictional encounter between the #NightKing and Thanos, the Avengers antagonist, is full of ice cold tension. 9GAG gained more than 1.1 million interactions for this post on Instagram.



a

View this post on Instagram
No. 3
The third most engaged social media post with a Game of Thrones character hashtag was this one, which referenced a couple of popular animated characters who #JaimeLannister shares a very accurate likeness with. The resemblance is uncanny!
About Storyclash
Storyclash is a social media monitoring tool. Brands, agencies and publishers monitor their brand, track their owned and earned media and find content trends as well as influencers with Storyclash. Everything in real-time. With our all-in-one solution.
Our brand new keyword and hashtag feature also lets you browse the social networks for exactly these parameters and shows you all the interactions! #awesome