What does it take to create a viral brand in social media and how long does it take to succeed in this task? How do you create a social media brand with strong reach with only limited financial resources? These are questions that are very difficult to answer. Looking at the search suggestions of Google, it becomes obvious how frequently these questions are thought about by various people. The German company "FutureTV" offers an answer to these problems: systematic, data-driven social media Content Discovery with intelligent software tools.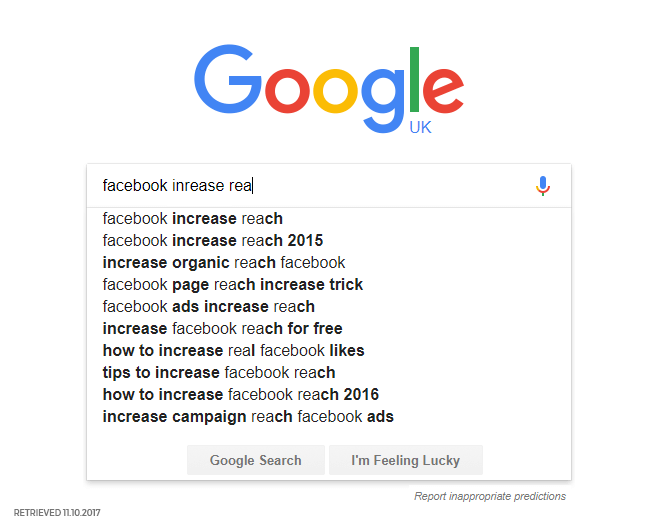 All search queries offer several million results on Google!
The 45 employees of FutureTV have created an extremely well-functioning concept with which it is possible to create viral social brands in a fast-paced manner. Their model makes it possible to achieve an enormous outreach in social media within a really short time span and with a small budget. The passion of the creative minds of FutureTV is to build brands with the help of content marketing and intelligent content spreading, which are motivating the viewer to "like" what they see.
We provide exciting insights into the approach of FutureTV and show which role Storyclash Insights plays when it comes to Content Discovery.
Bizarre knowledge and ancient remedies
An important ingredient for the recipe of success: a data-driven approach with the support of social media tools such as Storyclash Insights. FutureTV built four social brands with a total of 610,000 fans this year alone. The fifth extraordinary brand is already in the making. Individual posts reach an astounding number of people, sometimes up to 7,000,000 (as of September 2017)!
"We are successful because we are very tech- and data driven in our subject search. Various technologies and defined KPIs help us to identify the most important issues of engagement!" Jana Müller, Business Development at FutureTV Production GmbH
Another strong point that helps the FutureTV team succeed is the choice of topics. It is above all important to identify issues that are strong in terms of engagement, which are mass-compatible and therefore have a high appeal and high relevance for a large target group. This effect is particularly useful with everyday matters with which the fans of the pages, their friends, acquaintances, and family identify with. In order to ensure sustainable and clearly defined accomplishments, FutureTV does not rely on its own gut feeling but rather on tools such as Storyclash Insights that help to test pre-defined KPIs reliably and transparently.
The most popular social brands are Wilder Bock, Fräulein Pfiffikus skurriles Wissen and Omas einfache Heilmittel (the names of those fan pages could be translated to "Wild Buck", "Miss Pfiffikus' bizarre knowledge" and "Grandma's simple remedies"). All these pages reached over 150,000 fans within the last 6 - 8 months. Even more important than getting a vast number of followers quickly, is to create and reach an interested community that also interacts with the content. A high so-called organic reach helps to enlarge the community without financial resources. The calculation is simple: any like, any comment, and of course any share increases the organic range exponentially. This is one more reason why, when working with social media, it is key to target content specifically to a certain group of customers.

Data-Driven Content Discovery with Storyclash Insights
FutureTV proves in a quite impressive manner that for social media one does not need a huge amount of capital to be successful. It is really all about the content and the sharing of it! A technology- and data-driven approach helps to achieve this goal.
FutureTV uses software tools such as Storyclash Insights to find certain subjects (keyword: content discovery). These tools are further used to check whether or not the topics fit the desired audience and could reach the full potential of the desired range, by using pre-defined KPIs. Storyclash Insights proves to be ideal for several reasons. First of all, it offers the possibility to evaluate data from 15 different countries, which helps tremendously to discover new content that is not at that point circulating in the own target market yet. In addition, a large number of KPIs helps to evaluate content precisely.
Looking at specific KPIs, interactions itself and the interaction rates have proven to be particularly important. While interactions show the overall performance of a post, the interaction rate sets it in relation to the overall page size as well. This is a factor for how viral the post is and helps to detect posts, which simply measured by interactions, would have fallen through the grid of analysis. A high interaction rate of over 100% means that the number of interactions exceeds the number of your own fans, which is therefore to be regarded as a particularly good sign. An equally good sign is a high interaction rate for recently published contributions.

Storyclash Insights allows you to discover and respond to the most viral social media posts in a matter of seconds. This is especially effective if you succeed to be the first to react to evolving viral trends. To optimize this process, automated alerts and a variety of filters can be used.
A successful example
This example shows one of the most successful posts of the social brand "Wilder Bock". This post reaches more than 7,000,000 people. The post got shared more than 2,000 times, reached more than 52,000 comments and almost 7,000 reactions.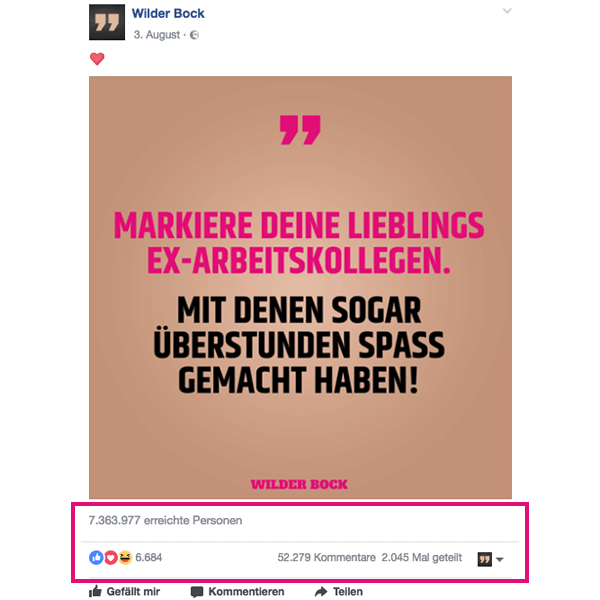 As this success story of FutureTV and Storyclash Insights shows, viral brands in social media such as Facebook, Instagram and Twitter can be built up systematically, driven by data and supported by software. This approach allows you to develop and pursue a KPI-based strategy right from the beginning, which helps to avoid losses and reduce costs for advertising. The achievement can be seen, as FutureTV proves daily, and reach and engagement can be measured transparently.
Boost reach and engagement through Content Discovery with Storyclash Insights
The Storyclash social media analytics tool can, of course, also be used as a content discovery and sourcing tool for any other industry and topic. Convince yourself and look at the most viral posts now without registration!