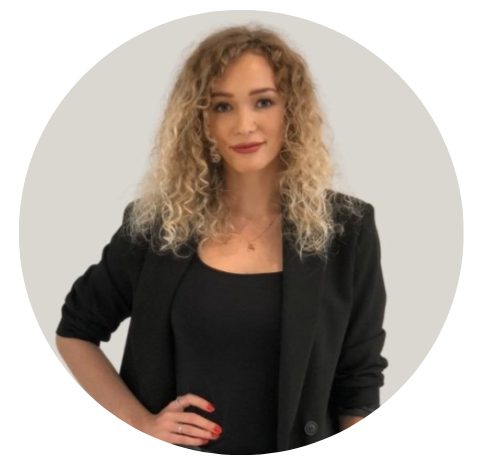 Guest article of Natalie Frieb, author of the popular weekly newsletter called Influencer Marketing Update and expert in all things influencer marketing.
Influencers have conquered the social media world over the last few years and have become indispensable in the advertising industry.
According to the ECC Cologne study "TikTok, Instagram & Co. in the fast lane," more than half of young respondents (55%) between the ages of 16 and 29 have already become aware of a product through an influencer, which often led to a purchase afterwards.
This again shows that online recommendations are now trusted by many people, especially Gen Z, as much as recommendations from friends.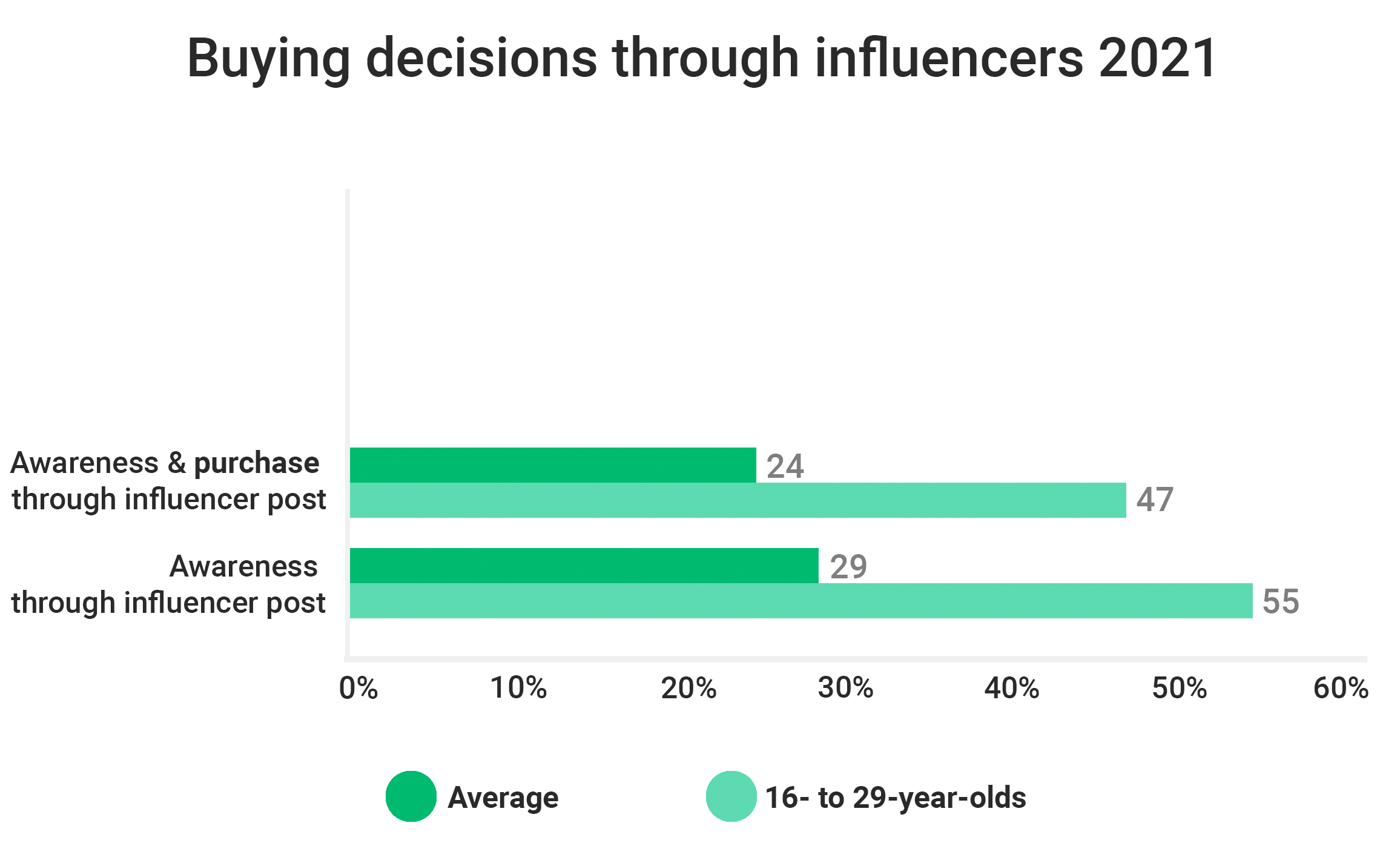 In recent years, companies have understood that influencers can do much more than just create content and generate awareness. They have realized the potential that there are influencers for every niche and that they know their target audience better than anyone else.
Influencers are experts in their own niche topics and therefore an incredible source of knowledge and know-how, bringing lots of creativity and new perspectives.
But it's not just collaborations between influencers and brands that we encounter every day on social media, but also increasingly co-creations.

What is a Co-Creation?
In a co-creation, an influencer develops a product together with a brand, which is then marketed with a wide reach through the channels of both.
In addition to the Novalanalove x Annemarie Börlind and Kandall Jenner x About You eye pads, I think the co-creation of Germany's most successful fitness influencer Pamela Reif (8.2 million subscribers) with everdrop is another prime example.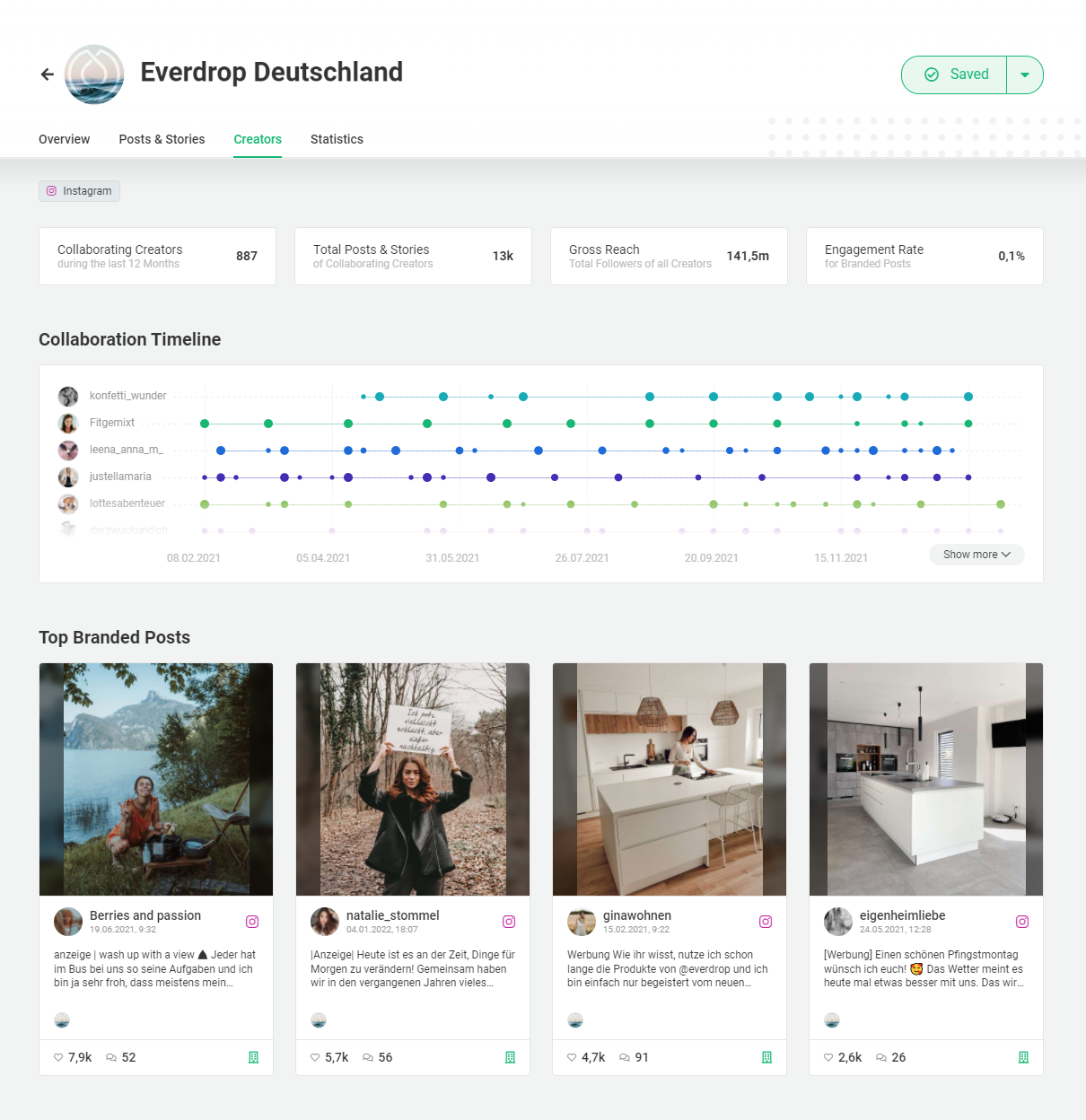 everdrop's Creators © Storyclash
Pamela has designed her own detergent for sportswear together with everdrop. The detergent is better for the environment and for your own health. Both topics Pamela talks about every day in her Instagram story. Shortly after the start of sales, the sports detergent was completely sold out.
Pamela Reif x everdrop © Storyclash
Pamela Reif had already reported in a few stories about everdrop products last year. This is a crucial factor in a co-creation.
Co-creation should only be started after a joint cooperation period (at least one to two years) and should be based on transparency and respectful cooperation. Only after this time frame has trust been built up in the community and the bond with the brand is comprehensible.
You should definitely read our report on the co-creation of the brand Mermaid + me and the influencer derzwuckundich.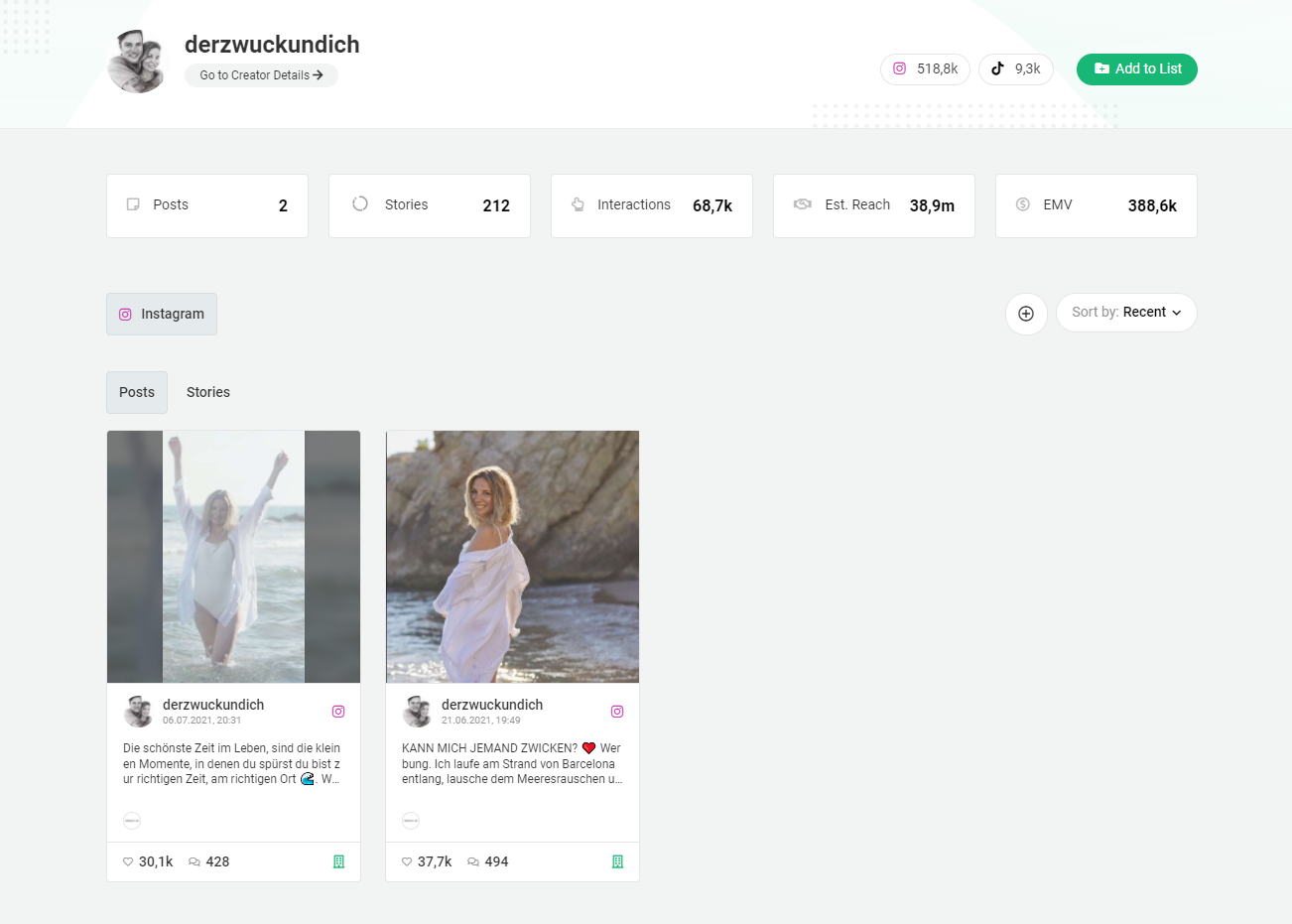 derzwuckundich x Mermaid + Me © Storyclash
This trust and the authenticity that comes with it is an important success factor in influencer marketing.
When selecting an influencer you should ensure that the brand fit is right, that the influencer has the right target audience, shares the company's values, and stands behind the products that have been advertised to date.
Most of the time, influencers in co-creations have a reach of millions. Be it Mrs Bella (2.1 million followers) x Neonail or Novalanalove (1.5 million followers) x O-Mochi. Still, this is not a deciding factor.
For example, influencer Merve (87,000 followers) also recently entered into her first co-creation with essence Cosmetics.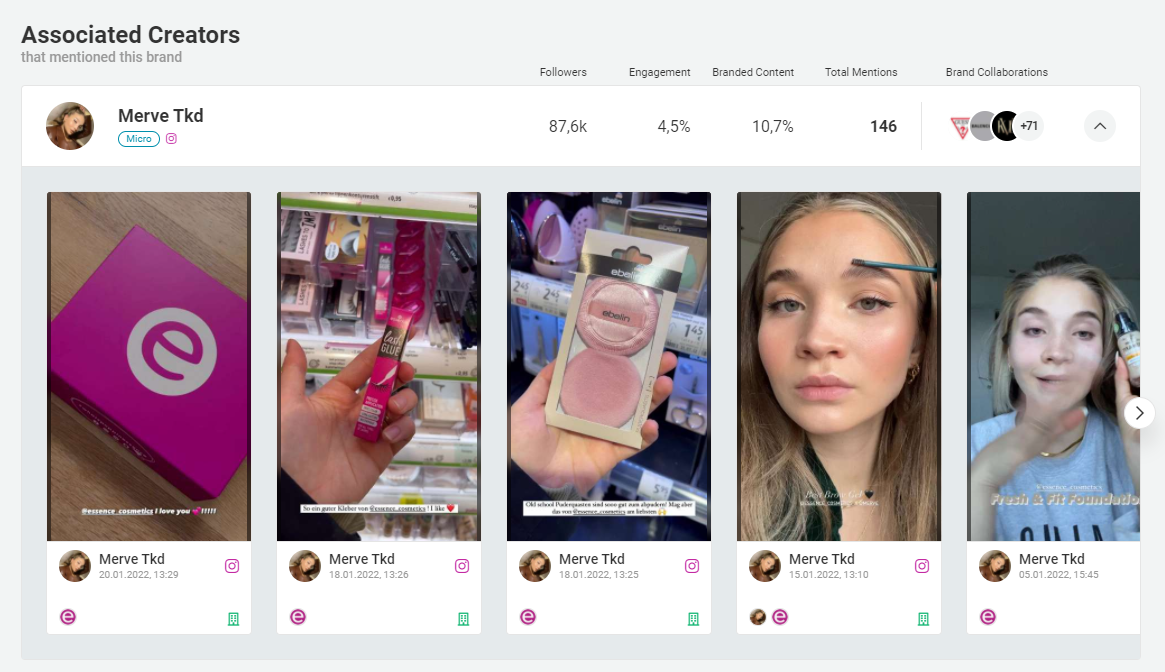 Merve x essence Cosmetics © Storyclash
The "Be your own Piece of Art" collection features various makeup products that reflect Merve's Turkish heritage in their color scheme.
Merve x essence Cosmetics © Storyclash

Benefits of a Co-Creation for Influencers
Influencers initiate much of their business through social media. Their challenge: They have to shimmy from collaboration to collaboration and are dependent on platforms. Co-creation, on the other hand, increases influencers' self-determination and helps them position themselves more broadly financially.
In addition, compared to a Creator Brand, it is not necessary to start your own business. Influencers can act as "light entrepreneurs" and become entrepreneurs together with the requested brand.
Hereby, the influencers benefit from the already existing experience of the brand in terms of logistics and production. Still, they can bring their own ideas and perceptions to the table. With a conflation of the offline and online worlds, influencers can also tap into new target groups.

Benefits of a Co-Creation for Brands
Influencers have a high level of trust with their community, which they have built up over years. In the best case, this trust is also transferred to the brand in the case of co-creation. In this way, the influencers grant the brands access to their followers.
---
"We usually follow people on social media, not brands."
---

Influencers involve their community in the creation process. In this way, the background can be shown right from the start, surveys and votes can be carried out with the community, and the followers can be given the feeling that they are part of the process.
From this, in turn, the brand draws its benefits, because influencers are constantly advertising.
The brands also benefit from the reach of the influencer and the associated opportunity to reach more potential customers. Co-creations can also help with the repositioning of a company.
A successful example of this is the co-creation of sustainability influencer Charlotte Weise and the fashion brand "Kauf Dich Glücklich".
Source: Kauf Dich Glücklich

Charlotte regularly speaks in her stories about fair fashion, vegan nutrition, self-love and positivity and for this reason she was the "perfect fit".
In summary, co-creations offer great potential for both parties in terms of reach and of course financial success.

Challenges
The fact that influencers are involved in the development processes of a co-creation and can help shape the product plays an essential role in its success. It should be noted that influencers are 100 percent enthusiastic about the products.
In the end, the following matters: only if the influencers are convinced of the result, they will present it authentically to their community. After all, advertising should not feel like advertising, but rather a friendly recommendation.
Further, after launching the product, the communication of both channels should not slacken and further joint actions should be implemented so that a long-term, shared story can be told.
It is impossible to say exactly how a co-creation will go at the beginning. It may happen that the product is not accepted by the community or that not enough ideas have been implemented on the part of the influencer.
It can also happen that the collaboration fails after launch between influencer and brand.
The difficulty is that a co-creation product is always tied to the influencer in question. For this reason, it is crucial that before launch, the influencer is completely convinced of the created product.

Evolution to Influencer Marketing 2.0
During the Corona pandemic, Creator Brands really took off once again. So instead of co-developing products or entering into collaborations with an existing brand, many influencers have decided to start their own businesses.
The advantage: Influencers manage to monetize their social media audience and build a second foothold. The success of it has already been visible in America for several years.

Influencer Pamela Reif has been selling healthy and natural foods in her own online store Naturally Pam since the beginning of the year. Pamela reaches not only millions of followers on social media with it, but also millions of potential customers.
Through this, it creates organic advertising just through its own reach and community, which it has built up over years.
---
"Creators are the entrepreneurs of tomorrow and have a lot of power."
---

In the future we will see more creators who develop into successful entrepreneurs and build their own business. They will also take over a more dominant role in the media landscape.
Creator Brands, however, are not a further development of a co-creation. Because you need a different skill set for either one. Not every influencer can and wants to become an entrepreneur. What comes into question for the influencer is absolutely depending on type.
It is also certain that social media platforms can only survive if there is content. That's why I'm curious to see what else we have in store for Creator Funds.
There is a risk that the influencers will "run away" from the platforms at some point - therefore means must be found to ensure that they remain attractive to influencers.