Automotive influencers and car bloggers have a lot to be excited about in recent months, with announcements of the latest car models happening within media and auto shows all over the world. Influencer marketing can be an effective channel for promoting your brand, and more automotive companies are realizing the massive potential of social media influencers whose faces and content operate by the same rules of branding.
But when it comes to making data-driven decisions, brands will have to confront questions like who should we collaborate with and which platforms are better for seamless audience engagement between an influencer's followers and those of the brand?
Let's have a quick look at some influential automotive personalities from around the world. By analyzing some of their social media activity in January 2020, we might get closer to answering such questions.
Who are some top influencers?
To conduct our analysis, we're focusing on the Top 3 automotive influencers from our January 2020 global ranking. When sorted by total number of interactions, the following people emerged as the leading social media influencers within the auto industry.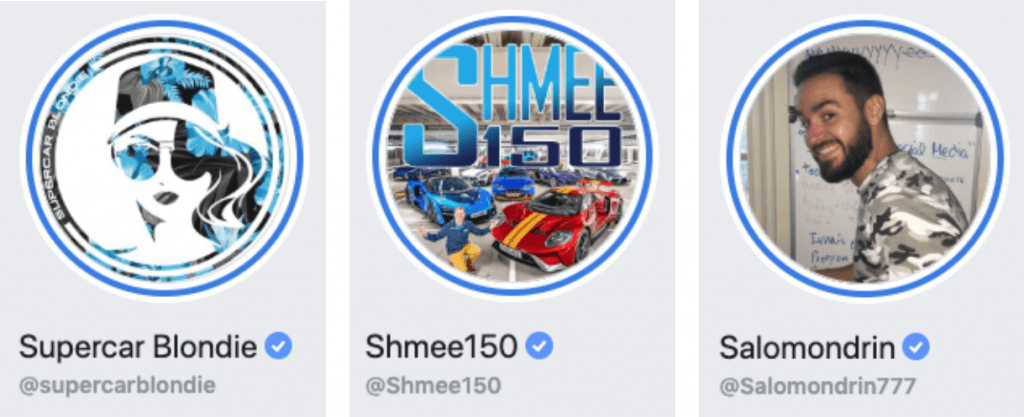 Analyzed: Automotive influencers
Platforms: Facebook, Instagram, Twitter, YouTube
Time period: January 1, 2020 – January 31, 2020
---
Supercar Blondie
Supercar Blondie is an Australian automotive influencer with +21m combined followers across all platforms. With 19.7m total interactions in January 2020 alone, her social media influence is undeniable.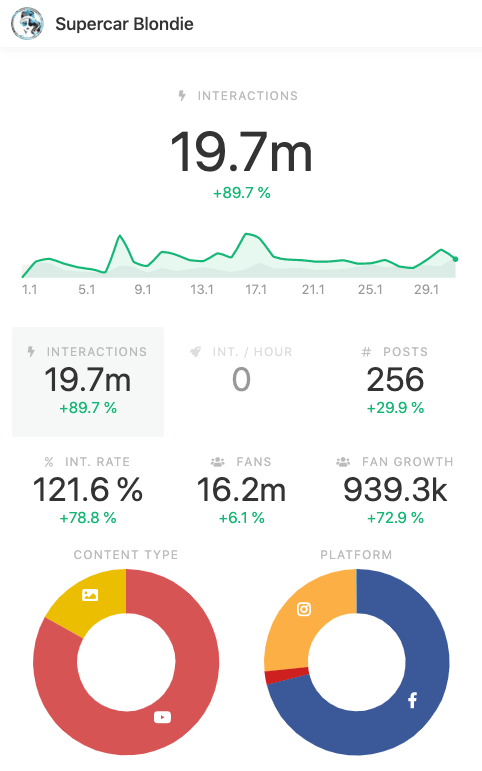 Looking at her social media summary for January, we can see at a glance what kind of performance she has achieved within the first month of the year. We can also see an overview of her content types and utilized platforms.

The two circle charts at the bottom tell us that her favorite content type is video (represented by the red section on the left-side chart) and Facebook is her go-to social network for earning interactions from those videos.

Instagram is her 2nd best-performing platform, and YouTube isn't as strong a performer for Supercar Blondie as you would assume considering her preference for video content.
---
Shmee150
Shmee150 is a British automotive influencer with +5.9m combined followers across each platform. With 3m social media interactions in January, he isn't as dominant as Supercar Blondie but his influence is still notable.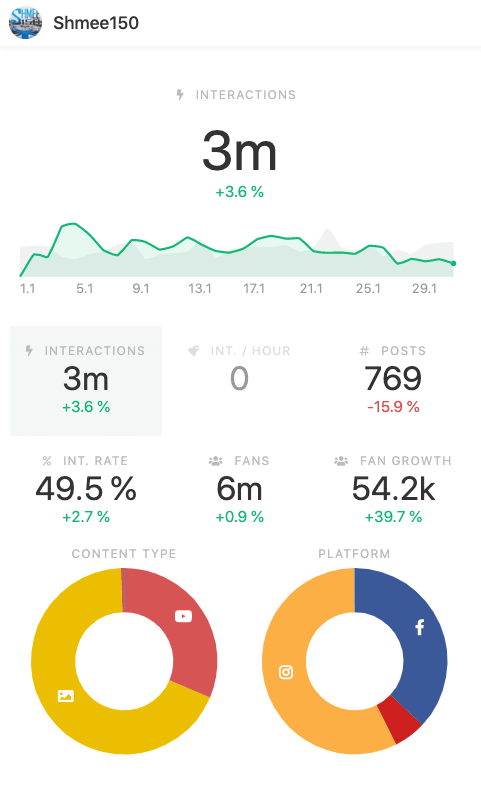 Shmee doesn't appear to have a prominent platform, as his platform chart shows a relatively balanced distribution between Instagram and Facebook (with a winning edge going to IG).

When it comes to content categories, pictures appear to be his preferred type. One third of Shmee's content is video, so he's using a healthy mix compared to Supercar Blondie's video-dominant chart.


---
Salomondrin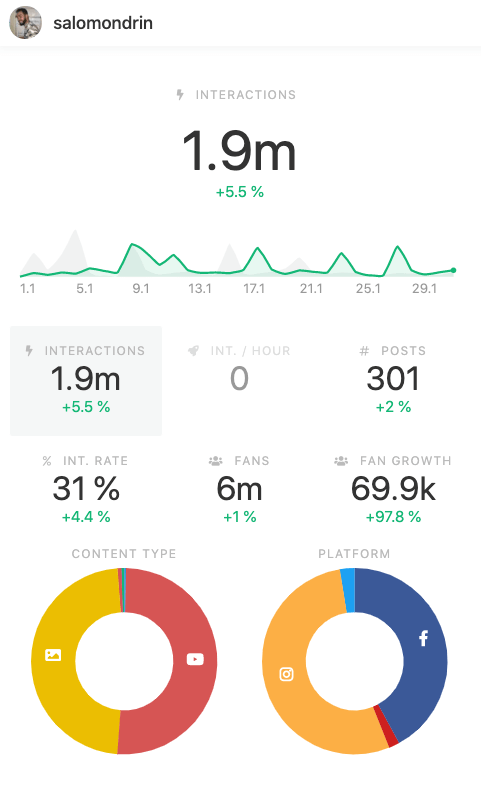 Salomondrin is a Los Angeles-based automotive influencer with +7.3m combined followers across Instagram, Facebook, YouTube and Twitter. With 1.9m social media interactions in January, he and Shmee150 combined for only one fourth of Supercar Blondie's total interactions in that timespan.

That said, 2 million social media interactions in one month is no small feat, and Salomondrin has enough of an established following to consistently earn those kinds of interaction numbers.

Salomondrin has perhaps the most even splits between content types and platforms: half picture, half video across Instagram and Facebook, equally.
Three influencers, three different platform trends
Taking a look at the three car influencers above, it's interesting to see the platform breakdown. Comparatively, each influencer sees clear differences in their social media platform performance.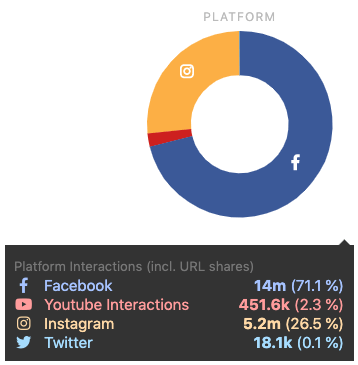 Supercar Blondie relies heavily on Facebook, pulling in nearly 14m interactions in January 2020.

With 12.3m followers on FB, it makes sense that Supercar Blondie pulls in such a large amount of interactions on the platform.



Since Facebook is putting an increasing amount of effort into their video features, the platform is definitely becoming more video-content friendly for influencers who are heavy on vids.
Shmee150 and Salomondrin have a more even split between Facebook and Instagram. Both of these platforms are typical mainstays for influencer content distribution, and automotive influencers are certainly no exception.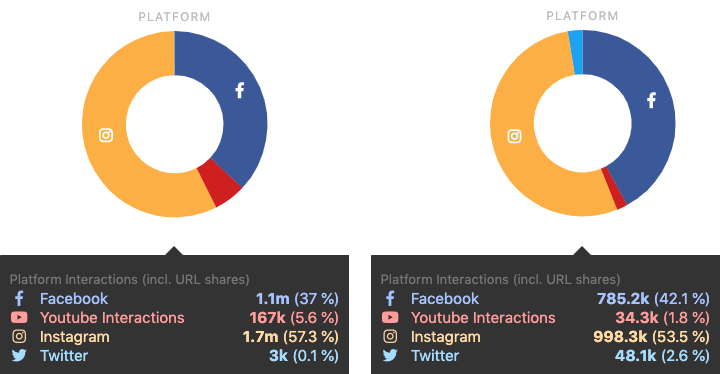 However, outliers do exist. Take Alan Enileev, another top car influencer.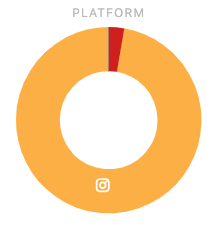 Almost ALL of his content is posted on Instagram, with a small sliver of his platform chart going to YouTube. He does have a Facebook page, but the number of interactions Alan Enileev gained on that platform in January pale in comparison to his content performance on Instagram.

While atypical for an influencer, this example shows that it isn't necessary to have an enormous presence on all platforms. Alan Enileev is doing fine leveraging his influence on Instagram.
Reasons for these varying platform trends
There could be several factors for why these select influencers perform better or worse on certain platforms. For instance: an influencer might have started on Facebook, growing the largest section of their fanbase on the platform. Maybe they stuck with it from the very beginning, making that platform the one they're most accustomed to and comfortable with (there doesn't always have to be an analytical reason for everything; sometimes it's just a coincidence).
Another factor could be cohesion between content type and platform. Certain types of content "mesh" better with certain platforms, whether it's due to production accessibility and ease of upload, interaction options, etc.
An influencer who prefers creating video content, for example, might see advantages to posting on Facebook and Instagram due to how easy it is to crosspost from YouTube, as well as rising interest in the "Story" format of those platforms.
Ultimately, the most effective influencers are the ones who know how to make the most out of each platform's USP; each one is different from the next and will offer specific advantages, so an influencer who can leverage those advantages is someone worth looking into for influencer marketing.
What type of content are they posting?
We've already established that Supercar Blondie, Shmee150 and Salomondrin all post picture and video content. But how much of each content type are they posting? Here's a content type overview for each influencer in January 2020.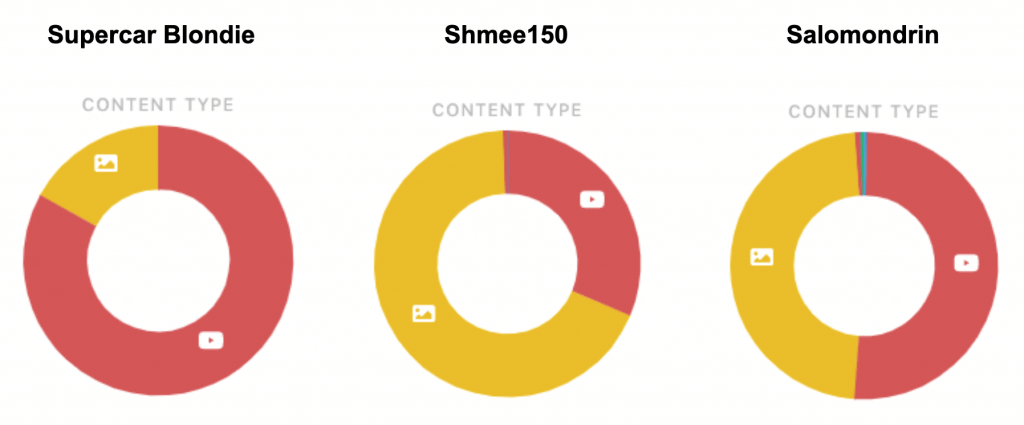 Video seems to be the breadwinner here, pulling in the most interactions for 2 of the 3 featured influencers (Supercar Blondie and Salomondrin). But photos still figure into the equation, and it's hard to deny that an engaging car photograph can be just as impactful as video content.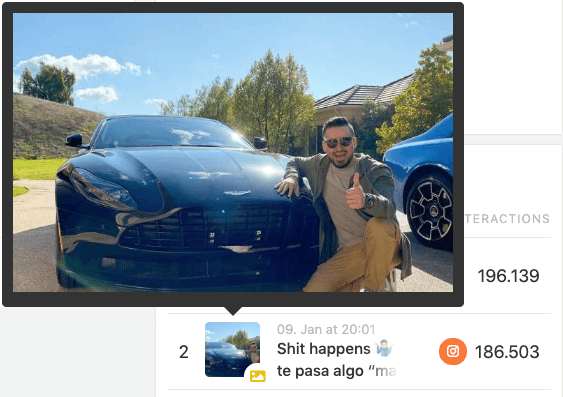 With Supercar Blondie, for example, most of her content is video. It's possible that the reason she receives a large portion of her total interactions from Facebook is that the platform allows her to post longer videos. Instagram limits video length to 60 seconds for a feed post, whereas videos on a Facebook feed can be as long as 4 hours in duration. That's a big difference, and for someone who posts videos which are usually longer than 1 minute, that can be a big reason for preferring FB to IG.
On the other hand, Shmee150 and Salomondrin have charts which show more dependence on pictures compared to Supercar Blondie. Considering that both automotive influencers pull in most of their interactions on Instagram—a platform which started off as primarily picture-focused—it makes sense that (automobile) pictures are a big part of their content distribution.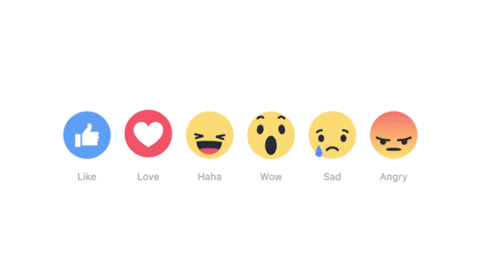 Commenting is also more complex on Facebook compared to Instagram. They can be sorted by different filters, and each individual comment can also be interacted with in 6 different ways. This is certainly something that influencers might prefer for their follower base compared to the more straightforward 'heart + reply' mechanic of Instagram.
How are they using Instagram Stories?
Instagram Stories is a must for any influencer, especially if they already have a following on the platform. Let's take a look at how our selected influencers are using Stories!

In January 2020, each of the featured automotive influencers posted many more Instagram Stories than they did regular feed posts. For Supercar Blondie, 112 out of her total IG posts were Stories—that's 87%. Shmee150 posted the most Instagram Stories out of the three: 207 out of his 258 total IG posts were Stories (80%). Salomondrin posted nearly as many IG Stories—202—making for 97% of his total Instagram activity.
The numbers are convincing. The overwhelming majority of Instagram activity for our three car influencers happens on Instagram Stories.
Out of all of Supercar Blondie's six most recent IG Stories in January, none of them featured a single vehicle. This is clever because most of her Instagram feed features photographs and videos of supercars, so it's clear that she regards Instagram Stories as an opportunity to show content which might not always be automotive-related. A tour through her flat, clips with her pet dog… Supercar Blondie is more multi-dimensional than her social media handle may suggest, and IG Stories are the perfect way to demonstrate that.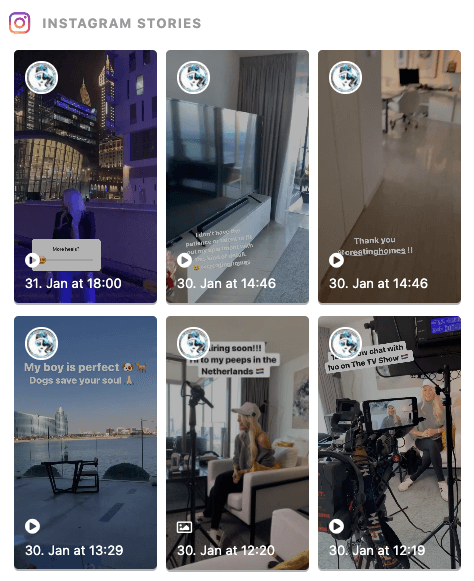 Shmee150 went the more traditional route, supplementing his Instagram feed with more video clips of automotive content. Making use of Stories-specific CTAs such as the 'Swipe Up' mechanic, he leverages the format of IG Stories like most influencers do—and there's nothing wrong with that.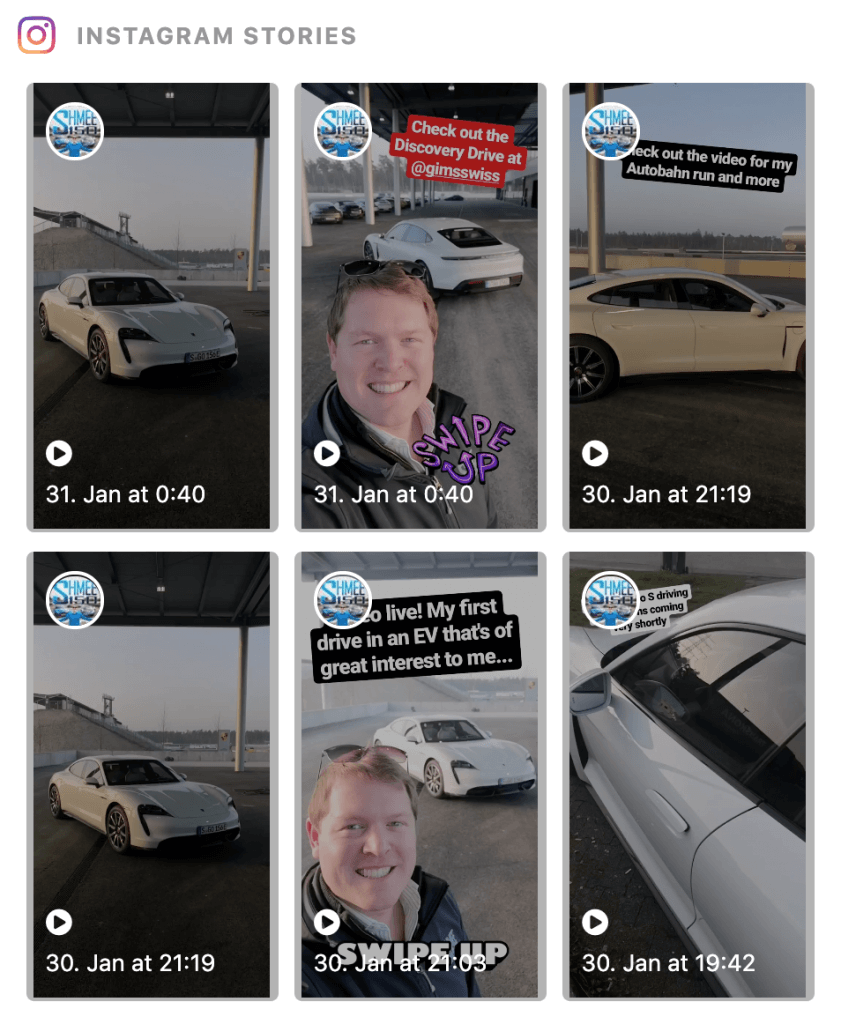 Salomondrin is a mix of Supercar Blondie's and Shmee150's Instagram Stories content. He showcases cars to supplement his IG feed, but he also throws in perspectives from his daily life. How else would we know that he's a dog person like Supercar Blondie?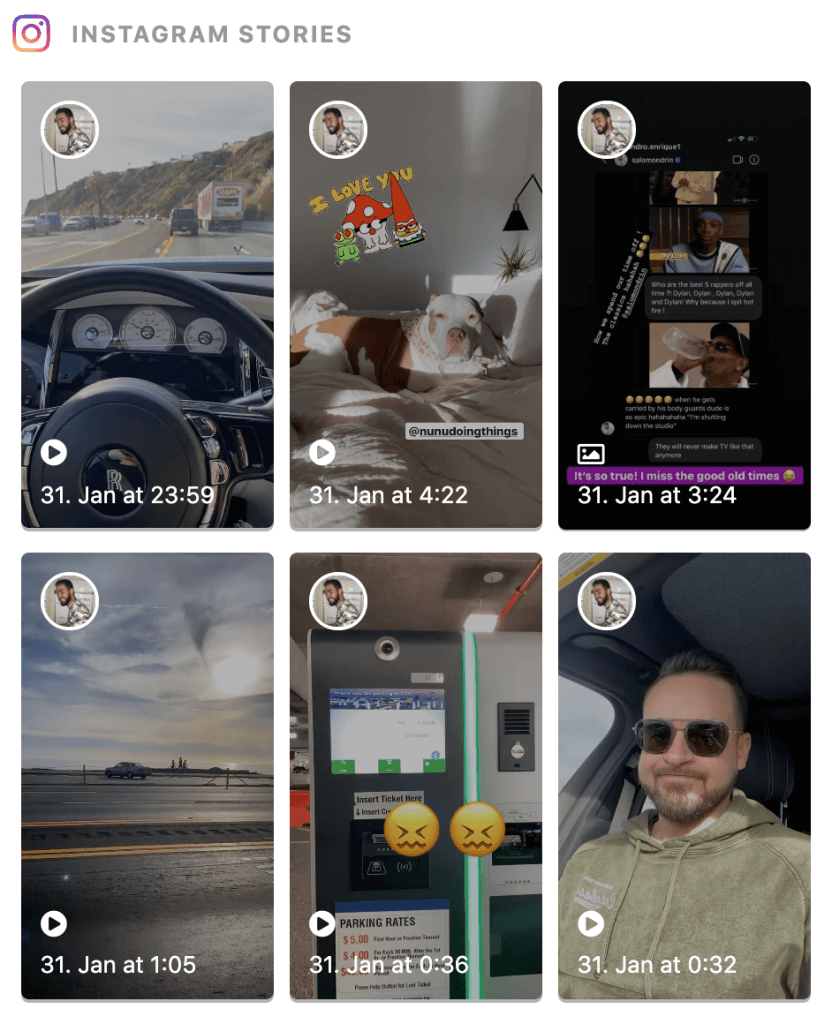 The Takeaway
Each of the automotive influencers summarized above would make for an excellent collaborator in an influencer marketing campaign, and there are more like them to be discovered. Their individual platform tendencies should be more or less aligned with the social media presence of the brand whose campaign they're collaborating on, so that the influencer's followers can easily interact with branded handles and hashtags without having to hop between platforms to do so.
The more seamless the transition between the influencer's social media content and the promoted brand and its product, the better. Each brand must find a fitting influencer based on the content they post, the topics they talk about and the demographics of their followers.
Learn how influencers can help your brand
Interested in harnessing the power of influencer monitoring for your brand? We can help with that—just request access to Storyclash or get in touch with us!