Storyclash is a great social media tool that helps you monitor, track, and report the outcome of your influencer campaigns and collaborations.
Now more than ever, people engage online with every aspect of fashion culture. Therefore, it's not surprising that Fashion & Beauty influencers are at the forefront of influencer marketing. In today's article, we want to uncover 5 statistics & insights in the German Beauty & Fashion influencer business.
Also, go ahead and check out our article on the best practices for the fashion retail industry - it's a pretty comprehensive long read. Otherwise: Enjoy these 5 statistics from the German beauty and fashion influencer scene.
Analyzed timeframe: July 2020
Analyzed influencers: 1.000 Instagram influencers from Germany for the industry: Beauty & Fashion
Insight 1: Influencers with 1+mio followers are the most active ones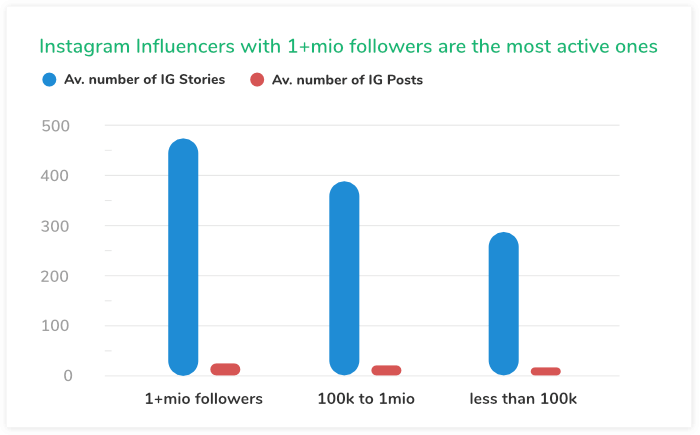 If we look at the activity numbers of our analyzed German influencers, we can see that influencers with more than 1 million followers are more active than the ones with 100.000 to 1 mio. influencers. Accounts with less than 100.000 followers publish the least amount of Instagram Posts and Stories.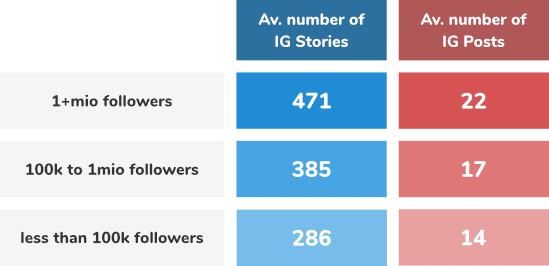 Insight 2: Each Fashion & Beauty influencer publishes 11 IG Stories per day
The popularity of Instagram Stories among Fashion and Beauty influencers remains ever-growing. And the statistics second that.
On average, each Instagram influencer publishes 11 Instagram Stories per day, or: 330 Stories per month.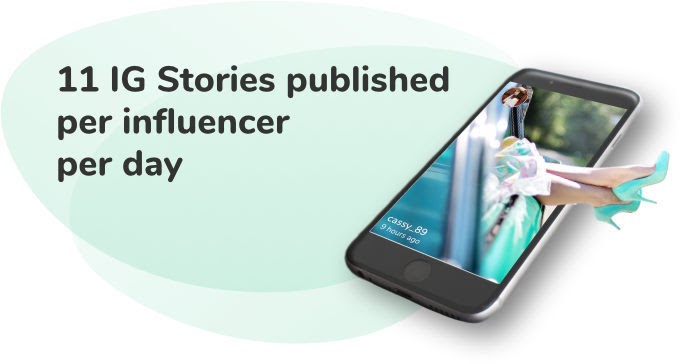 Insight 3: Each Fashion & Beauty influencer publishes 1 IG Post every other day
While Instagram Stories are the most popular format on Instagram, Fashion & Beauty influencers still reach their audiences through Instagram Posts as well.
On average, each influencer shares 1 Instagram Post every other day, making it a total of 15 Instagram Posts per month.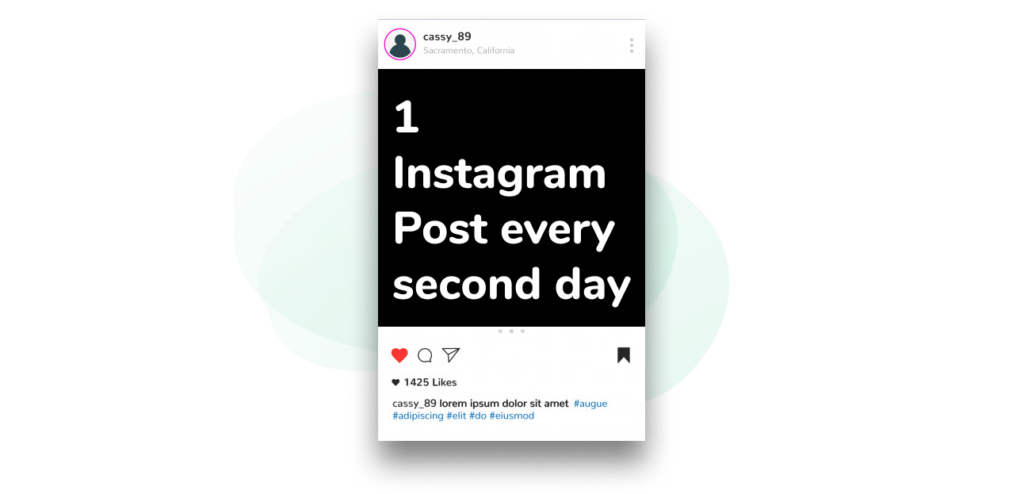 Insight 4: Every influencer publishes on av. 5 paid IG Posts and 29 sponsored IG Stories in 30 days
Statista estimated that influencer marketing in the DACH region will grow to 990 million Euro in 2020 (source). With that in mind, we can see an increase in sponsored and branded content among our analyzed Fashion & Beauty influencers.
On average, each influencer published 5 Instagram Posts and 29 Instagram Stories that included the keywords ad, sponsored, paid, werbung or similar within a 30 days time window.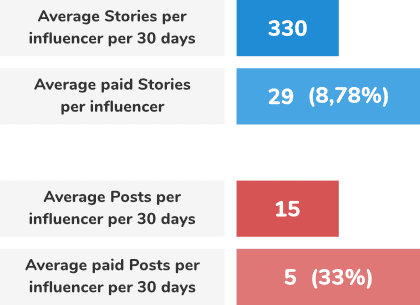 Insight 5: The engagement of a sponsored Instagram Post is half the size compared to a normal one
When we compare sponsored content to 'organic' one, one of the big questions that arises is:
How's the performance of a sponsored Instagram Post compared to a normal one?
The answer:
Sponsored Instagram Posts only get about half of the interactions (likes, comments, shares) compared to all Instagram Posts published by the same influencer accounts. Or in other words: On average a sponsored IG Post by a Fashion & Beauty influencer receives 4.229 likes, shares and comments, while a non-sponsored Instagram Post gets 8.998 interactions.

More insights wanted?
These were just a short selection of insights into the German Fashion & Beauty influencer industry. If you want more information and detailsa particular industry or influencer group, please request a demo of our software solution right here.
Otherwise, you can also reach out to our social media experts who are happy to answer your questions.